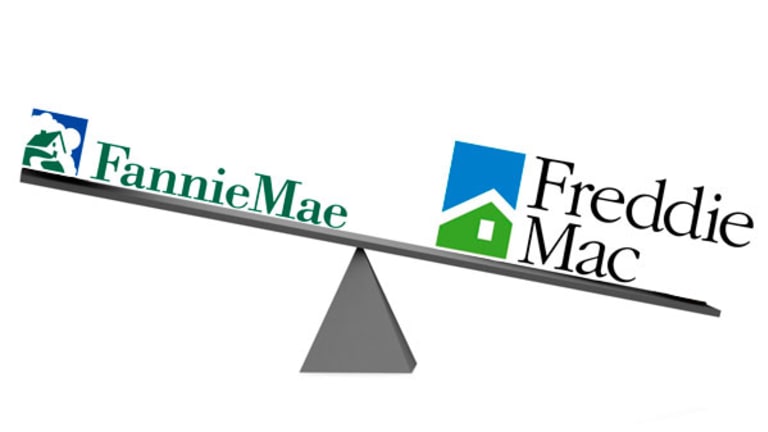 Housing Slowdown Imperils Fannie Freddie Wind Down
Put another nail in the coffin of President Obama's efforts to wind down Fannie Mae and Freddie Mac.
Fannie and Freddie story updated from 1:04 pm to include statement from BlackRock in eighth paragraph.
NEW YORK (TheStreet) -- Put another nail in the coffin of President Obama's efforts to wind down Fannie Mae (FNMA) and Freddie Mac (FMCC) .
Housing numbers released by the U.S. Census Bureau Wednesday showed a 14.5% drop in new home sales in March, far more than analysts estimated. While some pointed to the cold winter, a more commonly cited culprit was higher prices.

WATCH:More market update videos on TheStreet TV
The number is just the latest in a string of discouraging housing data, and it comes less than a week before a scheduled vote on legislation introduced by Sens. Tim Johnson (D, SD) and Mike Crapo (R., ID) aimed at winding down Fannie and Freddie, a stated goal of President Obama.
Read: New Home Sales Plunge 14.5% in March
Housing experts realize winding down the government sponsored entities will make it harder for many Americans to buy homes, one of many reasons that goal is thought difficult to impossible to achieve even without the recent weak sales data.
But that data is further underscoring the issue, something one lobbyist believes is making Obama Administration housing officials especially tense ahead of Tuesday's scheduled vote, which may end up being delayed due to a lack of support for the bill.
But the likelihood that Johnson Crapo will make it more difficult for Americans to buy homes is just one of several reasons the bill looks doomed.
PIMCO's new CEO Douglas Hodge, published an essay April 11 arguing the legislation suffers from a "significant oversight" in that it does not offer any new protections for investors in mortgage securities who were burned during the financial crisis.
Read: Existing Home Sales Dip 0.2% in March
Officials in the Obama Administration met with executives at PIMCO and BlackRock Tuesday, along with a representative from SIFMA, Wall Street's main lobbying group, according to three people with knowledge of the talks. E-mail messages to spokespeople for the White House, PIMCO, and SIFMA were not returned. A BlackRock spokesman wrote, "we maintain on-going discussions with legislators and regulators about a variety of issues relevant to our business."
Another vocal opponent of the bill is consumer advocate Ralph Nader, who recently argued it could "open the door wide for runaway corporate exploitation."
On the other side of the political spectrum from Nader, Tea Party groups contended in a letter to the Senate Banking Committee Tuesday that despite the fact that Johnson Crapo would wind down Fannie and Freddie, it still offers too big a role for the federal government. 
And both Nader and the Tea Party groups argue the bill denies the rights of shareholders in Fannie and Freddie.
Read: The Biggest Banks Have Elevated Debt Ratios
Of course the bill has defenders. Former Senators Mel Martinez (R., Fla.) and George Mitchell (D., Maine) published an editorial in The Hill Wednesday arguing all the criticism is a sign Johnson and Crapo have "found the legislative 'sweet spot' for housing finance reform." 
The ex-Senators contend greater certainty around the future of housing "will help make affordable mortgage credit more widely available."
But if that were the case it means people who want homes to be more affordable for poor and working class Americans, groups like the National Low Income Housing Coalition (NLIHC), should be fully behind the bill. The group initially voiced support for Johnson Crapo, but later it, along with several like-minded organizations, described a fairly lengthy list of proposed amendments. After listing those points, the NLIHC statement hopefully alluded to "some speculation that the mark-up may be moved back a week to allow more time to negotiate amendments that address stakeholder concerns."
Disclosure: TheStreet's editorial policy prohibits staff editors, reporters and analysts from holding positions in any individual stocks.