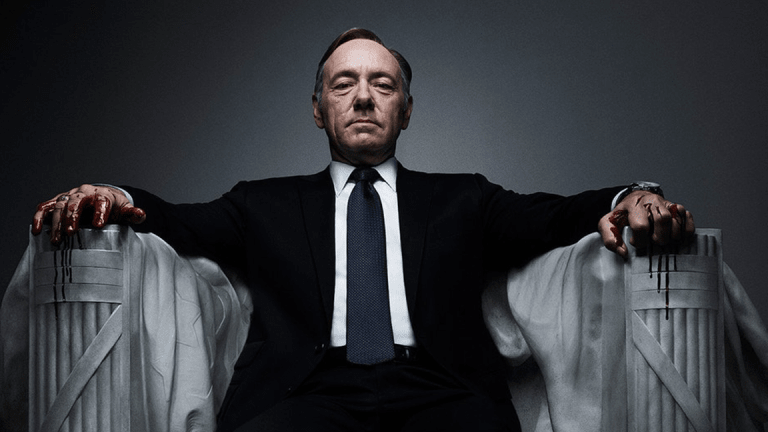 Netflix Suspends Production on 'House of Cards'
Netflix and the production company behind what has been one of its signature dramas suspended work on the sixth and final season following an allegation of sexual assault by star Kevin Spacey.
Talk about swift action. 
Netflix Inc.  (NFLX) - Get Netflix, Inc. Report  suspended production of the sixth season of its hit show "House of Cards" on Tuesday, Oct. 31, days after its star Kevin Spacey was accused of being involved in a sexual incident involving a 14-year-old many years ago.
In a statement, Netflix and Media Rights Capital, the film and television studio that owns and produces "House of Cards," said, "MRC and Netflix have decided to suspend production on 'House of Cards' season six, until further notice, to give us time to review the current situation and to address any concerns of our cast and crew."
"Netflix will not be involved with any further production of House of Cards that includes Kevin Spacey," a Netflix spokesperson said in an email. "We will continue to work with MRC during this hiatus time to evaluate our path forward as it relates to the show.  We have also decided we will not be moving forward with the release of the film Gore, which was in post-production, starring and produced by Kevin Spacey."
Shares of Los Gatos, Calif.-based Netflix closed Friday up 0.35% to $200.01, and up 61.6% year to date. 
The decision to halt the show's production, which was underway in Baltimore, comes two days after Buzzfeed reported that Spacey made an alleged unwanted sexual advance toward the actor Anthony Rapp three decades ago when he was 14 and Spacey was 26. 
Spacey, 58, said via Twitter Inc. (TWTR) - Get Twitter, Inc. Report that he couldn't recall the 1986 incident, adding that his actions were likely the result of "inappropriate drunken behavior." Spacey used the Buzzfeed story to publicly come out as gay, a decision that also generated criticism. "But if I did behave then as he describes, I owe him the sincerest apology for what would have been deeply inappropriate drunken behavior," Spacey wrote.
More of What's Trending on TheStreet:
Spacey had yet to arrive in Baltimore for production. Netflix and Media Rights executives traveled to Baltimore to meet with the cast and crew of "House of Cards" before announcing the decision to halt production. Netflix had said the sixth season of "House of Cards" would be the last before Tuesday's statement about the suspended production. Variety reported Netflix and Media Rights Capital are considering spinoffs of the hit show.
For Netflix, "House of Cards" starring Spacey as the cut-throat politician Frank Underwood, catapulted the network from a plucky aggregator of other media company's content into an ambitious creator of its own originals, both in TV and film. From the series' debut on Feb. 1, 2013, until the present, Netflix's stock has surged an eye-popping 709%.
Six months after the debut of "House of Cards," Netflix launched "Orange Is the New Black," further raising the network's status as a maker of high-quality television serials, the kind of fare usually only found at Time Warner Inc.'s (TWX) HBO. From there, Netflix moved on to "Narcos," "Unbreakable Kimmy Schmidt," "Master of None" and, most recently, "Stranger Things."
This year, Netflix is expected to have spent more than $6 billion on content -- about 25% of it on original programming. CEO Reed Hastings said earlier this month that the company plans to increase its budget for content to more than $8 billion in 2018, with the portion of originals nearing 50% by 2020.
Media Rights Capital, a Los Angeles studio founded by Mordecai Wiczyk and Asif Satchu, has produced all 65 episodes of "House of Cards" along with films such as "The Dark Tower" and "Baby Driver."
More of What's Trending on TheStreet:
Looks Like Alibaba Just Beat Amazon into the Car Industry