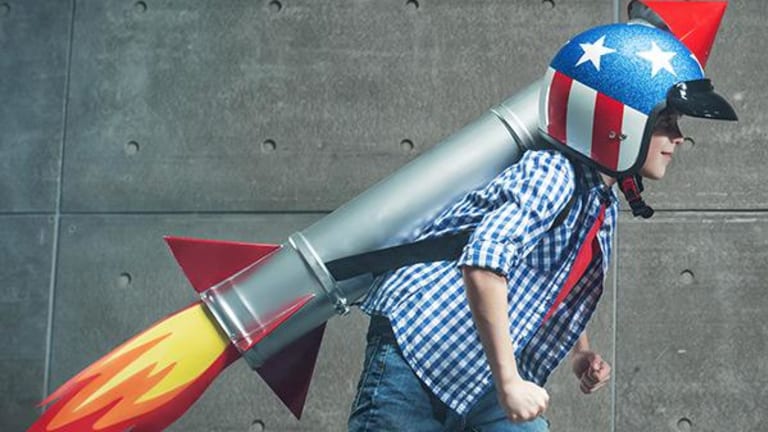 Here Are Monday's Hottest Stocks as the Dow Reaches New Records
Markets continue to ignore North Korea threats with a strong performance Monday morning.
Equities markets continue to shake off threats of geopolitical turmoil from North Korea and show signs of optimism ahead of the Federal Reserve meeting this week as the Dow Jones Industrial Average reached a new intraday high Monday, Sept. 18.
The Dow traded up 78 points, or 0.35%, to 22,346 points midday Monday, setting sights on a new record close following Friday's top-notch performance. Here is a look at the hottest Dow components sending the blue-chip index surging.
Caterpillar Inc. (CAT) stock increased 1.93% to $123.71 nearly one week after the company's investor meeting instilled widespread optimism across Wall Street. 
BMO Capital analyst Joel Tiss maintained his outperform rating for Caterpillar, but raised his price target to $150 from $130. If Caterpillar stock reaches Tiss' target, it would snag a 25% gain from its Friday closing price. Tiss argues that Caterpillar can deliver robust earnings, and believes that its focus on improving the customer experience should pay off down the road.
UBS analyst Steven Fisher upgraded the stock to "buy" from "neutral" and bumped his price target to $140 from $116. Fisher says a reacceleration in non-residential construction should help drive growth in the fourth quarter and 2018. Earnings and cash should continue to grow at a healthy pace.
Boeing Co. (BA) stock rose 1.38% to $252.43 Monday. CEO Dennis Muilenburg provided a pleasingly upbeat outlook late last week. The company said it will increase its production of the 787 Dreamliner jet to 14 per month by 2019. At the same time, Cowen analysts reiterated an "outperform" rating and also raised earnings estimates for the aircraft manufacturer.
JPMorgan Chase & Co. (JPM) stock gained 1.29% to $92.75 after the company announced it recruited Amazon.com (AMZN) executive Marbue Brown to serve as head of customer experience in the consumer banking and wealth management sector. The move signals JPMorgan is not only working on improving the customer experience, but also padding its own technology roster.
At the same time, the investment bank announced it's donating $40 million over the next three years to Chicago's under served south and west sides. The money will be put toward economy-boosting programs and improved job training.
General Electric Co. (GE) shares were up 1.19% to $24.22 Monday after GE Aviation chief David Joyce said late last week that the Boston-based conglomerate is teed up for "unprecedented" revenue growth, which averaged 8% a year for the past 10 years, Joyce added.
GE produces the engines used on two out of every three commercial flights worldwide, either from its own plants or those of its joint ventures, Joyce said at a Morgan Stanley conference on Thursday, Sept. 14. The division has a backlog of engine orders worth $33 billion, and 39,000 of its power plants will be in use on commercial planes by year end, an 18% increase from 2016.
"This is a great market," Joyce said, and its strength is based on consumer demand. With an average of 81% of seats filled on each flight, according to the International Air Transport Association, airlines aren't flying empty planes.
Walmart Stores Inc. (WMT) shares traded up 0.45% to $80.74 after the retailer announced a new Bentonville, Arkansas, home office that will foster a more "digitally workforce," CEO Doug McMillon said late last week. The new setup will draw Walmart's operations into a more central campus reminiscent of Silicon Valley with "improved parking, meal services, fitness, and natural light - yes, natural light," the company said. 
More of What's Trending on TheStreet: