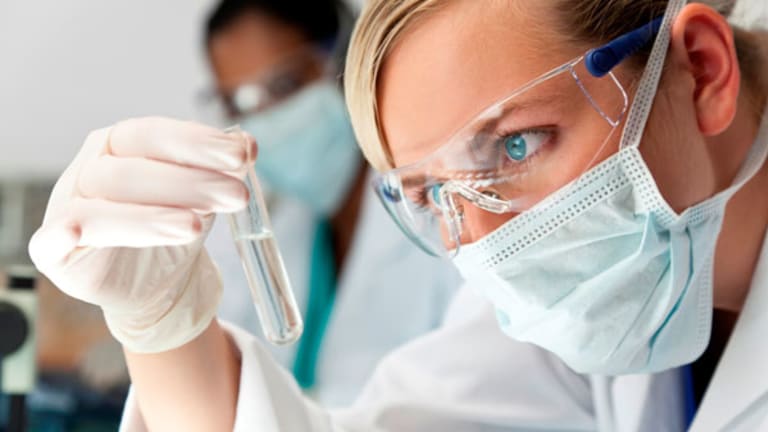 Hospitals Face a Baby-Boom Bust
For-profit providers face a tough road amid likely Medicare reforms.
A leading healthcare analyst sees no future in the for-profit hospital industry.
Jeff Villwock has spent the past 18 years following stocks in the hospital management space, twice landing on
The Wall Street Journal's
"All-Star Analyst Team" and once securing the title as top analyst in the bunch. He has seen the hospital sector survive -- and even thrive -- under both political parties throughout his long career.
With Democrats now wielding enough power to revamp the nation's entire healthcare system, however, he has decided to focus on a safer line of work -- building a medical school in St. Kitts.
"I think there will still be a for-profit hospital industry," says Villwock, who serves as a managing partner at Atlanta-based Genesis Capital. "I just don't think it will make a lot of money.
And I think that's going to force people like me, who like to play in the for-profit healthcare business, to look for other opportunities."
With Democrats poised to win control of both the White House and Congress, Villwock issued perhaps the scariest report of his career last month. In a nutshell, he painted the Baby Boom -- whose members will start hitting Medicare age in less than three years -- as a giant bust for the hospital sector.
While Villwock foresees a seasonal rise in hospital stocks between now and next spring, which could boost his current investments in
Health Management Associates
(HMA)
and
Community Health Systems
(CYH) - Get Community Health Systems Inc. Report
, he warns of shrinking profits and dwindling equity value after that time.
"Medicare officials have become experts in reading Wall Street research to determine the profitability of each type of Medicare service," Villwock cautions. "Medicare can -- and will -- figure out how to price services to insure that providers stay in business but don't make money ... If the first major cuts are enacted in 2010 and the second major cuts are enacted in 2014, investors need to be positioning today to exit healthcare in 2009 and 2010."
Big hospital chains, such as Community Health and
Tenet
(THC) - Get Tenet Healthcare Corporation Report
, have long counted on aging Baby Boomers to help their business instead. In fact, hospitals have made bundles replacing joints and clearing arteries for this huge population already.
Once those Boomers hit retirement age, however, they will rely on cash-strapped Medicare -- rather than employer-sponsored coverage from the likes of
WellPoint
(WLP)
or
UnitedHealth
(UNH) - Get UnitedHealth Group Incorporated (DE) Report
-- to cover their hospital bills.
At one point, experts figured that Medicare would go broke after covering Baby Boomers for a single year. While current projections look more promising, they still assume that Medicare can pay for about a decade of Boomer care at best.
"At some point, this will have to be fixed," acknowledges Sheryl Skolnick, senior vice president of CRT Capital Group. "But I don't see a massive fix coming today. Congress never does anything before it has to."
Yet Villwock doubts that the new Democrat-controlled government, led by a President who swept into office on a powerful message of change, will continue to drag its feet. On the contrary, he looks for a full-blown Medicare reform bill by the first quarter of next year.
Congress needs to tinker with Medicare anyway, since the so-called "physician fix" demands annual attention. By law, Medicare must cut payments to physicians when the overall economy slows down. After an initial cut in 2002, however, it has chosen to simply postpone those cutbacks instead.
As a result, Villwock estimates, physicians will face a staggering 20% reduction in Medicare payments at the end of the year unless Congress takes some action. Instead of passing yet another temporary fix, he predicts, Congress will finally address the matter in a comprehensive Medicare package that solves the problem for good.
"The Democrats are walking into 2009 with a strong majority," Villwock states. "With any finesse at all, they will pass a massive Medicare bill sometime next year."
Ultimately, Villwock predicts, the government will find a way to pay hospitals enough money to treat Medicare patients without going out of business. Under that scenario, he says, hospitals would recoup their costs and clear a small return -- totaling about 5% of revenue -- for routine capital expenditures. Although not-for-profit hospitals have grown efficient enough to survive those cutbacks, he says, for-profit hospitals would likely lose investors accustomed to returns that are sometimes three times that size.
Skolnick wonders if hospitals could really withstand that kind of hit. For years, she notes, they have been plagued by falling patient admissions and rising bad debts from the uninsured. In recent months, she adds, they have seen the credit markets tighten and further threaten their health.
Sensing that heightened risk, Moody's downgraded the outlook for not-for-profit hospitals from stable to negative earlier this week. While most not-for-profit hospitals managed to weather the economic downturn at first, Moody's noted, they have now started to see their performance and liquidity erode. At this point, the firm added, even some of the largest players in the group have suffered notable deterioration.
"Congress may face an even weaker hospital industry by the time they get around to doing anything," Skolnick says. "I think the operating environment is already dangerous and likely to get much worse over the next six months."
As a result, Skolnick feels, Congress will think twice about causing additional pain. If anything, she predicts, lawmakers will feel more inclined to adopt new measures that help hospitals instead. In fact, she adds, they have already hinted at quick action designed to expand government-funded health insurance for children -- and even some parents -- who lack coverage right now.
"Anything that extends coverage to the working community would be positive for hospitals," Skolnick notes. "I'm not sure there is anything on the agenda -- which will likely get done -- that would be negative."
Villwock sees a mixed blessing at best. He also expects Congress to expand healthcare coverage and reduce hospital write-offs for the uninsured. At the same time, however, he feels certain that Congress won't stop there.
"It will be done in concert with payment reductions," Villwock states. "With the bulge in beneficiaries, there is no way for the government to pay for services at prices that provide adequate rates of return.
"If you're an investor in a for-profit hospital company," he concludes, "you should take steps to sell your stock to someone who is willing to accept that risk."