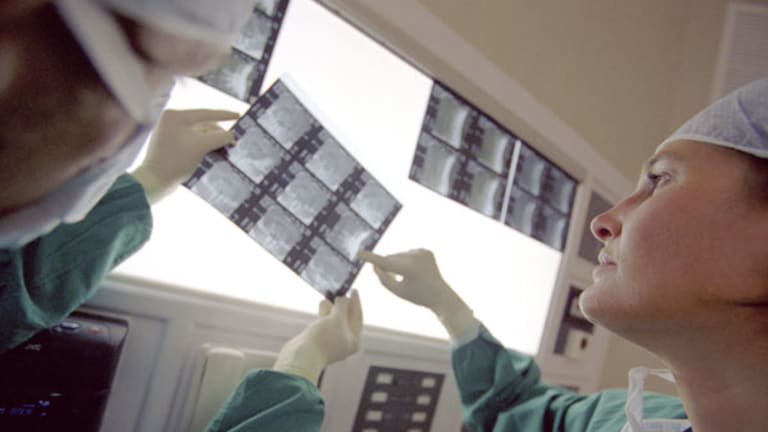 Hospital Fans Watch HCA
Results at the soon-to-be-private chain still grip investors.
With hospital companies preparing their latest quarterly results, investors might want to examine what happened behind the scenes last time around.
HCA
(HCA) - Get HCA Healthcare Inc Report
, the bellwether of the group, wound up desperate.
The giant hospital chain arranged one of the biggest leveraged buyouts ever, an effort to satisfy shareholders who would have otherwise pummeled the stock because of the company's lousy performance.
"You remember that report I wrote called 'Saved by an LBO?'" muses Sheryl Skolnick, senior vice president of CRT Capital Group. "I had no idea how right I was until I read what management and the board and the buyers were privy to. ... I didn't realize things were quite as dire as they portrayed them to be."
An internal presentation, made public through a regulatory filing last month, offers a chilling glimpse of just how tough the hospital business has become.
In the presentation, financial experts discuss the outlook for HCA -- under the code name "Hercules" -- and point to an LBO as the only quick cure for the company.
The presentation is brutally direct: The company's second-quarter results were "materially worse" than Wall Street expectations.
Moreover, the quality of the company's earnings was "extremely low" because of one-time gains.
Even worse, the company's full-year earnings would be "meaningfully below" analyst targets -- with the shortfall for 2007 looking "even greater."
"There is meaningful divergence between current Wall Street consensus estimates and Hercules management projections," the report states. "To the extent management, after reporting Q2-2006, provided revised FY 2006 and initial FY 2007 guidance, Hercules' stock would likely come under significant pressure and trade in the high-$30s range."
HCA management, together with other private investors, offered to buy the stock for $51 a share instead.
The stock, unchanged at $50.30 on Friday, has hovered safely around that level ever since.
Smoke Signals
HCA normally kicks off the sector's earnings season by releasing its results first.
However, the company -- which can soon keep its numbers to itself -- has yet to formally announce a target date for its third-quarter report.
"I don't think anybody really cares what their third-quarter earnings will be," Skolnick says, "except as a signal of what other hospital companies might report."
For what it's worth, analysts have predicted that HCA will earn just 66 cents a share in the third quarter -- less than it has during any period over the past year.
The company earned 77 cents a share last quarter and still fell short of Wall Street expectations.
Meanwhile,
Tenet
(THC) - Get Tenet Healthcare Corporation Report
-- HCA's largest competitor -- looks set to report another money-losing quarter.
Skolnick believes that Tenet continues to suffer from falling admissions but predicts that the drop-off, this time around, will prove less steep than it has been in the past.
Skolnick has a buy rating on the company's stock, once a $50 highflier that slipped 6 cents to $8.18 on Friday.
It is the only hospital name that she recommends buying. Skolnick doesn't own the stock, and her firm doesn't do banking in the sector.
In contrast, Skolnick has been warning investors to sell shares of
Health Management Associates
(HMA)
outright.
The rural hospital chain is expected to report third-quarter earnings of 30 cents a share -- down from recent quarters -- when it releases its latest results this month.
Skolnick notes that HMA, like HCA, operates a number of hospitals in a tough Florida market, which is plagued by huge numbers of uninsured patients who do not pay their bills.
"If HCA was that pessimistic about its operations and the composition of its assets, it does make you worry that other companies -- the ones with a significant overlap of assets (in HCA markets) -- haven't been pessimistic enough," Skolnick says. "This makes me concerned about HMA."
Shares of HMA fell 25 cents to $20.67 on Friday, leaving them near the low end of their 52-week range.
HMA's rural competitor,
Community Health Systems
(CYH) - Get Community Health Systems, Inc. Report
, has performed much better.
Skolnick feels the company has posted such strong results that it may have a hard time beating its own track record. The company, unlike its struggling peers, faces tough year-over-year comparisons this time around.
Skolnick has no formal rating on Community's stock, although she pays close attention to the company. The shares inched up 3 cents to $35.61 on Friday.
In contrast, Skolnick says,
LifePoint
(LPNT)
faces easy comps after reporting "horrible" results a year ago.
Of course, she adds, she will review the company's numbers with its past results in mind.
"I don't want to give them credit for having been incompetent last year," she stresses. "I think that is a bad thing to do."
Skolnick has a fair value rating on LifePoint's stock. The shares dropped 46 cents to $34.97 on Friday.
Shopping Spree
Of course, private equity investors could snatch up one of those remaining hospital companies for themselves.
Deutsche Bank analyst Darren Lehrich believes the sector is, in fact, ripe for another LBO. He notes that private equity groups continue to control huge amounts of capital that they hope to invest in new ventures.
Moreover -- even after counting the HCA deal -- Lehrich says that they have underinvested in the hospital sector so far.
Still, Lehrich acknowledges, those investors have few hospital companies to choose from right now.
However, he suggests, they could pay a decent price for any deals they do find.
"As a result of the narrow health care service sector capitalization weighting and the relatively small pool of good-sized publicly traded health care services companies in general, we believe there may be a scarcity premium afforded to the sector on the heels of the HCA LBO announcement," Lehrich writes in a research note last month.
"Simply put, the supply of private equity capital and the interest level swirling around health care services may provide a floor to valuation even in the face of depressed near-term fundamentals," he continues.
Lehrich lists both HMA and Community on his list of possible take-out candidates.
He has a hold recommendation on the first and a buy recommendation on the second. His firm owns stock in both companies.
Skolnick portrays Community as the more attractive of the two.
"I think HMA would like to be sold," she says. "But at that multiple, I don't know if anybody would be fool enough to buy them.
"Community remains interesting to me from that perspective," she adds. "It's a rural hospital company with attractive margins and excellent management. But I can't believe that the whole private equity world hasn't looked at it already."