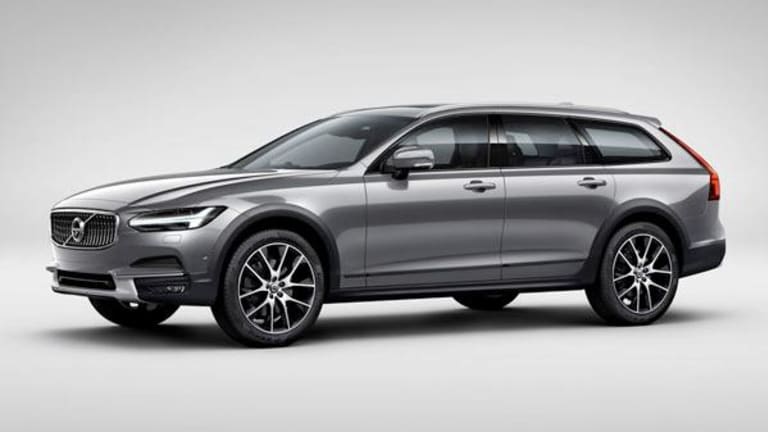 Hoping U.S. Carbuyers Will Again Consider Station Wagons, Volvo Unveils V90 Cross Country
Multipurpose models are displacing sedans. GM and Ford have wagons for Europe though no plans yet to bring to U.S.
Multipurpose models are displacing sedans. GM and Ford have wagons for Europe though no plans yet to bring to U.S.
As U.S. carbuyers increasingly pass on sedans in favor of crossovers, SUVs, hatchbacks and other multipurpose vehicle types, the prosaic station wagon (think Clark Griswold's summer vacation to Walley World) is getting a second look.
Last week, Sino-Swedish car venture Volvo Cars took the wraps off the Cross Country version of its premium V90 large station wagon, starting at $56,000 in the U.S. and built on the same architecture as its XC90 SUV and S90 sedan. The careful observer first notices the V90's slightly -- very slightly -- sleeker profile compared to the XC90. With the Cross Country, ground clearance has been raised 2.5 inches for easier passage on back roads and through snow; body cladding enhances its look.
"Designing a Volvo Cross Country is not a styling exercise, a plastic job. It is based on honest capability," said Thomas Ingenlath, senior vice president of design at Volvo Cars. "It will continue the genuine tradition of the Volvo Cross Country with a new recipe -- the blend of powerful off-road capability in a most elegant, sophisticated, tailored wagon suit."  Volvo is owned by Zhejiang Geely Group of China.
Volvo executives said V90 will appeal to buyers who want more utility and prefer the sleeker lines of a station wagon as opposed to the taller profile of an SUV such as the XC90. Until buyers decide they're interested in sedans once more, designers likely will try all sorts of combinations to stratify the multipurpose vehicle market.
"The lure of utility and all-wheel-drive without the higher ride height or sometimes bulkiness of an SUV/CUV is very appealing to a small contingent of consumers," said Rebecca Lindland, a senior analyst for Kelley Blue Book.
General Motors (GM) - Get Report currently builds an Opel Astra and Insignia station wagon in Europe, where consumer interest in wagons is higher than in the U.S. Could the Opel show up in the U.S. as a Buick? GM, which sold a Cadillac CTS wagon in the U.S. from 2010 to 2014 in small number, won't say and won't rule it out.
Fuji Heavy Industries'  (FUJHY) - Get Report Subaru Outback wagon has turned into a phenomenal success story in the U.S., helping to reinforce the brand's niche status among the giants. Sales are up more than 17% this year.
Ford's (F) - Get Report Flex looks more like a classic version of a station wagon than most other multipurpose vehicles, such as Ford's own Edge crossover. Flex isn't a big seller but its owners tend to be passionate about it. Ford, like GM, sells two station wagons in Europe, Focus Estate and Mondeo Estate, though it has no plans to bring to the U.S.
Plans do change, often without much warning. Automakers will be watching Volvo's V90 to see whether the everchanging tastes of U.S. carbuyers may warrant more players in the still small station wagon segment.
Doron Levin is the host of "In the Driver Seat," broadcast on SiriusXM Insight 121, Saturday at noon, encore Sunday at 9 a.m.
This article is commentary by an independent contributor. At the time of publication, the author held no positions in the stocks mentioned.