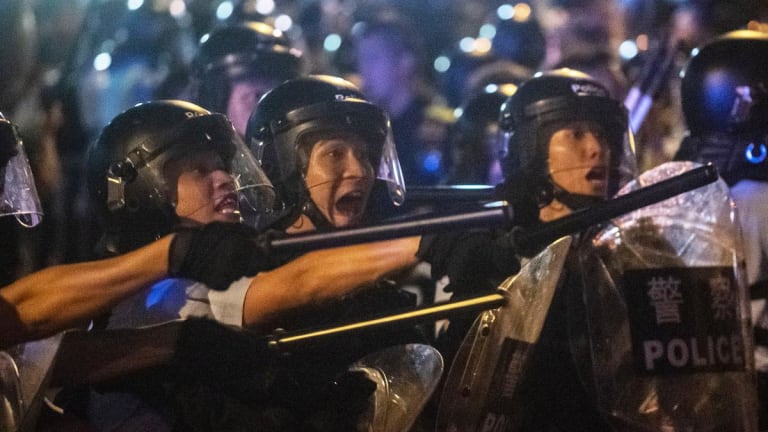 Hong Kong Protests Intensify as Officers Fire Tear Gas Into Crowds
One group reportedly attacked a legislative building as protesters call for expanded democracy in the former British colony.
Anti-China protests intensified in Hong Kong Monday on the 22nd anniversary of its sovereignty; the former British colony has been loosely ruled by the Chinese government ever since.
Of the hundreds of protesters, a group was seen on video storming a legislative building and smashing its windows, in the financial center of 7.4 million people. Officers used tear gas and riot shields to disperse the crowd outside of the building and confiscate the makeshift battering rams protesters were using. 
Monday's clash is the latest instance of civil unrest since legislators in the province put forward a bill that would allow the extradition of fugitives in Hong Kong to China to stand trial. 
Though Hong Kong was handed back to the Chinese from the British on July 1, 1997, the province has maintained a certain level of autonomy from the authoritative regime that rules the mainland.
June's bill signaled to many citizens that the relative time of autonomy they have enjoyed since the transfer could be coming to an end. Activists are also concerned that the new law could be used as a pretext for political prosecution of voices critical of the mainland's authoritarian regime. 
The political unrest in the home of the world's second-largest economy hasn't hit stocks in the U.S. Monday. The Dow Jones was holding steady with a gain of 0.36%, or 97 points, while the Nasdaq jumped more than 1% and the S&P 500 gained 0.64%.