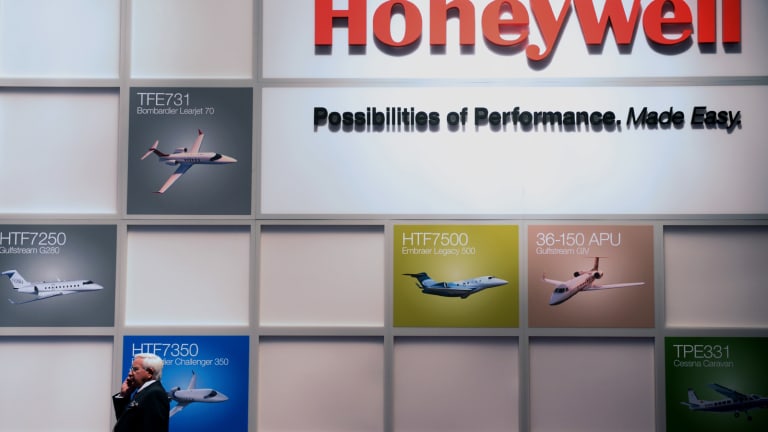 Honeywell Worries Are Building as Momentum Fades
The company has been one of the industrials sector's most steady performers in the years since the financial crisis. It's earnings warning is a sign of concern.
Honeywell (HON) - Get Honeywell International Inc. (HON) Report  tempered expectations for the recently completed third quarter and cut guidance for the fourth, a fresh sign that perhaps momentum is slowing at what has been one of Wall Street's most reliable industrial performers.
The Morris Plains, N.J.-based conglomerate said late Thursday it now expects to earn between $6.60 and $6.64 a share in 2016, down from a previous forecast of up to $6.70, due to lower business jet shipments, program delays in defense and choppiness in commercial aviation. The company said it expects organic sales to be down 1% to 2% for the year, compared to a previous forecast of a 1% decline.
One-time issues, including separating its automation and control solutions business into two reporting segments, and a number of acquisitions and divestitures, also impacted results.
Shares of Honeywell opened down more than 8%, or $9.52, on Friday morning following the cut. While the miss was relatively mild, investors were likely more put off by the broader message from Honeywell that growth is seemingly hard to come by right now.
Honeywell has been a steady performer in the years since the financial crisis, with its shares up more than 400% from 2008 lows. But the notoriously conservative dealmaker has raised some eyebrows this year, first with its unsolicited, and ultimately unsuccessful, hostile $90 billion bid for United Technologies and then with long-time CEO Dave Cote's retirement announcement in June.
The quarter miss comes just weeks after Honeywell reaffirmed its previous guidance at a sell-side conference, and raises questions about whether the company will be forced to spend more money either on reinvigorated R&D or a stepped up M&A campaign. It might also cause investors to worry about the company's transition to a new CEO.
Cowen & Co. analyst Gautam Khanna in a note said that "investors, naturally, will worry about whether Honeywell's CEO transition will follow the pattern of United Technologies' ... (not good) or chart a smoother course." UTX replaced Louis Chenevert with Gregory Hayes in late 2014, and has stumbled in the years since to regain its footing.
Honeywell is already charting a more aggressive course. In addition to the failed United Technologies bid, the company in recent months committed $1.5 billion to buy warehouse automation equipment vendor Intelligrated and bid for JDASoftware Group. It has also since mid-September sold its government services business and spun its resins and chemicals unit to shareholders as AdvanSix.
Honeywell, with its exposure to a still vibrant commercial aerospace market, key defense programs and a growing building automation sector, is far from troubled. But it seems a company that has been a sure thing over the past few years has if nothing else entered a period of transition. Investors are adjusting accordingly.