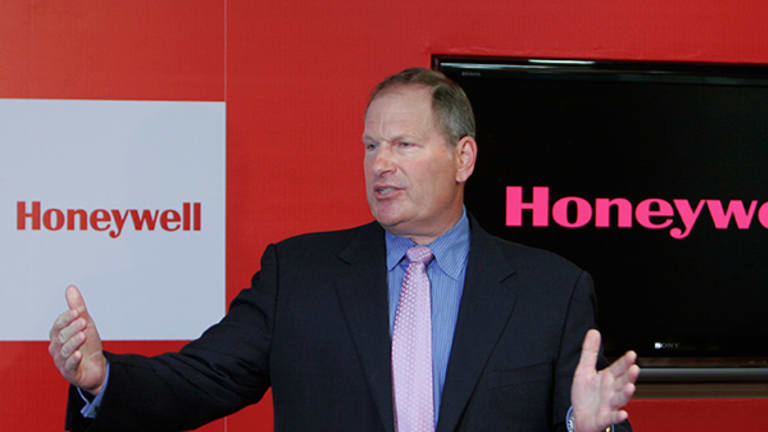 Honeywell's Cote to Step Down as CEO Next March
The longtime CEO will be replaced by COO Darius Adamczyk, who has been with the industrial conglomerate since 2008.
The longtime CEO will be replaced by COO Darius Adamczyk, who has been with the industrial conglomerate since 2008.
Honeywell International (HON) - Get Report said after markets closed Tuesday that Dave Cote would step down as CEO next March, with COO Darius Adamczyk set to replace the long-serving leader.
The Morris Plains, N.J., company said that Cote would continue on as executive chairman until after the company's 2018 annual meeting, after which he would start a five-year agreement to consult with the company that also includes a noncompete agreement.
Adamczyk, who was named president and COO in April, has been with Honeywell since the industrial conglomerate acquired Metrologic Instruments, where he was CEO, in 2008. The executive has run a number of businesses at Honeywell, including most recently serving as CEO of $9.3 billion-in-sales Honeywell Performance Materials and Technologies.
Cote in a statement called Adamczyk, 50, "absolutely the right person to lead our company into a new era where we will need to keep evolving to become even more global, more of a software company and more nimble.
"Darius thinks independently and has demonstrated that he can evolve business strategies to fit evolving circumstances -- a very important skill because the world is changing rapidly," Cote said. "He has the growth mindset, global acumen and software expertise to be a highly successful CEO for Honeywell."
Cote, who will turn 64 next month, was named Chairman and CEO of Honeywell in 2002, taking over shortly after the company's proposed sale to General Electric (GE) - Get Report was rejected by European regulators. During his tenure, the company's market capitalization has grown from $20 billion to $87 billion, generating by company estimates more than double the cumulative total shareholder return of the S&P 500.
Cote was known as a cautious acquirer during his tenure, though he did commit $5.1 billion in 2015 to buy Elster Group as well as do dozens of smaller bolt-on deals over the years. He of late has shown more of an aggressive streak, earlier this year making an unsuccessful $91 billion offer to acquire United Technologies .
Honeywell Lead Director Jaime Chico Pardo in a statement said Cote "has been a passionate and transformative leader throughout his tenure at Honeywell, completely turning around the company from its initial state of disarray."
Honeywell shares, which added 2.3% Tuesday to $114.06, were flat in after-hours trading.