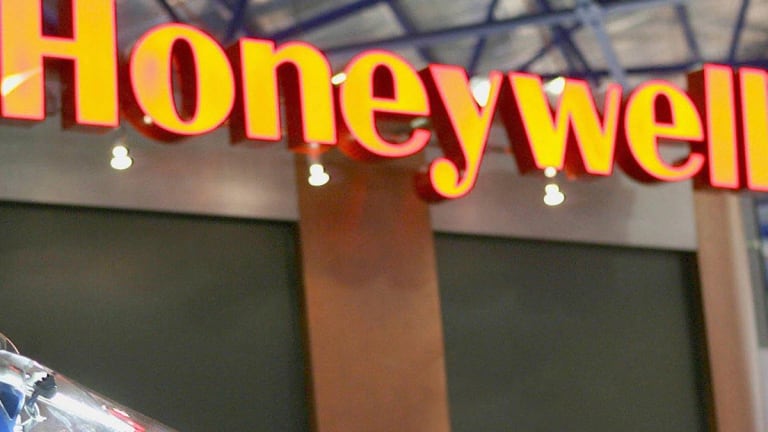 Honeywell Reaffirms Raised Outlook: Should You Buy the Stock Now?
Honeywell shares have had a nice run-up and the company reiterated on Tuesday the strong guidance it gave last month. What should you do now?
With shares of Honeywell International Inc. (HON) trading at close to 52-week highs at around $168 and dividends yielding just 1.95%, value investors may wonder if the stock has any upside. Still, anyone buying the stock before shares trade ex-dividend on May 23 may want to consider Honeywell's fundamental strengths ahead.
Strong First Quarter
On April 18, Honeywell reported non-GAAP EPS of $1.92 for the year as revenue grew 8% year-on-year to $8.9 billion. Operating income improved to 18.5% as operating cash flow topped $1.1 billion. Honeywell's long-cycle businesses in commercial aerospace, defense and warehouse and process automation all added positively to organic sales. Strong demand for commercial fire and security products also lifted results.
Management lifted its full-year EPS guidance to $7.90 to $8.15 and organic sales growth of 3% to 6%. It reaffirmed this guidance at Investor Day on May 14. For the second quarter, EPS will be in the range of $2.05 to $2.10. This is due to its confidence in investments in new product development, an increase in its long-cycle backlog of more than 10% and strength for the short- and long-term.
At a recent stock price of around $168, HON stock trades at a 2019 P/E of 20.6 times. Investors should consider the stock is still reasonably valued given the growth rates ahead. Aerospace sales grew 10% organically, thanks to continued strength in the U.S. and international defense business. And with margin expanding 260 basis points to 25.1%, profit growth from this segment will likely continue increasing.
Honeywell's management clearly performed well by moving the business in the right direction. The team is now building out its sales force and capacity and investing strategically to foster innovation.
Outlook
Honeywell's second-half outlook depends on its short-cycle business doing well. Predicting its performance could prove tricky, so any revenue miss could send the stock lower. Still, the company is demonstrating strong bookings, revenues, and margin expansion. If its stock falls because of short-term fluctuations in business performance, that could create a good entry point for investors seeking a stable investment.
"This stock remains our favorite industrial play because of its consistent organic sales growth, steady margin expansion and pristine balance sheet," write the team for Jim Cramer's Action Alerts Plus portfolio, which owns Honeywell.
Opportunities for Growth
Honeywell would like to deploy its capital in M&A to grow but it must also exercise spending discipline. In the near-term, the company will buyback shares in the belief that the stock will keep rising. In this scenario, the investment in the company itself increases shareholder value. In the first quarter, the $750 million share repurchase paid off well because the stock rose by over 15% in that period.
Geographically, growth in the double-digits in the U.S. and the Middle East, and single-digit growth in Europe offset the decline in China. Still, Honeywell's Home and Building Technologies (HBT) unit grew as did its Safety and Productivity Solutions (SPS) unit. The PMT (Performance Materials and Technologies) unit underperformed but could be an opportunity to improve this year. The U.S.-China trade tensions are macro risks that management now pushed out into the second half of this year. Should the two countries agree on a deal, Honeywell may even see China bookings and revenue conversion tailwinds.
With strong performance for HBT in China, investors could bet a trade resolution would lead to even stronger growth next, giving management a reason to raise its guidance for the year.
Growing operational margins is also a long-term positive catalyst. The company has an ERP solution to push operating costs lower and to increase efficiency. The continued restructuring will also cut costs through the second half of the year and the current second quarter.
Valuation and Your Takeaway
Eight analysts covering Honeywell stock on Wall Street have a $179 price target, which implies an upside of just 6.5%. Investors could apply Honeywell's higher full-year 2019 guidance of 7%-10% growth in EPS. In a 5-year DCF EBITDA Exit model where Honeywell grows revenue by between 7%-10% annually, the stock's fair value is around $180. Per finbox.io, this target price is consistent with that offered by Wall Street analysts.
Your Takeaway
Honeywell is trading at close to 52-week highs and at levels where investors may want to wait first before starting a position. Instead, investors may want to wait for a broad market selloff that pulls HON stock lower.
This would mean forfeiting the upcoming dividend but that gain would be offset by getting the stock at a better price. At 19 times forward earnings, the stock is not expensive but it does reflect management's raised guidance.
Disclosure: As of this writing, the author did not hold a position in any of the aforementioned securities.