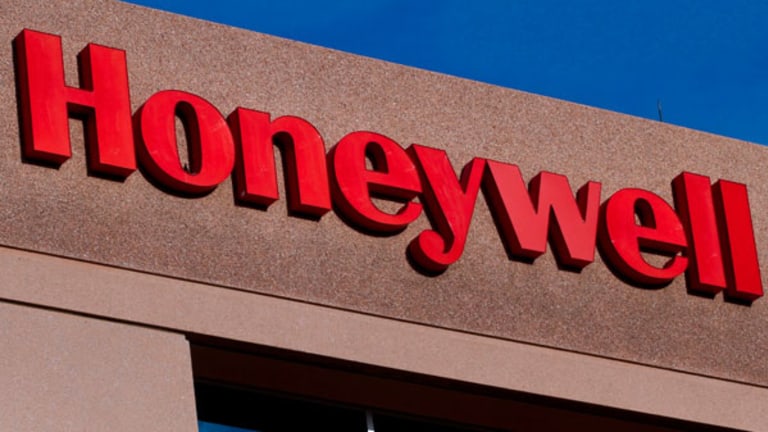 Honeywell Trims Guidance but Shares Retake Ground Lost in Pre-Open Trading
Honeywell recover pre-open trading losses triggered by 2017 earnings and sales results at the low end of expectations.
Updated to correct revenue forecast.
Shares of Honeywell (HON) - Get Report  recovered from steep pre-market losses over 9% to trade slightly higher afterthe open. The selloff followed a presentation tempering expectations for 2017.
Honeywell, which hosts an investor meeting Friday morning, affirmed its fourth-quarter earnings per share estimate of $1.74, a penny below what analysts expect. Honeywell also said it expects 2017 earnings per share to come in at between $6.85 and $7.10, compared to a $7.08 consensus, on revenue forecast to be down slightly to up 2% year over year. 
The company's shares quickly dropped nearly $10 apiece to $106 in premarket trading on small volume before recovering somewhat, trading down 3.3% with about 90 minutes until markets open. The tepid outlook is similar to what rival United Technologies forecast on Thursday, but much less sanguine than General Electric's (GE) - Get Report view of 2017.
Despite the guidance, Honeywell paints a fairly optimistic picture of 2017, with President and Chief Operating Officer Darius Adamczyk in a statement noting that the company has spent more than $8 billion since 2015 on M&A while spending an additional $250 million on restructuring. He said that some of that work will pay dividends in the new year, despite expected slow-growth issues globally.
"Our recent investments in the portfolio and development of new products, combined with the cost benefits from ongoing productivity initiatives, M&A integration, restructuring, and debt refinancing, have set us up for continued outperformance in 2017," Adamczyk said.
Adamczyk is set to take over for long-time CEO Dave Cote in March.
Investors have been on edge concerning Honeywell since October, when the company warned that weakness in aerospace and energy markets would contribute to a weaker-than-expected third quarter. The company's shares fell about 8% the day of the warning, and Cote later said that perhaps Honeywell had been too conservative in its communications.
Cote, during an Oct. 7 call, said "we went out of our way to be transparent," but in doing so management might not have adequately expressed its optimism about the future.
The company -- when it meets with investors Friday -- will once again need to reassure that the long-term plan is on track.