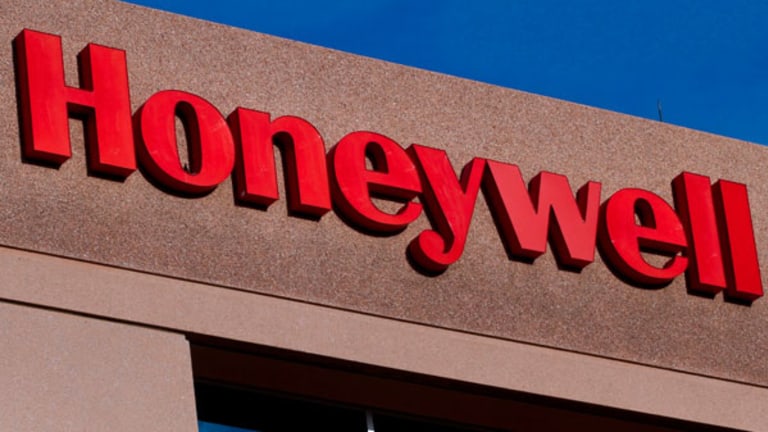 Honeywell Could Struggle for More Growth
Honeywell has lowered its 2017 outlook, and the year could turn out to be tougher than expected.
Year to date, shares of Honeywell (HON) - Get Report are up 12.4%. Last week, the company held its annual outlook meeting with investors and lowered its 2017 outlook.
Honeywell reaffirmed its fourth-quarter guidance at the meeting. It predicts earnings per share of $1.74, a penny below the consensus estimate of $1.75. Honeywell said its expects fourth-quarter revenue between $10.1 billion and $10.3 billion. The company will report fourth-quarter earnings on Jan. 27. The consensus estimate is for earnings of $1.75 per share on revenue of $10.14 billion.
With the stock up so much, investors were hoping 2017 would be a good year. Management has several priorities this year, including jump-starting its organic growth, transforming itself into a software-industrial company, offering more differentiated technology and improving the customer experience.
Fiscal 2017 sales are expected to be between $39.2 billion and $40.1 billion, or 1% to 3% organic sales growth. The company sees earnings between $6.85 and $7.10 per share. The midpoint of the earnings guidance was below the previous consensus estimate of $7.09.
Earnings growth of 6% to 10% is mostly made up of cost savings, merger integrations, foreign currency hedging and some productivity improvements. For example, the company believes it can net $150 million in asset sales, lower costs by at least $100 million, increase pension income by $50 million and find about $250 million in incremental restructuring benefits.
Management is forecasting an improvement in operating margin of 70 to 110 basis points. The operating margin forecast now stands at 18.8% to 19.2%.
If Honeywell were able to meet its objectives, the company would throw off about $4.65 billion of free cash flow.
Given the company's forecast, it seems to me that Honeywell will not be able to achieve the high end of its earnings guidance. To say that earnings are going to grow 10% on 1% to 2% organic growth doesn't seem realistic. It's a stretch.
To meet these goals, the Safety and Productivity Solutions group would need to put up about 18% revenue growth, but the group is only 18% of sales. Aerospace, which is 37% of total revenue, is likely to show no growth. Home and Building Technologies, which is 27% of revenue, would have to be up 4%, because all the other divisions are projected to be down.
In other words, 2017 looks like another tough year, which means revenue growth of just 1% and earnings growth of just 5%, for earnings of $6.95 per share. Historically, the industrial group trades between 16 and 18 times forward estimates, or about $118 per share. With the stock only 2 points away, I wouldn't take the risk.
This article is commentary by an independent contributor. At the time of publication, the author held no positions in the stocks mentioned.