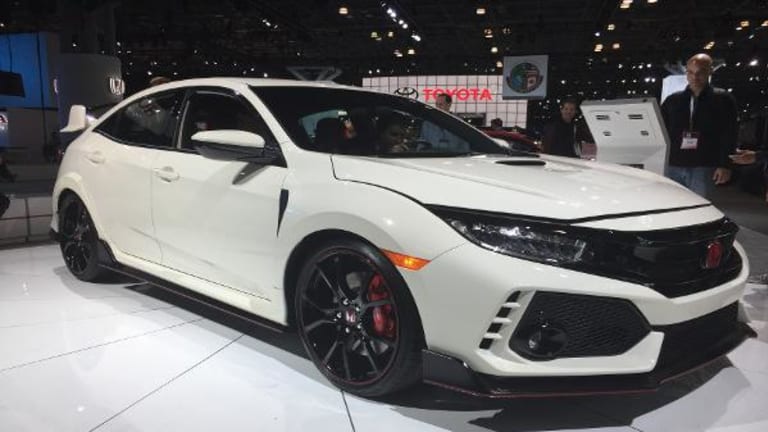 Publish date:
This New Extreme Honda Civic With Face-Ripping Speed Just Set a Major Speed Record
This is one impressive Honda.
This is one impressive Honda.
A Honda (HMC) - Get Honda Motor Co., Ltd. Sponsored ADR Report Civic now holds a speed-related record. Yes, you read that correctly.
Honda has announced that its 2017 Civic Type R scored the fastest front-wheel-drive lap around the storied Nurburgring Nordschleife race circuit. On April 3, the sporty auto beat the previous record with a run of 7 minutes, 43.8 seconds. That was 5.41 seconds faster than the previous record holder, the Volkswagen GTI Clubsport.
To be sure, the Civic Type R is not the one that parents on a budget drive to the supermarket. 
Honda's Type R Civic, dubbed the most powerful version of the model ever, will start hitting the U.S. market this spring. Up until now, the Type R has only been sold overseas. But based on consumer interest in the U.S. in modifying small cars to go faster, Honda decided it was time to bring this bad boy over from the across the pond.
"It basically has face-ripping performance," Honda spokesman James Jenkins told TheStreet in an interview at the New York International Auto Show. That may be an understatement.
The Type R, which reportedly weighs in slightly under 3,000 pounds, features a 2.0 liter turbo-four engine with 306 horsepower. It also has adaptive steering, Brembo brakes, a massive rear wing, an aero kit and racing-like seats. No automatic transmission here, just manual.
For around $35,000, getting your face ripped off comes at a great value.
Read more of TheStreet's coverage of the NY Auto Show:
Editor's Pick: Originally published April 24.