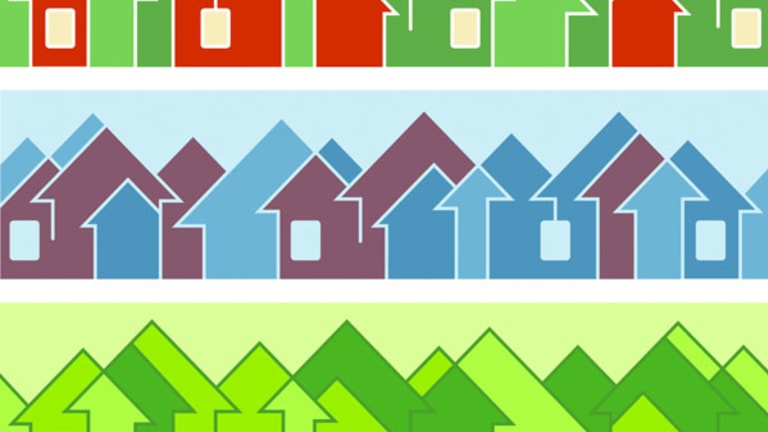 NEW YORK (TheStreet) -- Homebuilding quiz: How many of the public homebuilders can virtually guarantee reaching profitability in 2010?
The answer: one, and only one.
Sad to say, but when it comes to forecasting profitability in 2010, one is the loneliest number in the homebuilding sector.
Indeed, the level of uncertainty is so great when it comes to the homebuilding stocks headed into 2010 that only
NVR
can be expected to turn a profit in 2010.
Considering that NVR is the only homebuilder to turn a profit in consecutive quarters -- many of them, actually -- it is not going out on much of a limb to make this call for 2010.
What has allowed NVR to separate itself from the woeful homebuilding sector?
Carl Reichardt, an analyst with Wells Fargo said the reason for NVR's massive outperformance of the sector over the past two years is, for one, the fact that the homebuilder doesn't own land, but only options on land, so when the downturn came NVR was not forced to writedown a substantial portion of assets. NVR also is concentrated in the northeast and Washington D.C., and lacks exposure to the worst housing markets out West.
The second key component of the NVR strategy is the vertical integration of its business. NVR has significant control over building materials, logistics and its building network, and that allows NVR to be much more efficient than peers, Reichardt noted. "The margin on the house itself is what they earn as opposed to
the margin on the land, and that is the key," he said.
Still, at $692, is NVR a buy? It's by far the most expensive stock in the homebuilding sector. NVR has been trending up all year, though it is still off a 52-week high of $742. Wells Fargo's Reichardt has his price target in the mid-$800 range, so he thinks that relative to NVR's historic valuation, the shares are inexpensive.
"NVR has outperformed massively in the past two years, and can still outperform this year," said Joel Blocker, analyst with FBN Securities.
Still, not all analysts are as bullish on NVR, given the price point. James Wilson, an analyst at JMP Securities, said NVR is fairly expensive. "NVR has never lost money, and it's a great business. It's a well run company with a high return on capital, if you could get it cheaper," Wilson said.
Whether NVR is priced to buy or not, some analysts are clear on one point: "No one will be profitable in 2010 except for NVR," said Well Fargo's Reichardt.
But what of the others? Read on....
If the conventional wisdom holds true that a housing recovery starts at the low-end of the market, that means the 2010 outlook for
D.R. Horton
(DHI) - Get D.R. Horton, Inc. Report
should be among the brightest.
In fact, Horton management reportedly said at a recent Goldman Sachs conference that it was striving to return to profitability in 2010. It was the first time that Horton management has made a comment that even suggested profitability, analysts said, though they added that Horton management stressed the "striving for profitability" as opposed to predicting it would happen.
James Wilson, analyst at JMP Securities, said that Horton's comment that it could be profitable for all four of the next quarters, including the current quarter, was due to its quickly decreasing level of impairments and an operating cost structure down to a level where gross margins are able to cover it.
"I have them profitable for the year in my model," Wilson said. However, Wilson is not exactly in line with Horton management. "They will still lose money in the first half of the year, but the second half of the year, Horton should be profitable," he said, "the best short-term call in the sector is Horton."
Even if Horton can return to profitability, will it be at a level that returns a material amount to investors? Bose George, analyst at Keefe, Bruyette & Woods, had his doubts. George believes the issue is not getting to profitability, but to a decent return on capital.
"Once these companies stop having impairments, they are at break even, but from there to a decent return on capital, quite a few things need to go well," George said. Specifically, volumes need to increase and prices need to stop going down. "We just don't get to that point in 2010," George said.
What Horton has going for it is a strong balance sheet, and that is a factor that also defines the homebuilding market's luxury segment bellwether,
Toll Brothers
(TOL) - Get Toll Brothers, Inc. Report
.
The conventional wisdom that the low-end of the housing market always recovers first may not fit exactly to these unconventional times. Toll Brothers has some factors in its favor headed into 2010, even though it sits at the slower-to-recover luxury end of the market.
Wells Fargo's Reichart said, for one, that Toll has less unsold and vacant inventory overhang. Number two, Toll has a higher concentration of assets in the Northeast, where Wells Fargo expects the housing market to undergo a stronger and more profitable sales rebound.
Finally, Toll does not face the heavy competition that exists at the low-end of the homebuilder market. Many of the private players that once competed in the luxury segment have folded, unable to gain financing for deals, and Toll controls a huge share of the market as a result. Reichardt estimated that Toll controls between 40%-50% of the market in which it operates, unlike the highly fragmented and hotly contested land at the low end of the market.
"Toll's luxury profile is a legitimate concern, but you can also argue that this time around in a housing recovery, that should be less of an objection than many investors would think it should be," Reichardt said.
The big negative on Toll is that it can substantially change its lot positions in the northeast and it has significant positions, a situation that makes the Wells Fargo analyst believe that Toll will recover quicker than expected, but still not hit the ground running in 2010. "We thought for some time that they would be profitable in 2010, but their recent guidance was not as positive, so now I think they won't be profitable for the full year, but the second half of it -- and that's still sooner than many of their peers," Reichardt said.
Other analysts are less than enthused headed into 2010, whether looking at the low-end, first-time home buyer or luxury end of the housing market.
KBW's George summed up the 2010 outlook for the homebuilders with his opinion on the bellwether, cash-rich stocks at the low-end and luxury end of the market, Horton and Toll. "They both have the balance sheet to wait, and neither is a good story for equity investors in 2010," George said.
-- Reported by Eric Rosenbaum in New York.
RELATED STORIES:
>>Time to Stop or Start Trading Home Starts?
>>Are Home Prices Headed for a Double Dip?
>>Podcast: Foreclosures to Frighten in 2010
>>See our new stock quote page.
Follow TheStreet.com on
and become a fan on
Copyright 2009 TheStreet.com Inc. All rights reserved. This material may not be published, broadcast, rewritten, or redistributed.