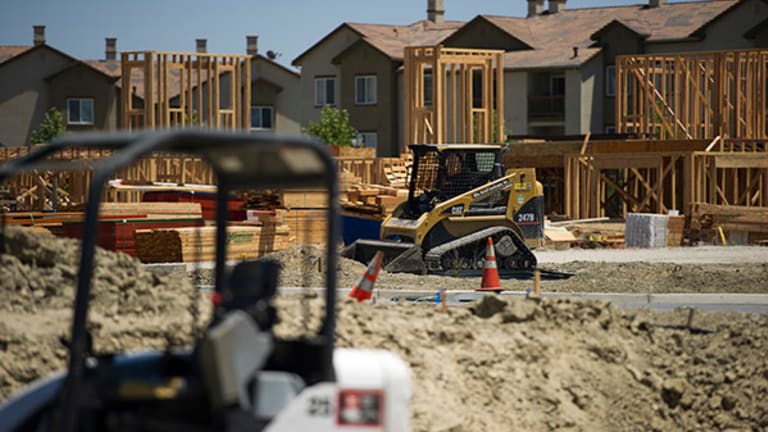 Homebuilder Sentiment Surges
The National Association of Homebuilders/Wells Fargo Sentiment Index rose more than expected
NEW YORK (TheStreet) -- Homebuilders are getting more bullish about housing market conditions as we head into a new year.
The National Association of Home Builders/ Wells Fargo Housing Market Index had a reading of 58 in December, up 4 points from the November reading of 54. Year-over-year, the index is up 11 points. Economists polled by Bloomberg expected the index to rise to 55.
The monthly survey asks builders about their perceptions of current sales conditions and expectations of future sales. They are also asked to gauge prospective buyer traffic. A reading over 50 indicates builders view market conditions as more positive than poor.
In the latest survey, all three index components rose. The index gauging current sales conditions jumped six points to 64, while the index gauging expectations for future sales rose two points to 62. The index gauging traffic of prospective buyers gained three points to 44.
Overall builder sentiment has been positive for seven consecutive months.
"This is definitely an encouraging sign as we move into 2014," said National Association of Home Builders (NAHB) Chairman Rick Judson. "This indicates that an increasing number of builders have a positive view on where the industry is going."
New home sales slipped in the late summer months in response to higher interest rates. But it appears that buyers have now adjusted to market rates and are returning to the market.
Recent sales data has definitely been positive. New U.S. home purchases jumped by the most in more than 33 years in October, up 25.4% to an annualized rate of 444,000, as home buyers looked to be adapting to higher mortgage rates. Sale of new homes had declined 6.6% in September.
While prices of new homes are starting to wane, strong demand for homes continues and the supply of homes remains tight. At October's sales pace, it would take only 4.9 months to clear the houses on the market. A supply of 6 months is considered normal.
Building permits rose to more than 1 million in October, the highest level since June 2008. Although most of the increase in October was explained by multi-family permits, which authorizes construction of apartments rather than single-family homes, analysts noted that there was underlying strength in the permit data.
On Wednesday, the Census bureau will release housing starts data for the months of September, October and November.
-- Written by Shanthi Bharatwaj in New York.
Disclosure: TheStreet's editorial policy prohibits staff editors and reporters from holding positions in any individual stocks.