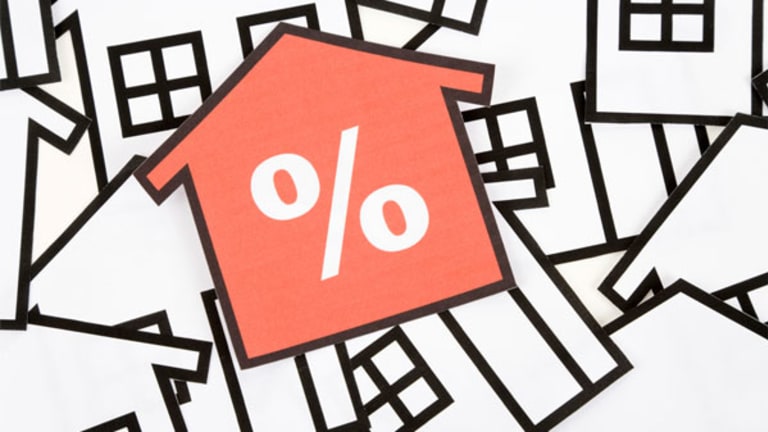 NEW YORK (
) -- Profits are expected to remain elusive for most of the major public homebuilders in 2010 -- although market-share gains are expected for many in the homebuilding sector.
But does a big land grab in 2010, and possibly even some major M&A transactions similar to the
Pulte Homes
(PHM) - Get PulteGroup, Inc. Report
-
Centex
deal from last April, make the homebuilders a good place to wager investor dollars in 2010?
There are two ways to answer this question. One line of reasoning argues that since competition will be intense for land purchases with companies like
D.R. Horton
(DHI) - Get D.R. Horton, Inc. Report
and
Toll Brothers
(TOL) - Get Toll Brothers, Inc. Report
sitting on big cash balances, investors need to buy the stocks at the bottoms they have reached before the opportunistic land grabs push the homebuilders higher again.
"I'd be buying now," said James Wilson, analyst with JMP Securities. "If you wait until you see it on the tape, it's too late," Wilson said. "There are lots of public builders with lots of cash, and a reasonably competitive bidding environment," he added.
On the other hand, the relative importance of market share gains versus a return to profitability by the homebuilders also leads to a major reason why investors may not want to rush into the stocks betting on profitability: A homebuilder like
M.D.C. Holdings
(MDC) - Get M.D.C. Holdings, Inc. Report
, for example, may actually benefit from the downturn lasting a little longer, so they can buy distressed land at higher margins, explained an analyst who could not be quoted on potential M&A activity among the homebuilders.
"I don't think M.D.C. cares if there is a downturn in 2010. It's an opportunistic buying atmosphere, and there are plenty of builders with a big land supply that they want to get rid of," the analyst said.
One homebuilder under serious financial distress is
Orleans Homebuilders
( OHB).
Orleans Homebuilders recently announced an amended agreement with its bank lenders that included the prospect of a land fire-sale or an outright sale of its entire business.
Toll Brothers could have an eye on Orleans specifically. A housing market expert who has spoken personally with Toll management said that the luxury builder likes the Orleans land portfolio. However, it is really the banks to which Orleans is indebted, and not Orleans, that will hold unusual pricing say over any deals -- and given the current market conditions, it might be difficult for Toll to value the land at a price that would meet the banks expectations.
What's more, as Toll Brothers operates at the luxury end of the market, where so many private players have fallen by the wayside in recent years, it can expect to leverage its cash balance to increase market share exponentially if it can find attractively priced deals.
"Toll sees itself as a land investor, and despite that it has a long pipeline of land, they are going to buy," said Bose George, analyst at Keefe, Bruyette & Wood. Still, Toll Brothers' founder Bob Toll's recent comments about potential use of the homebuilder's cash heavy position have been conservative.
Regardless of Orleans fate, however, the general land grab is an expectation widely held for 2010. So the critical question may in the end be: Can the big public homebuilders gain share profitably?
Carl Reichardt, analyst at Wells Fargo, said he continues to question whether the desire to acquire is matched by an acquisition strategy that will result in profits passed along to investors. Reichardt said he has been beating the drum of recommending that homebuilders concentrate on gaining share in fewer geographic markets -- yet none seem interested in pursuing that strategy.
The "simply getting bigger" approach is one reason, in fact, why the land grab may not result in profitability, Reichardt said.
The Wells Fargo analyst argues that there is a disconnect between acquisition strategy and the best economic model for a homebuilder. Most homebuilders would be better off in terms of profitability as super-regional companies, and yet, most are trying to become national in size and scope.
"I don't disagree that there will be share gains, and the large public homebuilders will be buyers, but market share gains without profits is a pyrrhic victory," Reichardt said.
That doesn't mean the Wells Fargo analyst is entirely negative on big deals. In fact, one trend Reichardt does expect to get more play in 2010 is public-to-public consolidation. Reichardt argues that the public homebuilders will find it difficult to buy land lots in bulk. In addition, those with a low cost of capital and with large cash balances can acquire at a higher cost of capital, but do what Pulte did in this year's Centex deal: create a lower blended cost of capital.
"There is strategic logic for these kinds of deals happening, more so than there has been in some time," he said. And this doesn't mean that the difficulty of buying lots in bulk defies the argument that there will be a general land grab. There is plenty of room for small deals, and there is a high level of lot supply that is fragmented in ownership, in addition to banks that have taken back land but have so far been reticent to move at reasonable prices.
Ultimately, then, while profitability may not be the story in 2010 within the homebuilding sector -- and that's going to be a disappointment for investors -- it is shaping up to be an active M&A market. "Time is not your friend when an industry is hyper-competitive," Reichardt said.
-- Reported by Eric Rosenbaum in New York.
RELATED STORIES:
>>Homebuilder Stocks to Watch in 2010
>>Are Home Prices Headed for a Double Dip?
>>Podcast: Foreclosures to Frighten in 2010
>>See our new stock quote page.
Follow TheStreet.com on
and become a fan on
Copyright 2009 TheStreet.com Inc. All rights reserved. This material may not be published, broadcast, rewritten, or redistributed.