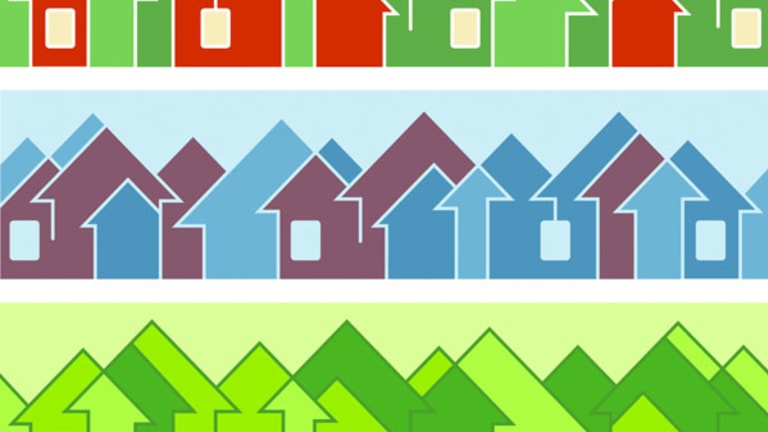 Home Solutions a Wreck
A delayed quarterly report is just the latest red flag.
Editor's note: "Bricks and Mortar" is a mock portfolio created by reporter Nicholas Yulico that is meant to help generate real estate and gaming-related stock ideas. In keeping with TSC's editorial policy, Yulico doesn't own or short individual stocks.
Home Solutions of America
(HSOA)
continues to find ways to disappoint investors.
The stock, which I've flagged as overvalued in the Bricks and Mortar mock portfolio
since April, recently was down 15% to $1.69 after the construction firm said it will not be filing its quarterly results on time due to an ongoing internal investigation of related-party transactions. The company's earnings report and conference call had been scheduled for Thursday.
I've issued numerous
warnings about Home Solutions this year as the company's dealings became
increasingly opaque and questions surrounded an acquisition from last year.
Shares have reflected this trouble, plunging 66% since the beginning of the year.Nonetheless, some investors have continually failed to see the writing on the wall.
I've received endless hateful emails over recent months, blaming me for somehow destroying this stock. It's a typical "shoot the messenger" mentality from people who refuse to cut their losses and instead blindly follow horrible management teams.
The company's internal investigation partially relates to a record $100 million contract for a job in Florida. Earlier this year, Home Solutions failed to tell investors in the initial press release that the deal involved work on a real estate project that is partially owned by Brian Marshall. He joined Home Solutions after heading disaster-recovery firm Fireline Restoration, which the company purchased last year.
Home Solutions also is trying to resolve issues with its credit facility. Lenders have yet to sign off on the company's plans to resolve a seller's note payable to Marshall.
Although Home Solutions has not defaulted on the credit line, it has so far had trouble convincing the lenders to allow it to transfer certain accounts receivable to Marshall as a resolution of the seller's note to him.
On the latest news, Rodman & Renshaw analyst Joe Giamichael, one of just two analysts covering the stock (both had buy ratings), suspended his rating and price target on Home Solutions.
"Investors are faced with a perfect storm of negative variables coinciding on the HSOA story. Macro driven concerns regarding the state of the construction industry, liquidity issues, related party transactions, cash-less earnings, questions regarding the legitimacy of the announced backlog, an on going shareholder lawsuit, an informal SEC investigation -- all contribute to the emotional soap opera that is Home Solutions," Giamichael wrote in a research note late Wednesday after the company delayed the filing.
Giamichael said Home Solutions' investigation could result in the restatement of past financials.
"Best case scenario; this means that the company will have to identify all related party revenues from the prior periods that had not been properly disclosed," he wrote. "Worst case scenario is they say that these transactions were not at fair market value and there are then concerns about self-dealing."
Giamichael's report is interesting, but not that useful to investors who have already seen heavy losses. I'm not saying Giamichael is a bad analyst. He just got duped by management, like so many investors have.
Melco Hits Rough Waters
Macau casino owner
Melco PBL
(MPEL)
, which I've included in the portfolio as a buy, on Wednesday reported a lackluster third quarter.
Revenue and earnings came in worse than expected because of poor casino hold and high costs at the Crown Macau, the company's first casino, which opened earlier this year.
Casino hold -- the portion of chips bet by customers that the house keeps -- was 2.3% of rolling chip volume for Melco's VIP business. This is below the 2.7% threshold that management had expected.
The Crown is focused on VIP play, which causes volatile profits. In the quarter, the property posted negative operating results. Adjusted earnings before interest, taxes, depreciation and amortization at the property were negative $10.4 million, on net revenue of $98 million.
The Crown represents nearly all of Melco PBL's revenues, with the rest coming from the small gaming clubs.
Adjusting for the poor hold, the results at Crown still disappointed. Assume a normalized hold, and the casino would have posted around $3 million of EBITDA, management said. By my estimates, that would translate into about $111 million of net revenue at the property, resulting in a pitiful 3% EBITDA margin.
The major issue with Crown is that it needs to double revenue to cover the large fixed costs at the property, which appear to be around $100 million to $120 million per quarter.
The good news is that major help is on the way. To increase revenues, Melco signed a partnership with Ama International, a junket aggregator. Junkets bring VIP players to Macau casinos.
Ama will exclusively promote VIP gaming at Crown Macau, which likely will help the property become the dominant VIP destination in the red-hot Chinese region.
Ama's parent is A-Max Holdings Limited, which is raising money in coming weeks on the Hong Kong stock exchange to fuel increased junket growth.
The parents of Melco PBL -- Melco International Development and Australia's Publishing & Broadcasting Ltd. -- recently completed a $250 million convertible offering. The proceeds will be used to buy back Melco PBL shares, substantially reducing the float. Buybacks could start as early as today.
The buyback, as well as the conclusion of this A-Max deal, could be a short-term catalysts for Melco PBL's stock, said Jefferies & Co. analyst Lawrence Klatzkin in a research note. Klatzkin rates Melco PBL a buy.
One final issue on Melco PBL: The stock has been under pressure recently after the announcement of a large secondary equity offering. The proceeds are being used to fund the apartment development at City of Dreams, Melco's second casino property in Macau, and other future projects.
I'm not crazy about an equity offering. The "pecking order theory" of corporate finance has a simple message: Consider raising debt before raising equity. But the problem is that the debt markets are tough today.
I'm maintaining my buy rating on Melco PBL with the hopes that Crown Macau can turn itself around. The fact that the property grabbed 8% market share in October is great news. But Melco PBL still has a ways to go to prove investors it can navigate the Macau market as well as
Las Vegas Sands
(LVS) - Get Las Vegas Sands Corp. Report
and
Wynn Resorts
(MPEL)
have.