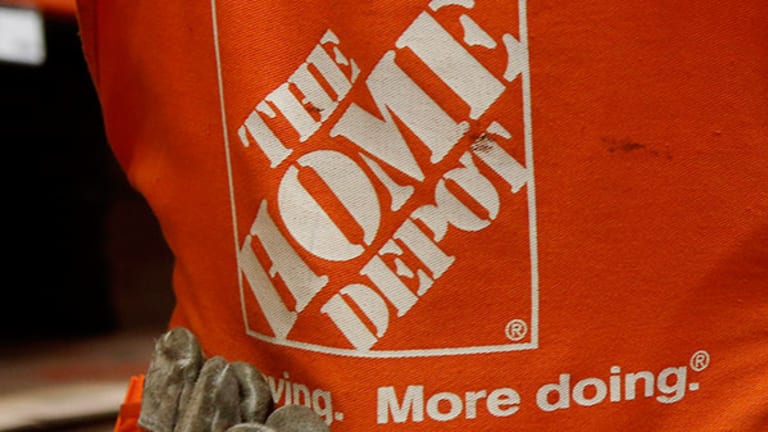 Publish date:
Home Depot's New CEO: What's Wall Street Saying
Here's what Wall Street is saying about Home Depot's new CEO Craig Menear, who will step into the position on November 1.
Here's what Wall Street is saying about Home Depot's new CEO Craig Menear, who will step into the position on November 1.
NEW YORK (TheStreet) - Home Depot (HD) - Get Report said on Thursday that Craig Menear would replace current Chairman and CEO Frank Blake as the company's new CEO, effective Nov. 1. Menear, currently the home improvement company's president of U.S. retail will step into the position, replacing the 65-year old Blake, who will remain Home Depot's chairman.
TheStreet's Jim Cramer says Home Depot's new CEO will have big shoes to fill:

WATCH: More market update videos on TheStreet TV | More videos from Brittany Umar
Menear was named president of Home Depot's U.S. retail operations in February of this year. He is a 34-year retail veteran and is a "key leader in the company's success," the Atlanta-based company said in the press release. "In addition to his role as chief merchant, Menear has overseen the company's supply chain efforts, its rapidly growing online and private brand businesses and the company's marketing and global sourcing," according to the release.
Blake has been Chairman and CEO of the company for the past seven years, leading the company through the recession. Since January 2007, when Blake came on, shares have risen 126%, outpacing the 40% gain in the S&P 500.
On Tuesday, Home Depot reported second-quarter earnings of $2.1 billion, or $1.52 a share, compared to $1.8 billion, or $1.24 a share in the year-earlier period. Sales rose 5.7% to $23.8 billion for the quarter, while comparable store sales for U.S. stores rose 6.4%.
Home Depot shares were falling 0.34% on Friday to $90.84.
Here's what Wall Street analysts were saying about the succession plan:
Christopher Horvers, JPMorgan Chase (Overweight; $98 PT)
Craig joined HD in 1997 (which may have felt like a top to him in the early to mid 2000s) and rose up to EVP Merchandising, where he led the company's merchandising and supply chain transformation, until he was promoted to President earlier this year. We had the opportunity to host a series of investor meetings in July and he is clearly thecultural flag bearer of HD and deeply in touch with merchandising. Weasked him "what three adjectives would your wife use to describe you?"His response was: detailed, collaborative, and fiercely competitive (andcompassionate). Anecdotally, others who have worked closely with Craighave mentioned "you went to him when you wanted to truth and the rightanswer" and they would consider him the "smartest guy in the room."
Alan M. Rifkin, Barclays Capital (Overweight: $100 PT)
We believe that Home Depot's successes since 2009, during which time Home Depot EBIT margins have risen more than 500 bps together with over twenty quarters of out-comping Lowe's, have been based, in large part, on its impressive merchandising strategy. With this in mind, while we are obviously disappointed that Mr. Blake will be bringing his highly successful tenure as CEO to an end, we believe that Home Depot is in good hands as the company continues to take advantage of the opportunities afforded by the most recent housing recovery. Ultimately, we think Mr. Menear's ambition will be to facilitate an even more cohesive relationship between the company's two most critical channels - its stores and e-commerce presence.
Seth Basham, Wedbush Securities (Neutral; $90 PT)
HD's 2Q results, headlined by 5.8% comps, exemplify quality and consistent execution of this deep management team. We believe HD remains in good handsas Frank Blake hands the CEO reins to proven leader Craig Menear on Nov. 1 andTed Decker steps into the EVP-Merchandising role. We believe HD continues to stayone step ahead of the competition in exploring and capitalizing on key categorygrowth opportunities, with clear market share gains in appliances and hard surfaceflooring in the quarter.
Michael Lasser, UBS (Buy; $98 PT)
At this point, we think HD is carrying so much momentum and has such a strong set of assets that a leadership change really shouldn't have an impact on its investment case. That being said, there have been other recent examples of retailers with above average EPS growth and leadership transitions such as PETM & DG. The CEO change quickly became a focus of the story. That potential fully exists here, especially considering how good HD's 2Q'14 was. But, we think HD's investment merits stand strong.
--Written by Laurie Kulikowski in New York.
Disclosure: TheStreet's editorial policy prohibits staff editors, reporters and analysts from holding positions in any individual stocks.