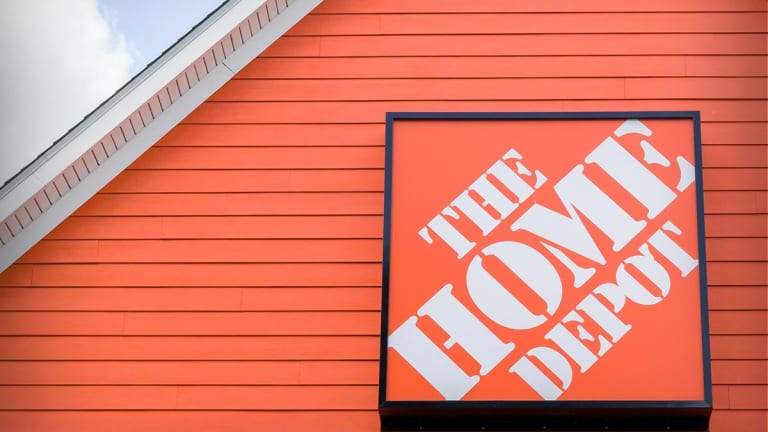 Home Depot Is Rallying After a Record Year, and It's Still a Good Buy
Home Depot shares are up about 16% year-to-date. However, shares trade below their long-term average multiples and a recent 32% dividend increase has bumped the company's yield up towards the 3% threshold.
Home Depot shares are up about 16% year-to-date. However, shares trade below their long-term average multiples and a recent 32% dividend increase has bumped the company's yield up towards the 3% threshold.
Spring is in the air and this is about the time that many home owners flock to Home Depot (HD) - Get Report to get supplies for their yards, gardens and ambitious repair projects. So does that mean it's time for investors to consider adding Home Depot shares to their portfolios as well?
Home Depot spent the fourth quarter in a fairly steady downtrend, culminating with lows of $158 a share during the Christmas Eve sell-off. However, these shares have shaken off their late 2018 woes and have traded nicely thus far this year, rising from $172 to $194 during the first quarter.
To some, buying stock after a strong rally like this might seem like chasing momentum. But their 16% year-to-date return doesn't necessarily mean that shares of Home Depot are expensive. They're still trading below the recent highs of more than $215 that they set back in September, 2018. And, while the stock's current 19.7x trailing twelve-month price-to-earnings multiple is well above the S&P 500's, this premium valuation is still below Home Depot's long-term historic average of more than 21x.
So what sparked Home Depot's turnaround?
Well, in today's age of algorithmic trading, the fact that the major market indexes have bounced back means that shares of HD have been lifted with the tides. And much of the S&P 500's rally seems to have been due to a couple of primary issues.
One is the perception that trade talks between the U.S. and China are improving. While the  effects of slowing global growth in response to an ongoing trade war likely wouldn't be positive for Home Depot, the vast majority of Home Depot's revenues are produced domestically, so it is fairly shielded from much of that risk.
The second is a more dovish Federal Reserve. And here, Jerome Powell's recent change of heart likely has had a positive impact on Home Depot's stock.
Home Depot has approximately $28 billion in long-term debt on its balance sheet, so lower rates do make servicing that debt slightly easier. However, while this debt load has risen in recent years, Home Depot's free cash flows have risen along with it and the market doesn't seem overly concerned with the leverage on HD's balance sheet. Standard and Poor's gives Home Depot an "A" credit rating.
Lower rates are also good for HD if they help to spur along the housing market. However, Home Depot benefits from renovations as well as new construction, so regardless of the number of new housing starts, there is a bullish argument to be made for the company. 
2018 was a record year for Home Depot on many counts, including total sales and EPS. The company posted total revenues of $108.2 billion (representing 7.2% y/y growth) on the year, and EPS of $9.73/share (representing 33.5% y/y growth). 
However, during the Q4 earnings report, HD management gave 2019 guidance that was slightly disappointing to investors, calling for low single-digit growth on both the top and bottom lines. Since Home Depot traditionally trades at a premium, weakness in response to soft guidance makes sense. However, buying shares of high quality companies when they're experiencing isolated, short-term headwinds is also a good idea.
While management was not particularly bullish on 2019 prospects with their revenue and EPS guidance, they certainly signaled confidence with their shareholder return announcements.
Home Depot recently raised its dividend by a whopping 32%. This increase, alongside recent share price weakness, has pushed the company's yield up to 2.8% at current share prices, well above Home Depot's five-year average dividend yield of just 2.1%. 
On top of the dividend increase, management also announced a $15 billion buyback authorization. Home Depot has successfully used its buyback program to reduce its outstanding share count by more than 16% over the last five years. The current authorization represents nearly 7% of the company's total market cap, so it appears that this trend is likely to continue.
HD shares aren't as cheap as they were a few months ago, but if you're looking for a best-in-breed company with a safe 2.8% yield, double-digit dividend growth prospects and a strong balance sheet, then you don't need to look any further than Home Depot.
Home Depot closed up .80 on Friday at $202.06.
Home Depot is a holding in Jim Cramer'sAction Alerts PLUS Charitable Trust Portfolio. Want to be alerted before Cramer buys or sells HD? Learn more now.
How Much Money Will I Need to Retire?
Want to learn about retirement planning from some of the nation's top experts? Join TheStreet's Robert "Mr. Retirement" Powell live in New York on April 6 for our Retirement Strategies Symposium. For a limited time, tickets are available for $99 for this full-day event. Check out the agenda, learn about the speakers and sign up here.
Nicholas Ward is long Home Depot.