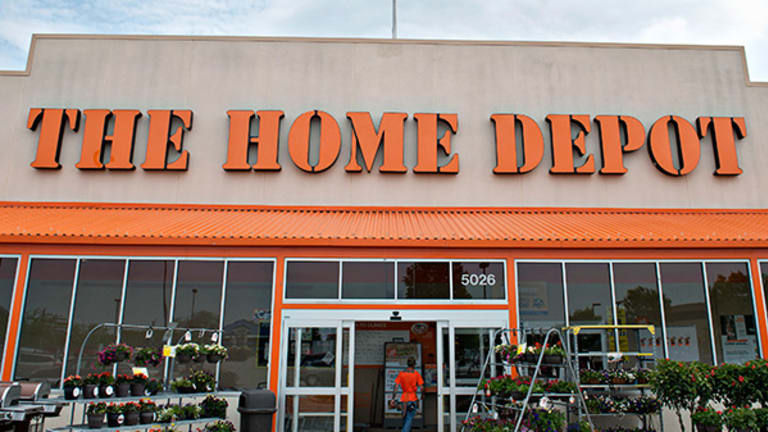 Home Depot Just Blew It Out of the Water While the Rest of Retail Keeps Falling Apart
It pays to sell home improvement goods.
With mall retailers such as Sears Holdings Corp. (SHLD) and J.C. Penney (JCP) - Get Report seemingly on their deathbed, Home Depot (HD) - Get Report once again proves why it pays to sell lumber and nails right now.
On Tuesday, the home improvement retailer said first quarter earnings grew 16% to $1.67 a share, easily beating Wall Street forecasts for $1.52 a share. Same-store sales rose 5.5%, ahead of analyst projections for 3.9% growth. Home Depot saw growth in both the number of transactions and the average amount spent by shoppers. The company lifted its full year earnings outlook to $7.15 a share from $7.13 a share previously. 
Shares rose slightly to $158.53 in Tuesday trading. On a conference call, Home Depot said all merchandise departments delivered sales increases. Sales from contractors, which Home Depot refers to as pros, were stronger than those from typical consumers. Online sales surged 23%. 
"The housing market is very strong", Home Depot CFO Carol Tome said, adding that sales in May have been "very good." 
So far, the U.S. housing market has withstood the rising interest rate environment and subsequent decline in housing affordability. In turn, home improvement retailers such as Home Depot have continued to thrive as existing homeowners renovate their homes -- which are rising in value -- and builders try quickly to bring on badly needed supply.
Sales of new single-family homes rose 5.8% to a seasonally adjusted annual rate of 621,000 in March, the highest since last August, according to the Commerce Department. The median sales price rose 7.5% from February to $315,000. Existing home sales hit their fastest pace in a decade, climbing 1.4% in the first quarter to an adjusted annual rate of 5.62 million, said the National Association of Realtors (NAR). 
The national median sales price increased 6.9% from the prior year to $232,100, the strongest gain in about two years.
Meanwhile, the NAR's Home Remodeling Index (RMI) increased five points in the quarter to 58, its highest reading since 2015. An RMI above 50 indicates that more remodelers report market activity is higher compared to the prior quarter than report it is slower.
"Home improvement spending still remains healthier than most areas in retail," says Jefferies analyst Dan Binder. "The industry is lapping the toughest quarterly comparison of the year, led by a strong February last year. However, trends remain strong as quarter to date building materials, hardware and garden supply sales (according to government figures) have grown 6.4% year over year while lapping a 10.1% growth over the same time period last year."
Read More Trending Articles:
Netflix May Be Preparing to Do Something Big That Freaks Out Its Fans, but It Is a Necessary Evil