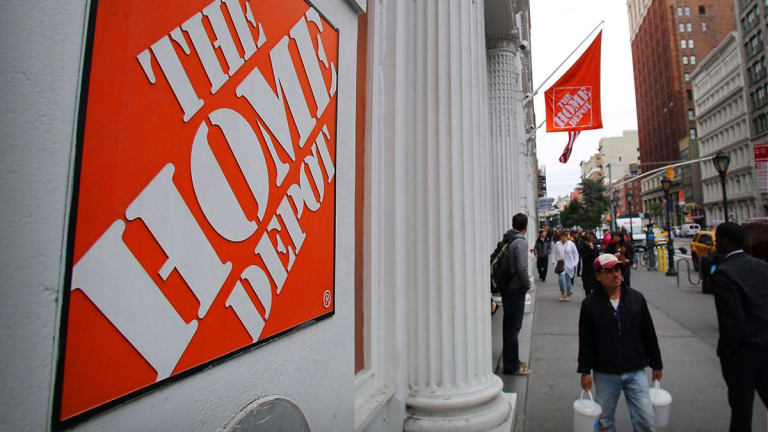 Home Depot Is a Safe Harbor From the Trade War Storm
The home improvement retailer's recent weakness has driven valuations down below their historical averages. The stock offers a safe 2.9% dividend yield and remains relatively isolated from Chinese trade issues.
In a stock market world where most of the focus seems to be on the trade war and more specifically, the impact of China issues on the sales and future prospects of popular U.S. companies, it's a relief to own a name like Home Depot (HD) . That is, a business that is primarily located in the U.S. with slight exposure to Mexico and Canada.
Home Depot recently reported its first quarter earnings and while the results didn't spark short-term buying interest in the stock, I continue to believe that this company is well-positioned for long-term growth and can offer investors a relatively safe harbor from the trade war storm.
North American Focused 
Home Depot reported Q1 earnings on Tuesday, beating on both the top and bottom lines.  The company added two net new stores during Q1, bringing its total store count up to 2,289. About 1,980 of these stores are located in the United States, while Canada has about 180 locations and Mexico has 120. The company boasted 238 million square feet of retail selling space. Total sales per square foot came in at $435 during the first quarter, up 5.6% y/y.
These North American stores source products globally, though in the recent Q1 conference call, Home Depot's Executive Vice President of Merchandising Ted Decker noted that while the impact of tariffs would vary across different categories, overall, he believes they will be "manageable".
Thus far, tariffs have cost Home Depot roughly $1 billion. If the newly imposed tariff increases hold, that will result in an incremental $1 billion impact moving forward. Obviously the company and its shareholders would rather not see costs increase by approximately $2 billion because of tariffs, but it's worth noting that this amounts to less than 2% of the company's annual sales.
"We think the selling in Home Depot has gotten excessive," wrote the team for Jim Cramer's Action Aerts Plus portfolio, which owns Home Depot. "On Wednesday, the stock sold off in reaction to Lowe's quarter/guidance, even though the issues at Lowe's are company specific."
Higher Margins Than Its Peers 
Home Depot's gross margin was 34.2% during the quarter. This figure is 36 basis points below last year's Q1 result. Management attributes supply chain and fulfillment expenses to just one-sixth of this 36 basis point drop. This speaks to the idea that Home Depot is fairly isolated from the Chinese trade war.
It also helps to solidify the idea that Home Depot is the best in breed retailer in the home improvement space. Rival Lowe's (LOW) reported earnings the day after Home Depot posted stock losses of nearly 12% in response to its release, in large part due to its 31.46% gross margin result, which was down 165 basis points y/y. Home Depot has traded with a higher premium than Lowe's for awhile now and its 34.2% gross margin result in the face of retail headwinds proves that it's worth it. This management team knows how to execute in a variety of market environments and this should give investors peace of mind. 
A Blue Chip Company Trading For a Fair Price 
While it's true that Home Depot has traded much better than Lowe's since reporting Q1 earnings, its stock has still experienced a bit of weakness lately. Shares are trading for $191/share, which is down some 8% since the recent highs that it hit in April. This weakness has brought the stock's trailing twelve-month price to earnings ratio down to roughly 19x, which is below its long-term average of 21.3x.
During the Q1 report, Home Depot management issued full year earnings per share guidance of $10.03. Using this forward looking estimate, we see that Home Depot is slightly cheaper, trading for just 18.8x guidance.
While this valuation isn't necessarily cheap, I believe that it is a fair price to pay for Home Depot shares. When you look at the likelihood that earnings will continue to rise, eventually Home Depot's multiple will revert upwards, back towards the historical norm and the company will continue to reward investors with a strong dividend yield, the prospects of attractive long-term returns with Home Depot are bright.
Ultimately, this is a company that requires a strong consumer to succeed. Home Depot has been able to stand up against the likes on Amazon (AMZN) in the retail space because it offers a myriad of big ticket items and has sales people available to guide consumers through the labor intensive projects that they're about to embark upon when they walk through Home Depot's doors.
Online traffic at Home Depot's website grew 23% during the first quarter, so it appears that its e-commerce business is healthy and will continue to compete. And even though there are a ton of negative headlines swirling around the markets right now regarding trade talks, the fact of the matter is, the U.S. economy remains strong, unemployment is at record lows, wages continue to increase and consumer confidence is high.
Barring some sort of black swan event, none of this should change in the short-term and that bodes well for Home Depot moving into the second half of 2019.
Home Depot and Amazon are holdings in Jim Cramer'sAction Alerts PLUS Charitable Trust Portfolio. Want to be alerted before Cramer buys or sells these stocks? Learn more now.
Nicholas Ward is long AMZN, HD, and LOW.