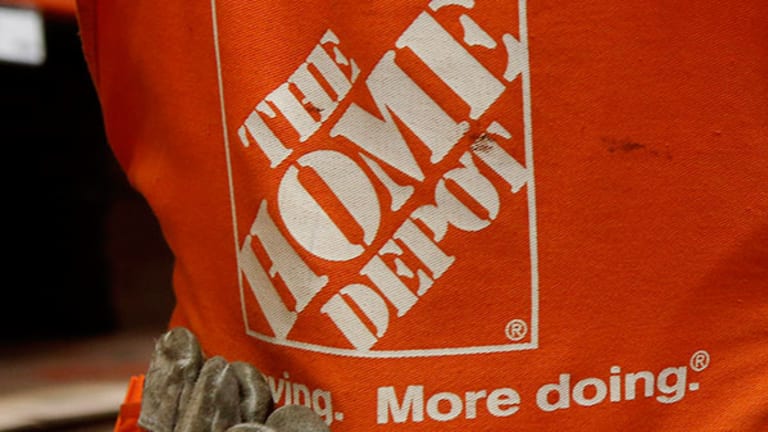 New Products Are Coming At a Staggering Pace, Home Depot Says
Smells like innovation, finally.
Bricks-and-mortar retail has been so slow to digitize, that when they inch forward, they share their progress with the zeal of a kid with a new puppy.
Case in point: Home Depot Inc. (HD) - Get Home Depot, Inc. (HD) Report revealed on Wednesday, June 21, at the Oppenheimer Consumer Conference, the ways it's streamlining procedures for its customers.
First, Home Depot has improved its Buy Online Deliver From Store (BODFS) service, which allows its e-commerce customers to set up a two-hour window on any given day for their purchase to be delivered, Paul Deveno, Home Depot's regional vice president, said Wednesday.
"It wasn't that long ago when delivery at Home Depot was managed on a whiteboard with a dry-erase pen," Deveno said. "And it's hard to believe but that's exactly how we managed it. Andso,a prowouldcomeinandsay, 'Hey,Ireallyneedadeliverytomorrow,'andwe'dlookatthewhiteboard andsay, 'Idon'tthinkIcanpitchin.'Andwejustdidn'thaveanydata,anysciencebehindit."
Now, Deveno said "everything is route driven...electronically driven."
"The consumer, whether it's a homeowner or the pro, can see the same thing that the store sees online in terms of availability," Deveno said.
Both workers utilizing its professional and contractor services, which drives 40% of Home Depot's sales, and household consumers can order products or equipment through BODFS, although the price varies. Deveno said if a professional needs a tool immediately, Home Depot can do it, but it will cost a "premium" price.
"I had an order last week...had a dire emergency, needed five appliances onsite. They were at the job site five hours later," Deveno said.
A Home Depot spokesman said he was unable to track down the rates for the delivery service at this time.
Plus, suppliers are doing their part, too, to make Home Depot tech savvy.
Home Depot's Ted Decker, executive vice president of merchandising, said at Wednesday's conference that new products like battery-powered outdoor tools including lawnmowers and hedge trimmers, compared to gas-powered, are "transforming the industry."
"The pace of innovation in new product introduction is staggering," Decker said. "We have a quarterly new product book. It's hundreds of pages."
Read More: