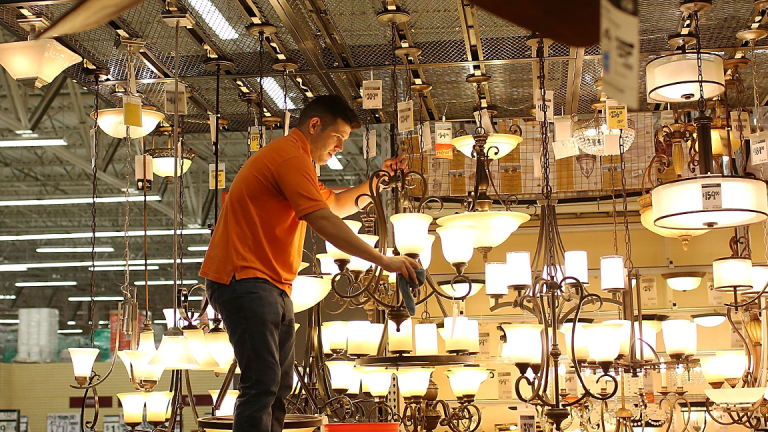 Home Depot Crushes Earnings as Sales Get Boost From Hurricane Demand
Comparable-store sales in the third quarter rise nearly 8% year over year.
Home Depot Inc.  (HD) - Get Free Report killed it once again.
The home-improvement retailer posted a whopping 7.9% increase in comparable-store sales in the third quarter, exceeding the Wall Street estimate of 5.8%. It also crushed earnings, reporting $1.84 a share, 2 cents ahead of forecasts. Total revenue for the Atlanta-based retailer was $25.03 billion, up 8% from the same period last year.
Third-quarter earnings rose 15% from a year earlier. Comp sales in the U.S. increased slightly more slowly, at 7.7%.
"Though this quarter was marked by an unprecedented number of natural disasters," said CEO Craig Menear in a statement, "the underlying health of our core business remains solid."
Home Depot estimated that the hurricanes in the southern U.S. had a positive effect in sales, increasing comp sales growth by about $282 million in the third quarter.
Thanks to the impressive earnings, the company raised its fiscal 2017 guidance. It now anticipates comp sales growth of 6.5% and earnings per share of $7.36, which reflects its $8 billion buyback program this year.
Home Depot shares rose nearly 1% in premarket trading on Tuesday, Nov. 14.
The world's largest home-improvement retailer has benefited from strong housing turnover and interest from first-time homebuyers.
"First-time home buyers have come back. It was the largest increase in first-time home buyers since 2005," Home Depot Chief Financial Officer Carol Tome told TheStreet in August. "And some of those homes are being bought by millennials. It's what we thought would happen. People were saying millennials would never buy a home. Yet, we had done all this research on it and thought it would happen."
Its in-store customer service and omnichannel operations have kept Home Depot largely immune to disruptions from Amazon.com Inc. (AMZN) - Get Free Report , a rarity in retail. Of course, the nature of its offerings, including large home appliances, lends itself better to brick-and-mortar transactions as well.
But Home Depot sees Amazon as among its many competitors, including Lowe's Cos. (LOW) - Get Free Report , Menards, Sears Holding Corp. (SHLD) and Wayfair Inc. (W) - Get Free Report , Tome said.
More of What's Trending on TheStreet: