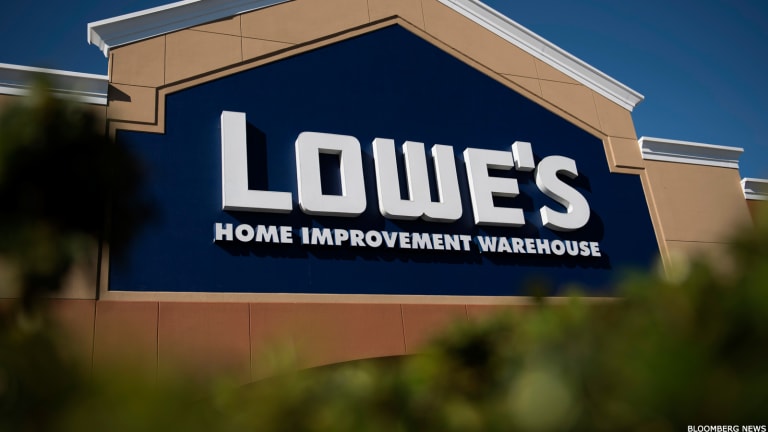 Home Depot and Lowe's Soar Year to Date as Americans Renovate Rather Than Move
Down housing markets usually mean homeowners stay put and, more importantly, renovate.
Down housing markets usually mean homeowners stay put and, more importantly, renovate.
The rich will probably keep getting richer for investors in home-improvement-retailer stocks. Home Depot (HD) - Get Report has added some 15% to reach $196.83 as of late Friday morning after bottoming out on March 23, while Lowe's (LOW) - Get Report is trading at $99.33 a share -- up some 21.7% since bottoming on April 25. In fact, LOW is up 13.5% just since announcing new CEO Marvin Ellison's hiring on May 22.
Analysts expect the good times to continue as many Americans choose to hold onto homes and renovate rather than sell into a housing market that's cooled amid rising property prices, higher mortgage rates and a lack of available inventory.
"We're seeing people making home improvements because they've decided to stay in their house and they want to enjoy it," said Rick Sharga, executive vice president of Carrington Mortgage Holdings.
Home Depot senior vice president of finance Richard McPhail also expects home-improvement spending to increase as housing-inventory constraints drive up home prices. McPhail noted in a recent presentation to investors that U.S. home equity has increased by 125% since 2011, and Home Depot expects the percentage of young adults who are living at home to reverse trend and decrease in the coming years.
Sharga said some homeowners are using this equity to finance renovation projects -- a good sign for home-improvement chains. "People are investing in their homes because they want that new kitchen, that new bathroom, that new pool, those new amenities," he said.
Meanwhile, inflation jitters could send mortgage rates higher, making more people likely to stay and improve their current homes rather than trading up. The Mortgage Bankers Association expects average rates on 30-year-fixed mortgages to increase to 5.4% by 2019's end from from 4.3% in 2018's first quarter.
Joel Kan, the MBA's associate vice president of economic and industry forecasting, expects the Federal Reserve to raise short-term rates three more times this year to combat U.S. inflationary pressures. But Kan thinks Home Depot and Lowe's should be alright as homeowners look to maximize their investments. "There's definitely going to be home-improvement spending," Kan said.