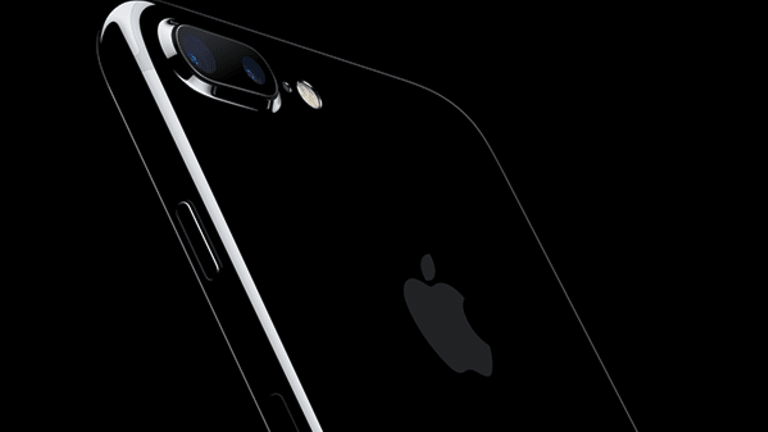 Holiday Phone Activations Bode Well for Apple's iPhone 7 Plus Sales
The number of iPhones and iPads handed out as Christmas presents might be similar to a year ago. But more iPhone purchases appear to involve larger and costlier phablet models.
This article was first published on Real Money at 6:29 ET on Dec. 28.
If new stats from leading mobile analytics firm Flurry are correct, Apple's (AAPL) - Get Reportmobile hardware may have been a slightly less popular Christmas gift choice this year than in 2015. But the numbers also suggest Apple's smartphone sales mix improved for the better.
Flurry, which relies on anonymized usage data from the thousands of mobile apps connected to its analytics tools, reports Apple products accounted for 44% of the smartphone and tablet activations it recorded from Dec. 19 to Dec. 25. That's down from the 49.1% reported for the same week a year ago.
At first glance, this suggests fewer iPhones and iPads were placed under Christmas trees than in 2015. But that may be due to changes in the geographic distribution of Flurry's tracked activations. Whereas no Chinese phone maker accounted for more than 1.5% of activations last year, one (Huawei) accounted for 3% this year and two others (Oppo and Xiaomi) accounted for 2%. Xiaomi's share rose even though its shipments appear to have tumbled this year.
In addition, Samsung's share rose slightly -- from 20% to 21% -- in spite of the Note 7 mess. That points to more tracked activations for cheaper Samsung phones, such as the company's J-Series devices.
All of this indicates a larger proportion of this year's recorded activations happened in emerging markets locales. That works against Apple, which -- in spite of the inroads it has made in China -- still gets an outsized share of is iPhone and iPad sales from developed markets. It's possible Apple activations in developed markets were flat or higher in spite of a lower total share.
Separately, Amazon (AMZN) - Get Reportwas responsible for 2% of activations, after failing to crack Flurry's top-5 last year. That's a modest positive for sales of the company's Fire tablets, which (along with many other Amazon devices) were discounted during the holiday season. Amazon shared few details about Fire tablet sales in Tuesday's giant holiday sales press release.
Flurry notes Alphabet/Google (GOOGL) - Get Report , which launched its Pixel phones in October to decent reviews, wasn't among the phone vendors with an activation share of at least 2%. But it's worth keeping in mind the Pixel is only available for now in the U.S., U.K., Germany, Canada and Australia, and sold by a limited number of carriers.
Apple and Alphabet are holdings in Jim Cramer's Action Alerts PLUS Charitable Trust Portfolio. Want to be alerted before Cramer buys or sells AAPL or GOOGL? Learn more now.
Looking at device distribution, phablets (described as smartphones with 5-inch or larger displays) accounted for an impressive 37% of 2016 activations, up from just 27% in 2015 and 13% in 2014. "Medium phones" (smartphones with 3.5-to-4.9 inch displays) accounted for 45% versus 54% in 2015, and tablets 17% versus 18%.
That bodes well for sales of the 5.5-inch iPhone 7 Plus, and fits with prior reports indicating the 7 Plus' share of iPhone sales is stronger than the iPhone 6S-Plus' share was a year ago. Apple noted on its October earnings call demand for the 7 Plus, which unlike the 4.7-inch iPhone sports a dual-lens camera, was stronger than expected, and that it had been dealing with supply constraints.
Apple has also been going out of its way to drive 7 Plus sales. A Google search for "iPhone 7" yields an Apple ad promoting the 7 Plus rather than its 4.7-inch sibling at the top of the results page. And if one clicks on Apple's iPhone 7 page, the first image you'll see is of the 7 Plus' back panel, camera module and all.
With 7 Plus models costing $120 more than iPhone 7 models containing the same amount of storage -- the 7 Plus goes for $769-$969, and the 7 for $649-$849 -- a strong sales mix shift towards Apple's flagship phablet will lift both the company's iPhone average selling price (guided by the company to near a year-ago level of $690) and gross margin (guided to a range of 38% to 38.5%).
Some of this is reflected in Apple's consensus December quarter EPS estimate, which has slightly risen from $3.11 to $3.24 since the end of August. But perhaps not all of it.