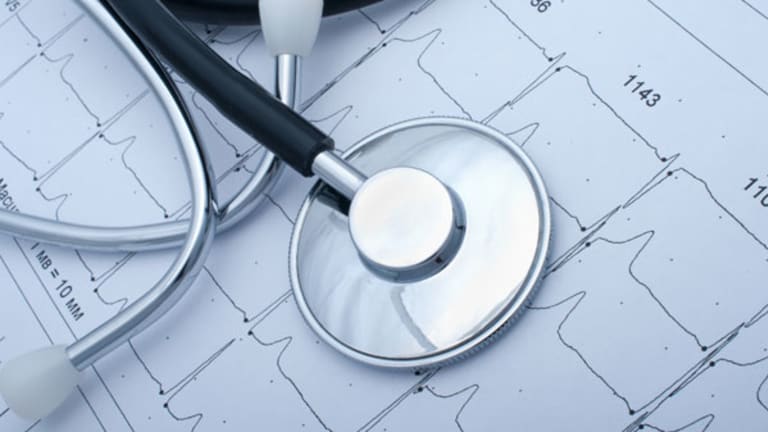 HMA's Emergency Room Pain
The rise of low-cost clinics could crimp the chain's margins.
Hospital chains that rely heavily on their emergency rooms for business, like rural operator
Health Management Associates
(HMA)
, could encounter a new crisis.
Now, those companies face mounting competition from not only physician-owned outpatient facilities, but also from in-store health clinics operated by giant retailers like
CVS
(CVS) - Get CVS Health Corporation Report
and
Wal-Mart
(WMT) - Get Walmart Inc. Report
.
The new mini clinics offer cheap and rapid treatment for patients who, seeking after-hours care, might have chosen expensive E.R. services in the past. As a result, the clinics could start attracting some of the very customers that hospitals like the most: E.R. patients who require little treatment and actually pay their bills.
"Emergency care is expensive and high margin for hospitals," says Peter Young, a business consultant at HealthCare Strategic Issues. But "now every drugstore and large grocery will have retail clinics with prices that are less than 30% of an E.R. visit."
Young predicts that hospitals will lose millions of dollars worth of lucrative E.R. business to retail clinics every year. But he feels that "the HMAs of the world" -- which have monopolized after-hours healthcare business in rural communities for years -- will suffer most of all.
The clinics have started springing up during a tough time for the hospital industry as a whole. In addition to HMA, hospital giants like
HCA
(HCA) - Get HCA Healthcare Inc (HCA) Report
were struggling to attract more paying patients even before the retail clinics moved in.
Florida Recount
To be fair, some hospitals would be happy to shed a little E.R. business. After all, uninsured patients often flock to E.R. departments that -- by law -- must treat them, regardless of their ability to pay.
But a recent study in Florida, a major market for most hospital companies, offered up some surprising results. Notably, the study found, the vast majority of patients who receive E.R. treatment do, in fact, carry some form of health insurance. Moreover, it found, those patients often seek E.R. care for minor problems such as coughs, fevers and headaches -- the very ailments that retail clinics can treat for far less.
On average, the study determined, E.R.'s charge $239 for the treatment of minor problems. In contrast, retail clinics have started charging as little as $50 for similar service.
Those clinics have attracted huge crowds of patients who -- insured or not -- can afford the lower bills. The largest chain, known as MinuteClinic, has treated more than half a million customers since its launch a few years ago. It operates 91 clinics, most of them in stores owned by new parent CVS, and plans to keep expanding.
Meanwhile, retail heavyweight Wal-Mart has been opening multiple clinics of its own. The company's new plan to sell dirt-cheap generic drugs should only help that business -- and drive even more traffic into its stores -- going forward.
"Aside from the media frenzy over the $4 prescriptions, there is much more in the decision than Wal-Mart has said," Young states. "Wal-Mart is known for understanding the market for each product the company sells. And when the company indicated an entry into the retail healthcare market by placing minor-care clinics in stores, the move suggested to me the company intended on becoming a major player and ultimately consolidator of minor-care delivery."
Heavyweight Giant
Wal-Mart will first roll out its $4 generics in Florida, where it already operates some retail clinics -- and where many hospital companies could face significant exposure.
HCA counts Florida among its largest markets. But HMA, with nearly one-third of its hospitals concentrated in that state, could suffer an even bigger hit.
HMA has always stressed the importance of its emergency departments, which generate more than half of the company's overall admissions. To be sure, the company should continue to attract many of those sick patients -- who require inpatient treatment -- because most retail clinics, employing nurse practitioners, cannot provide high levels of care. But the company stands to lose even satisfied patients who sought out its E.R.'s for minor treatment in the past.
To its credit, HMA boasts efficient E.R. departments, where patients typically spend less than two hours as opposed to the six-hour waits they might face elsewhere. But even a two-hour E.R. visit could start to sound long to patients who can spend just 30 minutes -- and far less money -- obtaining similar treatment from a retail clinic instead.
Mississippi Hurting
HMA faces other looming threats as well.
For example, in nearby Mississippi -- HMA's second-largest market -- the company could see its tax payments surge. There, the state has imposed new taxes on hospitals in an effort to make up for a Medicaid shortfall so that it can still qualify for federal funds. The Mississippi Hospital Association has sued the state in an attempt to block the new taxes, the
Associated Press
reported on Thursday, but the hospitals will have to cough up millions of dollars -- beginning next month -- if their efforts fail.
Because the state will base its taxes on hospital list prices -- and HMA's are especially high -- HMA could feel some major pain going forward.
"Within our coverage universe, HMA has the largest footprint in Mississippi, with the state representing 18% of the company's portfolio," Deutsche Bank analyst Darren Lehrich wrote earlier this month. "We estimate as much as 8 cents of negative impact to HMA's annual earnings per share. (Moreover), it is unclear at this time whether the tax would be a one-time event or a recurring annual expense for Mississippi hospitals."
Lehrich has a hold recommendation on HMA's stock. His firm seeks to do business with the companies it covers.
A competing analyst -- and former HMA bull -- has given up on the stock altogether. Last month, Credit Suisse analyst Glen Santangelo downgraded HMA from outperform to underperform because he no longer believes the company deserves the premium valuation that it has enjoyed for so long.
Santangelo offered multiple reasons for his sudden change of heart. He dwelled on the company's falling same-store admissions and deteriorating profit margins in particular. Moreover, he said, the company's shift away from acquisitions -- while understandable in the current environment -- could further curtail growth going forward. Finally, he added, even the company's strong balance sheet no longer stands out from the pack.
"HMA has historically traded at close to a 20% premium to its hospital peer group," Santangelo noted. "At this point, however, we believe the current and historic premium valuation afforded HMA shares is no longer warranted given both industry and company-specific challenges."
Santangelo has, therefore, lowered his price target on HMA's stock from $22 to $19, with the stock fetching a recent $20.50. His firm owns at least 1% of the shares itself.