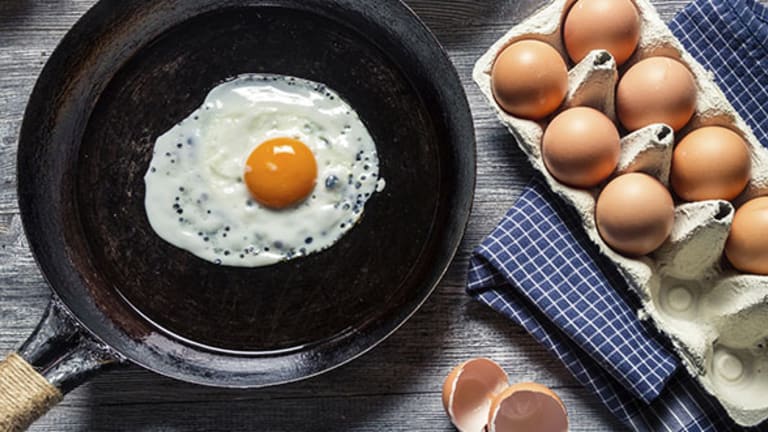 'Historic' Egg Glut Leaves Suppliers Scrambling for Business
Low prices might seem sunny-side-up for grocery shoppers, but farmers are feeling fried.
Two years after the worst bout of avian flu in U.S. history, poultry farms have fully restocked and rebuilt egg supplies. But lagging demand has led to a glut that is crippling farmers, The Wall Street Journal reported.
Egg prices are closing in on a decade low, and while that's good news for breakfast fans, it's left egg suppliers including Cal-Maine Foods Inc (CALM) - Get Cal-Maine Foods, Inc. Report posting annual losses for the first time in years.
"We do not expect to see any meaningful improvement until there is a better balance of supply and demand," said Cal-Maine CEO Dolph Baker. Cal-Maine said the average price of an egg sold to its customers tanked 42% over the last year.
Walmart Yearns for More Cheap Products From China to Boost Online Sales
The price of one dozen large shell eggs at wholesale in the Midwest was 98 cents last week, according to research frim Urner Barry. That's a 62% drop in price over the last two years. Wholesale prices for a dozen eggs haven't topped $1 all year.
The 2015 bird flu outbreak killed 34 million egg-laying hens, sending prices up and driving producers to refill barns as quickly as possible. When the demand for all-day breakfast options and protein-packed meals waned and wholesale buyers found alternatives to eggs, the farmers were left with a record 319 million egg-laying hens and no one to buy the bounty.
Cal-Maine stock is up 2% Friday morning, but has traded down 12% since the start of the year.
More of What's Trending on TheStreet: