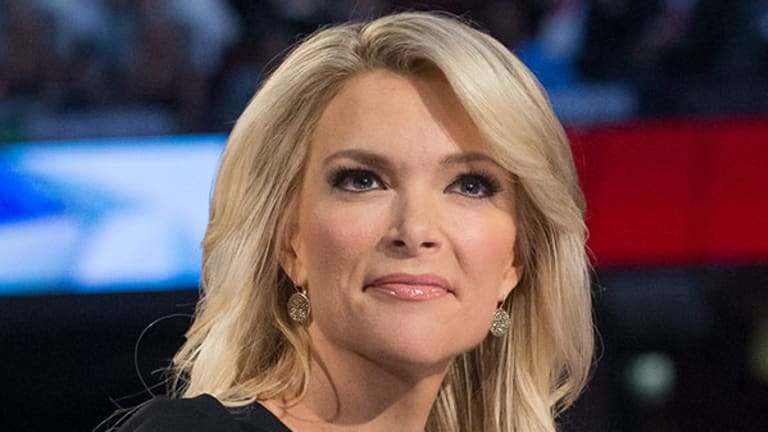 Hiring Megyn Kelly Caps Comeback Year for NBC News
The hiring of Megyn Kelly away from Fox News is all about securing a steady business model for a media company heavily invested in news.
For NBC News Chairman Andy Lack, signing Megyn Kelly wasn't just about securing the services of a TV anchor with a national following.
As the only media company with a foot planted firmly in broadcast and cable TV news, Comcast's (CMCSA) - Get Free Report successful courting of Fox News anchor Megyn Kelly was all about strengthening a vital part of its company.
"Having someone like Megyn Kelly come in really does solidify the news franchise that they have," Macquarie media analyst Amy Yong said. "As the election showed, NBC, MSNBC and CNBC are all really important to them, so signing Megyn Kelly is a really smart move."
As for Fox News, the 21st Century Fox (FOXA) - Get Free Report cable TV network said Thursday that anchor Tucker Carlson will replace Kelly at her high-profile 9 p.m. show. Carlson, the founder of The Daily Caller, a right-wing news and opinion site, recently was given the 7 p.m. slot on Fox News.
Two years ago in March, Andy Lack returned to NBCUniversal to right a wobbling ship.
Having left Bloomberg TV after trying to make it more visually interesting than its no-nonsense terminals, the NBC that Lack inherited was a far different animal than the one he rode from 1993 to 2001.
Longtime lead anchor Brian Williams was serving a six-month suspension for exaggerating his 2003 Iraq War adventures, the network's beloved Today had lost its its perch as the top-rated morning news show to Disney's (DIS) - Get Free ReportGood Morning America on ABC, and bitterness remained over a heavy-handed changing of moderators at Meet the Press. 
In short, the network was something of a mess.
Flash forward to the present, where NBC Nightly Newswith Lester Holt won the 2016 ratings battle among evening newscasts while Today is holding its own with Good Morning America, often topping its rival for the critical 25-to-49-year-old demographic.
And while MSNBC continues to trail Fox News  and CNN, its 2016 rebound was a reason for some celebrating. MSNBC's ratings jumped 87% in total prime-time viewers, growing faster than its rivals from 21st Century Fox (FOXA) - Get Free Report and Time Warner (TWX) , respectively, which had record years of their own. 
Yet for NBCUniversal, news isn't just a complement to other programming. It's a central part of its business. There's NBC Nightly News and Meet the Press, along with Dateline and MSNBC in addition to CNBC, the business channel, and coverage on Telemundo, an expansive Spanish-language network on its own based in Miami.
Compared with CBS (CBS) - Get Free Report , Disney or Fox, NBCUniversal spends far more on news while comparatively less on original programming. Nonetheless, it does spend considerably on live sports, along with its chief rivals. In the third quarter, NBCUniversal posted operating income of $1.7 billion, a company record.
Landing Kelly, 46, for a yet-to-be named afternoon news show along with a Sunday evening "magazine" segment, offers NBCUniversal another platform to cross-advertise its other news programs while selling advertising and securing more user data to better inform programming decisions.
It also carries the potential of appealing to more conservative-leaning viewers, who came to admire Kelly from her work at Fox News. Kelly was already a rising star when she took on Donald Trump early in the presidential campaign, asking him to answer to a pattern of sexist and degrading comments about women.
After the debate, Trump charged that Kelly had acted like "there was blood coming out of her wherever."
Yet it was comments by Fox News stalwarts Bill O'Reilly, Neil Cavuto and Sean Hannity criticizing Kelly for coming forward to support the allegations of sexual harassment leveled by former anchor Gretchen Carlson against longtime Fox Chairman Roger Ailes that prompted her exit, reported New York magazine's Gabriel Sherman.  
NBC took the opportunity to offer her a way out of Fox. According to multiple reports, Kelly turned down $100 million over four years to continue at the network, with Mediaite reporting she took far less from NBC.
"Megan Kelly is kind of perfect," Vivian Schiller, a media consultant at Weber Shandwick and a former executive at NBC News and Twitter (TWTR) - Get Free Report , said via email. "They clearly think she is a crossover talent who can do hard news, light news, possibly lifestyle -- and with her conservative bona fides, will help appeal to middle America, which is the lifeblood of daytime syndicated shows. NBCU needs stars -- especially crossover stars -- and she's clearly that."
Kelly, whose contract runs through July, will host her final show as a Fox News anchor on Friday.
Comcast is a holding in Jim Cramer'sAction Alerts PLUS Charitable Trust Portfolio. Want to be alerted before Cramer buys or sells CMCSA? Learn more now.