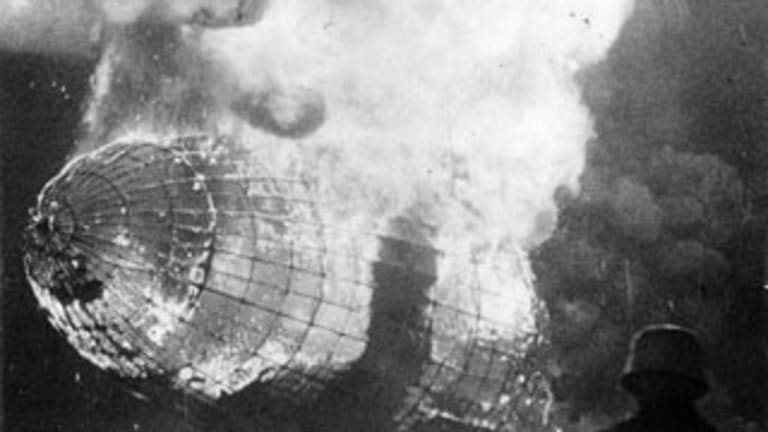 Hindenburg Omen: What a Stock Market Crash Would Mean for the Consumer Sector
Following a technical abnormality known as the Hindenburg Omen -- believed to be a precursor to a stock market crash -- equity analysts tell 'TheStreet' that large consumer good stocks would fare better than most in the event of a stock market bloodbath.
(Hindenburg Omen stock market crash story updated with financial adviser's commentary about third Hindenburg Omen indicator)
NEW YORK (TheStreet) -- Following a technical abnormality known as the Hindenburg Omen (widely believed to be a precursor to a stock market crash) was reached on the New York Stock Exchange three times in August, equity analysts tell TheStreet that large consumer good stocks would fare better than most in the event of a stock market bloodbath.
It is said by some that two Hindenburg Omen occurrences within a 30-day window is an all-but guaranteed trigger of a stock market crash. The Hindenburg Omen occurs when an unusually high number of companies in the New York Stock Exchange reach 52-week highs and lows at the same time. The proportion of NYSE stock highs and lows must both exceed 2.5% of the total listed on the exchange.
Citing Sentimentrader.com,RealMoney.com contributor and CEO of Shark Asset Management Rev Shark noted in his RealMoney.com column Friday morning that we had a second Hindenburg Omen trigger last Thursday. This Wed. Shark noted that the day before, the Hindenburg Omen indicator occurred for the third time in a just a few weeks.
"I know there are many who view this dramatically named indicator as a joke, but statistically it has worked well especially when it is triggered several times within short time frame," Shark wrote. "I believe we have an oversold bounce setting up here soon but the big picture doesn't look so hot and the 'Omen' is supportive of that fact."
Meanwhile, Timothy Collins, RealMoney contributor and founder of TangleTrade Management wrote in a recent column that the market needs some good news soon. "There isn't much to write in favor of the bulls at the moment. Some can point to the M&A action, but the response has been more a questioning of the prices paid or the choice of target. In other words, the deals are being questioned rather than celebrated."
Collins said that ordinarily he would view the fact that the VIX volatility index hasn't hit a new high since the July 4 holiday period positively. However, the subdued VIX combined with the Hindenburg Omen occurrences has "resulted in very negative equity action." The current situation, he says, makes him nervous, given that the current VIX follows the path of previous sell-offs.
That said, stocks like P&G (PG) - Get Procter & Gamble Company (The) Report , J&J (JNJ) - Get Johnson & Johnson Report and Altria (MO) - Get Altria Group Inc. Report , which are "all pretty good cash flow generators," as RealMoney contributor and Trinity Asset Management's Brian Gilmartin notes, would definitely be "a flight-to-safety trade if the market declines 10%."
Stephanie Link, director of research and vice president of strategy for TheStreet, likewise notes that "if we crash the top-performing consumer good stocks would just go down 'less.'"
"The yields are compelling, particularly Altria," Link says of top-performing consumer good stocks.
"There is no doubt the consumer is pulling back as the jobs picture and shaky market has hit confidence," she told TheStreet. "There have been a number of disappointing quarters out of retail and HHP (household and personal-care products) or staples stocks (Colgate-Palmolive (CL) - Get Colgate-Palmolive Company Report , Kellogg (K) - Get Kellogg Company Report , Unilever (UN) - Get Unilever NV Report , Ralcorp( RAH) , Energizer (ENR) - Get Energizer Holdings Inc. Report , J&J, J.C. Penney (JCP) - Get J. C. Penney Company, Inc. Report ).
"I think how you need to look at it is that there are always winners and losers (from a stock point of view) in every category, no matter what the macro implies -- whether it be superior size or scale, productivity measures, internal restructurings that help a company outperform on the bottom line despite the weak macro," said Link.
Link says that, in her estimation, the strongest consumer stocks include P&G -- with its new management team, new strategy involving investing in its brands to further expand scale, broad product line and focus on emerging markets. Link notes that the company's quarter was "far stronger" than such peers as Colgate, Clorox (CLX) - Get Clorox Company (The) Report and Unilever, with the company's volumes up 8% and pricing down a mere 1%.
General Mills (GIS) - Get General Mills Inc. Report is another strong consumer stock, according to Link. She says its strengths, like P&G, include a strong management team. The company has a Holistic Margin Management program that overseas efficiencies or productivity initiatives that will save General Mills $1 billion in costs for the next three years, Link said.
Furthermore, General Mills has "superior brands and unusually cheap valuation -- the best in the industry and has always commanded a premium multiple given its growth, but now trades in line with peers." Link notes that Kellogg, General Mills' biggest competitor, is a "broken story and mismanaged."
Link also writes that Altria is experiencing easy comparisons given its "horrendous" volumes in 2009. Furthermore, limited government and state tax increase has helped the company improve in volume, pricing and market share. "Plus, they have the added benefit from the UST (U.S. Smokeless Tobacco) acquisition that they bought in 2008 and plowed a tremendous amount of money into rebranding or repositioning and are now just beginning to see huge volume increases." Altria purchased U.S. Smokeless Tobacco for growth "and it is now starting to work."
Link said the McDonald's (MCD) - Get McDonald's Corporation Report is "a true winner from trade down." She points out the company's implantation of strategies, including new products in the beverages and breakfast category, remodeling stores, adding more drive-throughs and extending hours. Furthemore, McDonald's reported "huge" comps last week with upside in all the regions where the company operates. "Valuation is compelling and this management has executed on its new strategy perfectly."
Link has generally avoided retail stocks. "Costco (COST) - Get Costco Wholesale Corporation Report was the only one that I liked but even that one has been held back despite great comps because of the weak macro.
"I really don't see many that are differentiated and the pricing is so severe. Plenty are cheap, but then again -- so many stocks are."
UBS analyst Nik Modi said in a major stock market pullback scenario -- "in that environment -- given the dividend yields of these companies, you would see relative outperformance like you did in the '08 period ... but these stocks going up in absolute terms may not be as clear." He said that most likely, they would go down less.
In an environment where the stock market is in a state of disarray, Modi says he would definitely recommend tobacco stocks, particularly Altria. "They would be the primary beneficiary." He adds that how investors look at the various consumer stocks also "all depends on the macro scenario" -- particularly whether the dollar will strengthen or weaken against emerging market currencies, which will help dictate how these stocks do.
5 Consumer Stocks With Big-Time Upside
Click here for 5 consumer stocks with big-time upside
Hennessy Funds' Frank Ingarra, for his part, said that a major pullback in the stock market would create a "great" buying opportunity for the top consumer stocks. Ingarra notes that investors could also diversify into Verizon (VZ) - Get Verizon Communications Inc. Report and other Dow stocks. In the event of a stock market crash, he says he can't imagine the big consumer stock names not going down. Still, "those stocks tend to be more defensive," he adds. "I imagine they would hold up better."
Ingarra adds that one of his chief concerns is that another market crash could further deter average investors, who have already been scared off by the recent ones. "A lot of average investors are not in the market," he said. A crash would "definitely hurt the psyche of the average investor."
On the other hand, Ingarra said that there is also much fear about deflation, and that it is an "uglier word that's harder to contain than inflation."
"If you look at mutual fund flows, they are still heavily into bonds," Ingarra says, adding that he hasn't seen any major turnaround into equities "with the markets playing ping pong between support and resistance levels. Basically ... we need clarity from Washington to help propel us forward." Ingarra says that businesses and investors need more clarity on financial reform, health care reform, energy reform and possible tax increases -- and how they affect the bottom line and available credit. Ingarra said that due to the lack of clarity on these fronts, companies who are sitting on record amounts of cash aren't deploying it.
As for the Hindenburg Omen? Ingarra deems it "just one of those technical indicators that may or may not work."
-- Written by Andrea Tse in New York.
>To contact the writer of this article, click here: Andrea Tse.
>To follow the writer on Twitter, go to Andrea Tse.
>To submit a news tip, send an email to: tips@thestreet.com.
RELATED STORIES:
>> 16 'Hindenburg-Proof' Defensive StocksUpside
>> 5 Consumer Stocks With Big-Time Upside
Get more stock ideas and investing advice on our sister site, Stockpickr.com.
Follow TheStreet.com on Twitter and become a fan on Facebook.
Follow Andrea Tse on Twitter and become a fan on Facebook.
Copyright 2010 TheStreet.com Inc. All rights reserved. This material may not be published, broadcast, rewritten, or redistributed.