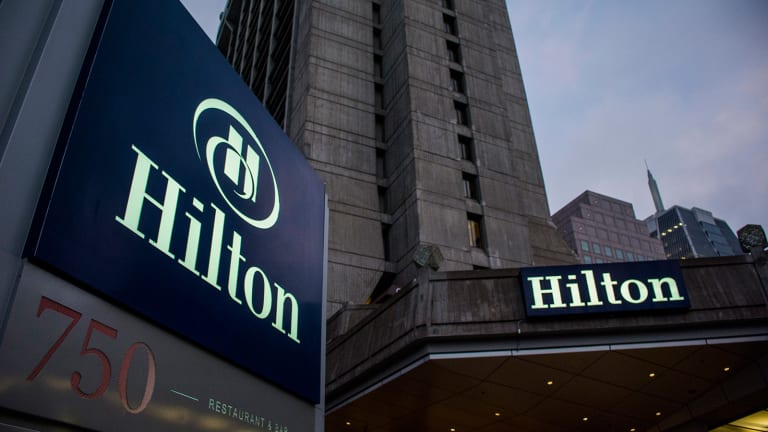 Hilton Worldwide Taps TravelClick to Help Drive Corporate Sales
Hilton Worldwide (HLT) expanded its partnership with TravelClick to have the solutions provider for hotel companies help boost revenue at the corporate level.
After Hilton Worldwide (HLT) - Get Free Report spun off its timeshare and real estate businesses earlier in the month, the hotel operating giant appears to taking new steps to boost revenue.
TravelClick, a global provider of cloud-based and data-driven solutions for hotel companies to maximize revenue, said on Monday that it extended a partnership with Hilton. Under the partnership, Hilton will begin using TravelClick's Demand360, Rate360 and Agency360 solutions at its corporate level.
Hilton will consult TravelClick on driving revenue growth at all of its properties, according to the New York City-based solutions provider.
"It is critical that we seek tools and technologies that enable our hoteliers to improve performance and stay competitive," said Hilton's Kelly Phillips, senior VP of transient sales and distribution, in a statement.
Phillips said TravelClick will specifically help Hilton identify which "agencies are booking with the competition."
The move comes after Hilton, its timeshare business, Hilton Grand Vacations (HGV) - Get Free Report and its portfolio of hotels and resorts, Park Hotels & Resorts (PK) - Get Free Report began trading as three separate entities on the New York Stock Exchange on Jan 3.
It also comes as Hilton works to increase its presence in 91 countries including Canada, the United Arab Emirates, Russia and China.
When Hilton reports its 2016 full-year results next month, analysts surveyed at Factset are looking for the company to post revenue of $11.64 billion, a nearly $400 million increase from its 2015 full-year revenue of $11.27 billion. Last year's full year revenue rose nearly $800 million from the $10.5 billion in revenue reported in 2014.
Shares of Hilton were slightly lower at $57.83 in afternoon trading on Tuesday.