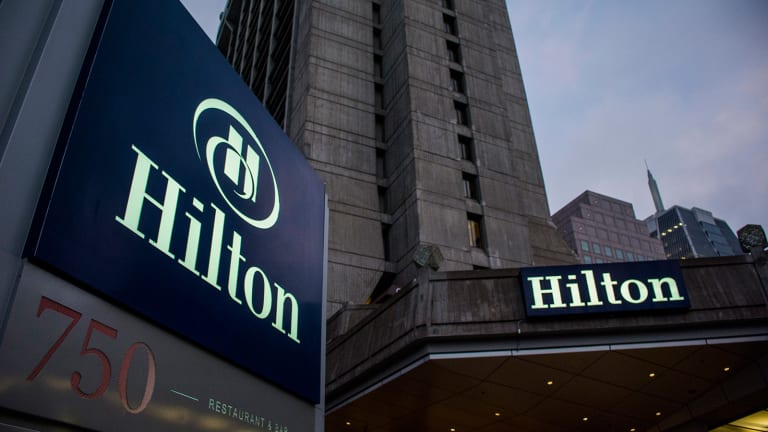 Hilton Stock Slips on Fourth Quarter Net Loss
Shares of Hilton Worldwide (HLT) are falling after the company reported a net loss of $1.17 a share for the most recent quarter.
Hilton Worldwide (HLT) - Get Free Report reported better-than-expected fourth quarter earnings and revenue before Wednesday's market open but its stock is slipping in pre-market trading.
The McLean, Va.-based company reported fourth quarter adjusted earnings of 70 cents a share, higher than the 66 cents a share analysts surveyed at Factset expected. Hilton posted earnings of 65 cents a share for the three months ended Dec. 31, 2015.
However, Hilton reported a net loss of $387 million, or $1.17 per share for the quarter.
As a result, shares of Hilton are slightly lower at $58.30 in early market trading.
Hilton reported revenue for the three months ended Dec. 31 rose to $2.92 billion, compared to last year's $2.86 billion, and slightly higher than the $2.91 billion Wall Street expected.
For the full year, Hilton reported earnings of $1.05 a share on revenue of $11.66 billion.
Adjusted EBITDA rose 0.8% to 751 million in the fourth quarter.
The company spun off subsidiariesHilton Grand Vacations (HGV) - Get Free Report , its timeshare business, and Park Hotels & Resorts (PK) - Get Free Report , its portfolio of hotels and resorts, in January. Hilton also tacked on a 14th brand onto its portfolio a line of upscale hotels called Tapestry Collection by Hilton.
The company said this year, its rooms pipeline grew 16% to 310,000 at 1,968 hotels in 96 out of the 104 countries and territories it does business in, including 32 countries where Hilton did not previously have a presence.
Out of the 1,968 hotels, 50% are still under construction, according to Hilton.
Germany-based research firm Berenberg estimated in early January that Hilton could return $3.8 billion to shareholders over the next three years.