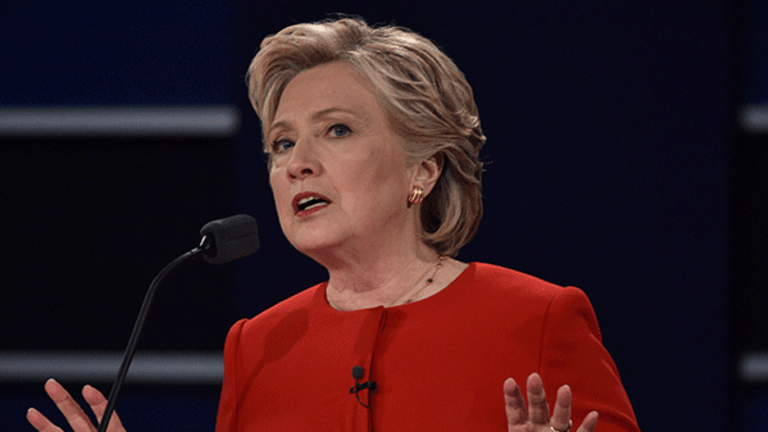 Hillary Clinton as President Could Crush McDonald's, Here's How She Would Do It
Higher minimum wages under a Hillary Clinton administration could crush the fast-food space.
Presidential hopeful Hillary Clinton fired another warning shot across the bow to the fast food industry this week: yes, I am coming for your fat profits.
"We also have to make the economy fairer. That starts with raising the national minimum wage," trumpeted Clinton to a packed house at Hofstra University on Monday during the first presidential debate. Clinton hasn't exactly hidden her displeasure with the current federal minimum wage of $7.25 an hour while on the campaign trail. On her website, Clinton stresses that someone earning the minimum wage spread out over 40 hours -- which amounts to about $14,000 a year -- simply is unable to make ends meet given the higher cost of living. The former First Lady and Secretary of State proposes raising the federal minimum wage to $12 an hour, and supports efforts by cities and states to raise their own minimum wages even higher. 
That much is for sure.
At an event in April, Clinton said she would sign a $15 minimum wage bill if a Democratic Congress were to place it on her desk as president.
"Well, of course I would," Clinton responded to a question on the wage topic. She added that she has "supported the Fight for $15" -- the union-backed campaign that has held rowdy protests dating back to 2012 demanding higher worker wages outside of fast food restaurants. 
Should Clinton get elected and push through a $12 an hour minimum wage, and encourage states to hike wages to $15 an hour, it could have far-reaching effects on the fast-food industry.
McDonald's should be sad if Hillary Clinton gets elected. 
One of the more obvious aftershocks is that profits for fast food heavyweights such as McDonald's (MCD) - Get McDonald's Corporation Report , Dunkin Brands Group (DNKN) - Get Dunkin' Brands Group, Inc. Report , Burger King (a division of Restaurant Brands (QSR) - Get Restaurant Brands International Inc Report ) and others get instantly crushed. "If a worker is now paid $8 an hour and the new minimum wage goes to $12 an hour, the increase in wage would mean the cost per full-time employee would increase about $9,000 per year. If the restaurant had 10 employees in this situation, the cost would increase by $90,000 per year," explained Stockton University Professor of Finance Michael Busler, who added that the higher costs may cause some operators to close their doors. After all, why run a chaotic business like a restaurant if the profit potential is virtually nonexistent.   
The natural response to higher costs -- raise menu prices to compensate -- could be no magic elixir as it would likely cause lower-income diners to pull back on their visits. Points out Busler, "Many fast food restaurants currently have a $1 menu, making it affordable for many lower-income earners to eat at these restaurants. The $1 menu would increase to the $1.39 menu, putting pressure on consumers. Many lower-income earners would not be able to afford to eat there." A McDonald's franchisee TheStreet talked with flat out admitted that a $15 an hour minimum wage would be "catastrophic", as he would be unable to raises prices enough to offset the higher expenditure. 
According to a study by Purdue University's School of Hospitality and Tourism Management, 1.54 million people working in food preparation and serving related occupations make at or below the federal minimum wage of $7.25 per hour. Raising their hourly wages to $15 -- a 107% increase -- would cause prices to rise an estimated 4.3%. That means a $3.99 Big Mac would cost around $4.16, and an average fast-food meal costing $7.00 would go up in price to $7.31.
If fast-food workers received $22 per hour (an epic 203% pay raise) -- which is the average wage for Americans in the private industry, according to the Bureau of Labor Statistics -- restaurant prices would rise 25%.
For the fast-food space, a Clinton win in November would be the short-term climax of a tumultuous 18-month period on the wage debate front.
Last September, the state of New York approved a measure to increase the minimum wage for employees of fast-food chain restaurants to $15 an hour over the next few years. The law gradually raises the minimum wage to $15 in New York City by the end of 2018. On Long Island and in Westchester County, the wage would rise to $15 by the end of 2021. The minimum wage only would rise to $12.50 in the rest of the state by 2020, with further increases tied to inflation and other economic indicators.
Earlier this year, California Gov. Jerry Brown signed a law raising the state's minimum wage to $15 by 2022. The statewide minimum wage will increase from $10 an hour to $10.50 an hour on Jan. 1, 2017, then up to $11 an hour on Jan. 1, 2018. From there it will increase by $1 annually until reaching $15 an hour on Jan. 1, 2022.
Fast-food companies may not have much to smile about in a Clinton Administration.
To try to get out in front of the headwind, Dunkin' Donuts is working with franchisees on simplifying operations, finding supply-chain and energy-management cost savings and lowering capital investments for remodels.
Dunkin' has seen mixed traffic since the New York City law was announced as scared franchisees hiked prices in advance of the wage increases. It may be a dynamic that is playing out at Popeye's (PLKI) , too.
"It is true that the two levers are pricing and labor productivity, and we are seeing that in our franchise operations that selective pricing and selective reduction in labor is occurring, particularly in those markets feeling the pressures of labor increases that are too fast," Popeye's CEO Cheryl Bachelder said during a May 28 call.
In the end, dealing with rising costs has made life as a fast food franchisee no longer a surefire ticket to prosperity and happiness. "It's not just minimum wage that franchisees are concerned about, they are concerned about the amount of regulation -- life is getting complicated, that's what franchisees tell me," said Dunkin Brands Chairman and CEO Nigel Travis in an interview.