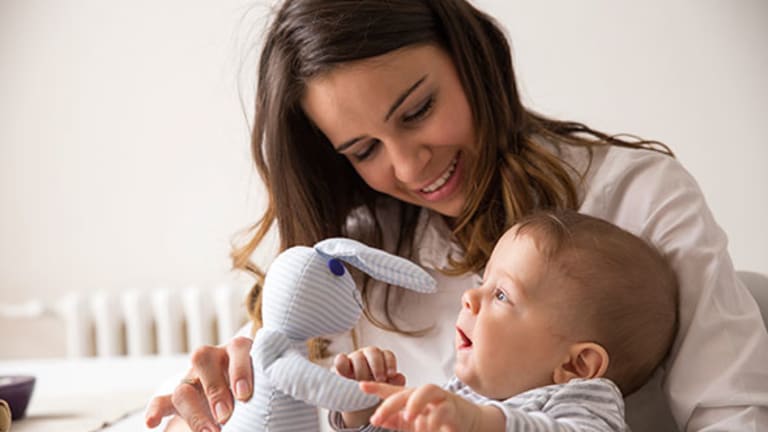 A small drug company flies to Washington, DC for a high-stakes meeting with FDA officials. If the meeting goes well, the company secures the permission of regulators to start a pivotal clinical trial for a therapy designed to treat kids with a rare, inherited and fatal disease. Investors are very pleased.
If the company blows it, FDA officials exit the meeting with concerns and questions requiring answers. The start of the pivotal clinical trial is delayed. Precious time is lost. Investors are dismayed.
This is the crucible facing Avexis (AVXS) and its promising gene therapy for spinal muscular atrophy, AVXS-101. The company's meeting with the FDA is scheduled for Monday.
Later this quarter, Avexis hopes to start a pivotal clinical trial of AVXS-101 in infants born with the most severe and fatal type 1 form of SMA, a rare, genetic condition affecting children that causes the loss of motor neurons in the spinal cord and lower brain stem, resulting in progressive loss of muscle function.
But before the first patient can be enrolled, Avexis executives must convince FDA officials that it knows how to make sufficient quantities of AVXS-101 to meet the demand of SMA patients. Avexis must also prove to FDA that each batch of manufactured AVXS-101 can pass quality checks to ensure patients are receiving a reliable and potent therapy.
When it comes to drug development, investors focus mostly on a drug's efficacy and safety. Much less time is spent considering the importance of drug manufacturing, even though it is a vital step to get right if a drug is to be approved.
And so on Monday, May 1, Avexis and the FDA will sit down together for what is known in regulatory jargon as a "Type B" meeting to discuss chemistry, manufacturing and controls, or CMC, for AVXS-101.
Avexis should exit Monday's meeting with a good sense of how the agency feels about its manufacturing plan, but the company intends to wait for FDA to send the minutes of the meeting -- basically a document outlining the agency's conclusions and recommendations -- before informing investors. Avexis should receive those meeting minutes towards the end of June.
To date, Avexis has only treated 15 Type 1 SMA patients in a single clinical trial. The AVXS-101 used in the study was made in a lab at Nationwide Children's Hospital (NCH) in Columbus, Ohio, where the gene therapy was invented.
Approximately 250 babies are born in the U.S. each year with Type 1 SMA. Another 5,000 children have a Type 2 SMA, a milder form of the disease that Avexis would also like to target with its gene therapy. The NCH lab cannot make commercial-scale quantities of AVXS-101, so Avexis has been working with outside manufacturers and building its own production facility to expand AVXS-101 supply.
If AVXS-101 were a simple chemical pill or even a protein-based biologic drug made in living cells, scaling up manufacturing would not be fraught with so much risk. But making large quantities of a gene therapy like AVXS-101, reliably, is more complicated because it involves using a type of virus to deliver a functional copy of a gene into a patient's own cells.
SMA patients are born with a broken gene, SMN1, that is incapable of producing a protein known as survival motor neuron (SMN.) AVXS-101 uses a virus to deliver a working copy of the SMN1 gene into patient's cells, which can then start to produce the SMN protein.
Avexis' gene therapy is a one-time intravenous infusion that is designed to correct the underlying cause of SMA -- essentially curing the patient.
Spinraza, the recently approved SMA drug invented by Ionis Pharmaceuticals (IONS) - Get Ionis Pharmaceuticals, Inc. Report and sold by Biogen (BIIB) - Get Biogen Inc. Report , works differently. Spinraza is an antisense compound consisting of a snippet of genetic material that acts like a patch and helps a backup gene SMN2 make more SMN protein. The downside to this approach is Spinraza must be delivered through a spinal injection. After initial loading doses, patients must return for Spinraza treatment every four months for the rest of their lives.
On a conference call Tuesday, Avexis CEO Sean Nolan expressed confidence that his team has done the work necessary to scale up AVXS-101 manufacturing. Nolan was speaking from Boston at the American Association of Neurology meeting, hours after researchers had presented updated results from the company's initial phase 1 study of AVXS-101 in Type 1 SMA babies. To date, Avexis' gene therapy is having a remarkable effect on children with Type 1 SMA.
These children, who shouldn't be able to lift their head, roll over or sit up unassisted, are doing all those things following a single treatment with AVXS-101. When video of some of the kids in Avexis' study was shown at the neurology meeting on Tuesday, the scientists in the audience broke out in applause.
Avexis' shares trade near an all-time high with a market value exceeding $2 billion based on the potential for AVXS-101 to dramatically change the way SMA children are treated. If Monday's FDA meeting goes as Avexis plans, the company will get clearance to begin a pivotal clinical trial of AVSX-101 immediately.
But any hiccup or unanswered question could compel FDA to ask for more information about AVSX-101's manufacturing process, delaying the start of the next clinical trial. With Biogen already in the market treating SMA patients with Spinraza, Avexis cannot afford to waste time.
Adam Feuerstein writes regularly for TheStreet. In keeping with company editorial policy, he doesn't own or short individual stocks, although he owns stock in TheStreet. He also doesn't invest in hedge funds or other private investment partnerships. Feuerstein appreciates your feedback; click here to send him an email.