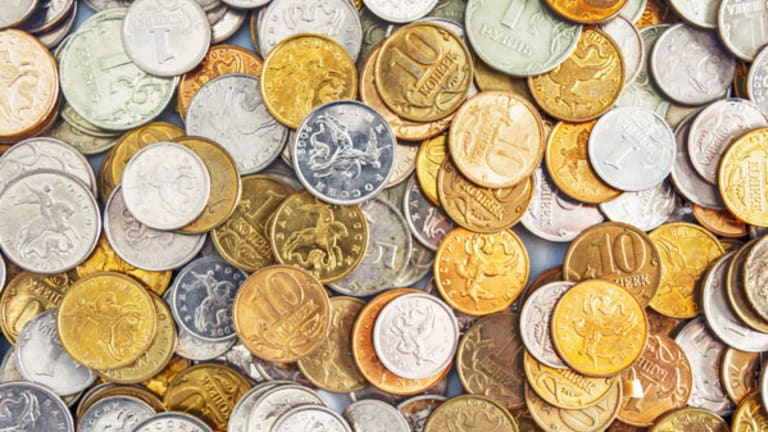 High Gold Prices Shine Light on NovaGold
With gold prices soaring and the industry in consolidation mode, some analysts and investors wonder if NovaGold will be the next company to be bought out.
Editor's note: As part of our partnership with PBS's Nightly Business Report, TheStreet's Alix Steel joined NBR to discuss M&A activity in the gold mining industry. (Watch video and see transcript)
NEW YORK (
) --
have topped $1,400 an ounce this year, and shares of
NovaGold Resources
(NG)
have skyrocketed 112% indicating it might become the next big takeout candidate.
Mergers and acquisitions have been the name of the gold game for 2010. Most recently
Goldcorp
(GG)
and
Kinross Gold
(KGC)
bought
Andean Resources
and
Red Back
for $3.4 billion and $7.1 billion, respectively.
Although the purchases were made with hefty premiums, the large gold companies were forced to replenish their resources as gold demand skyrocketed and supply waned. The above-ground supply of gold has slowly shrunk since 2001 leaving gold producers in a bind.
According to the World Gold Council, mine supply increased only 3% in the second quarter of 2010 while total gold demand rose 36%. The more gold a company produces the more replacement gold it has to find, and organic growth on a big scale is hard to come by. It can also take 10 years to discover a mine and take it into production. So for a quick fix large companies have to turn to acquisitions.
NovaGold is attractive because it's considered a junior with big properties. The company has two of the largest gold and copper deposits in the world -- Donlin Creek and Galore Creek -- as well as the two smaller properties of Rock Creek and Ambler.
Galore and Donlin are jointly owned with
Teck Resources
(TCK)
and
Barrick Gold
(ABX)
, respectively. NovaGold is expected to release a pre-feasibility study for Galore in 2011 and Donlin has the potential to produce 25 million ounces of gold. There are only 20 to 30 gold projects in the world that have resources over 10 million ounces. In total, the company's net interest in these two projects, on a conservative estimate, is 30 million ounces of gold, 157 million ounces of silver, and 9.1 billion pounds of copper.
The two properties won't come on stream until 2015 at the earliest. In the meantime, NovaGold's operational cost will total $4 billion and the company has no cash flow to fund its operations.
In the third quarter, the company reported a net loss of 66 cents a share while making $6.7 million from the exercise of warrants as well as $175 million from a
private-equity offering to funds managed by John Paulson and George Soros.
The cash is reportedly enough to fund its operations at its core projects for the next two years, says Adam Graf, director of emerging miners for Dahlman Rose & Co.
Graf has a hold rating on the stock
because he thinks "Novagold in its current incarnation is unlikely to be able to fund its share of current projects
over the long term, but I think those projects are still interesting to third parties."
Graf isn't the only analyst to think so. Paolo Lostritto, mining analyst at Wellington West Capital Markets, says the stock is acting like a takeover is imminent. "The market has started to price in a bit of a takeover premium ...
We are hearing more chatter coming out of Barrick on the Donlin Creek project talking about how good the project is."
Lostritto also says that gold, silver and copper's meteoric rally this year has also helped NovaGold's net asset valuation. Based on his calculations factoring in a spot price of $1,400 gold, $28 silver and $4 copper, NovaGold is worth $22 a share.
Is NovaGold even interested? In 2006, the company rejected a hostile bid from Barrick for $16 a share saying it undervalued its assets. Back then gold prices were trading around $630 an ounce, so how much more would NovaGold expect for ts shares now that gold is trading over $1,400 an ounce?
It appears that the company is getting ready for something by trying to clean house. NovaGold is trying to sell its Rock Creek project and is also considering spinning off its newly purchased Ambler project for $750 million. The moves could be to finance Donlin and Galore, but Lostritto says it looks like they are getting ready to put the company up for sale.
NovaGold currently has a market cap of $3 billion and some analysts like Lostritto think that Barrick and Teck make good buyers, either for the whole company or for their portion of their projects.
Other experts think that a buyout by Barrick or Teck is too complicated and the companies already have their mining paws in two of the largest gold deposits in the world so 100% really wouldn't be needed.
Another possibility to consider is China. China is one of the leading consumers of gold in the world. Total gold demand in the country grew 26% in the second quarter, according to the
World Gold Council
, to 111.7 tons. China currently isn't producing enough to satisfy internal demand leaving the country looking outside its borders for regular gold flow.
State-owned
China National Gold Group
, the No. 1 gold producer in China, recently announced a partnership with
Coeur D'Alene Mines
(CDE)
for half of its gold concentrates from its new Kensington Mine in Alaska.
Lostritto say that agreements such as this leave the Chinese company at the mercy of the operator, which might make buying NovaGold less attractive. "It's always about control," he says.
Novagold's appeal has not gone unnoticed by investors. Legendary investors
and
recently bought $175 million shares in a private offering and own a combined 33 million shares. Soros and Paulson own small positions in Barrick, and Soros initiated a new position in Teck of 18,800 shares in the third-quarter, according to recent 13F filings. Jim Cramer and Stephanie Link also recently initiated a position in the stock for Cramer's charitable trust,
and aren't ruling out a takeover bid although they own it for more for the short-term catalysts of 2011.
Cramer: Number One Gold Stock
Technician L.A. Little, senior contributor for
TheStreet
, recently wrote that "long term, this stock is just getting started ... that high-volume top from November of 2007 looks to be the initial target, and that is $21.91." Little doesn't rule out a resting period for the stock due to its recent "parabolic" move, but says there is nothing wrong with Novagold's bullish chart picture.
Not all traders and analysts are optimistic. Stephen Walker, analyst at RBC Capital Markets, has an underperform rating on the stock. Editor of
thegoldstockanalyst
, John Doody, whose list of top 10 gold stocks is up 55% for the year, doesn't see Novagold as a takeover target and has been avoiding the stock citing too much risk from potential dilution.
I am speaking with the
Thursday and will be following up on this story.
Barrick declined to comment on "market speculation."
--Written by Alix Steel in New York.
>To contact the writer of this article, click here:
Alix Steel
.
>To follow the writer on Twitter, go to
.
>To submit a news tip, send an email to:
.
Disclosure: TheStreet's editorial policy prohibits staff editors and reporters from holding positions in any individual stocks.