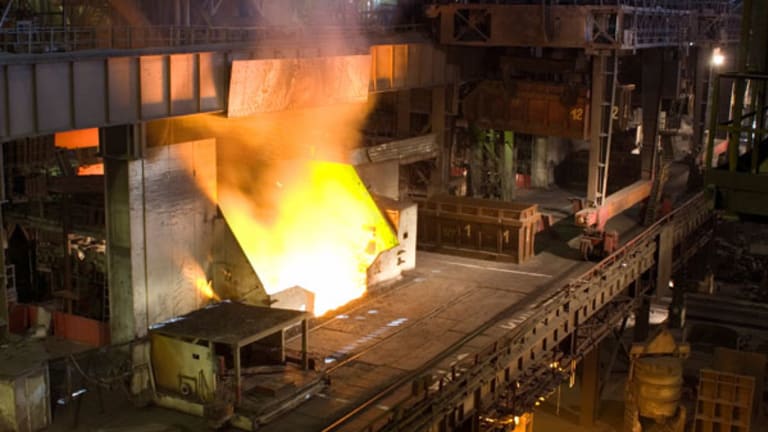 High Gold Prices Put Major Miners in Focus
Junior gold miners might have been hot in 2010, but 2011 is the year for large cap gold producers.
Editor's note: As part of our partnership with PBS's Nightly Business Report, TheStreet's Alix Steel appeared on NBR Tuesday to profile large-cap gold mining companies that could outperform their junior rivals in 2011. (Watch video and read transcript here.)
NEW YORK (TheStreet ) -- Buying junior gold mining stocks was the sexy trend in 2010 but 2011 is shaping up to be the year of big reliable gold stocks.
As
made record highs in 2010 and takeovers abounded, investors bought up shares of small gold explorers hoping to strike gold on the "next big thing."
NovaGold
(NG) - Get Free Report
rallied 125.79%,
International Tower Hill
(THM) - Get Free Report
jumped 53.6% and
U.S> Gold
(UXG)
skyrocketed 211.6%.
While investors were distracted by merger madness, shares of the big gold companies waned.
Goldcorp
(GG)
rallied only 13%, underperforming the gold price, and
Barrick Gold
(ABX)
was up 31.67%.
The gold world changed in 2011 and now it's a show me story. Miners have to live up to all their talk and actually produce the gold they promised, at low cash costs, and show that they can manage rising inflation. It's this wicked combo that is making Barrick Gold and Goldcorp potential winners.
Both companies' hit fourth-quarter results out of the ballpark. Barrick earned 95 cents a share, producing 1.7 million ounces of gold at cash costs of $486 an ounce, or $326 an ounce if you factor in the sale of other metals. Total cash costs, including all expenses, ranged between $750-$800 an ounce.
Barrick is aiming to produce 9 million ounces of gold in 5 years as two projects ramp up.
Goldcorp made 57 cents a share, producing 689,600 ounces of gold at net cash costs of $164, including byproduct sales. Total cash costs are $700 an ounce and
the company is planning to grow 60% in 5 years, adding 6 new mines to produce 4 million ounces of gold annually.
Barrick is expecting a 10% cost increase in 2011
, half from rising energy prices and half from higher labor wages. Goldcorp is anticipating a 6% pop for the same reasons. Both companies don't use a large amount of diesel and Barrick is hedged at $85 a barrel while Goldcorp is budgeted at $111 a barrel.
Wage inflation is every gold miner's problem especially if they are operating in inflation high countries like Argentina, for example, as Barrick is. There is a shortage of good geologists and metallurgists in the world and companies will continue to have to pay up for employees. Barrick and Goldcorp have the cash to do it, though, with $4 billion and $596 million in cash and cash equivalents, respectively.
The life blood of these companies is their project pipelines. Barrick brought its Cortez Hills project in North America on stream in 2010 and it is expected to produce 1.3-1.4 million ounces of gold a year for under $300 an ounce. Barrick is also investing time and energy into its Pueblo Viejo and Pascua Lama projects in the Dominican Republic and Chile/Argentina, respectively.
According to CEO Aaron Regent, Pueblo Viejo will ramp up in the fourth-quarter 2011 and enter into production in 2012 and the company owns 60% of the gold. Goldcorp owns the rest. The mine will turn out 1.1 million ounces of gold a year for cash costs below $300 an ounce. Pascua Lama will produce in 750,000-800,000 ounces of gold for the first 5 years at cash costs of $20-$50, which "will reduce our overall cash costs by about 10%," says Regent. First production is scheduled to start in the front half of 2013
JPMorgan Chase
(JPM) - Get Free Report
has a buy rating on the stock and says "Barrick ... has one of the industry's strongest project pipelines." The investment bank also has a buy rating on Goldcorp based on the company's new explosive silver and gold mine, Penasquito.
Penasquito produced 4.6 million ounces of silver in the fourth quarter, its first in production. The mine has 18.6 million ounces of proven and probable gold reserves and 1.1 billion ounces of silver, making it one of the biggest in the world.
The mine should produce 28 million ounces of silver a year, with Goldcorp keeping 21 million ounces, the rest goes to silver royalty company
Silver Wheaton
undefined
. The massive amount of silver Goldcorp can produce will help keep cash costs down at all its other mines and help pay for its 6 projects, joint ventures and satellite properties it will develop over the next 5 years.
Barrick and Goldcorp don't come without risk. Analysts site lower gold and silver prices, higher operating costs and any production or development delays as risks to both companies and for Goldcorp, specifically, the pressure to deliver on Penasquito.
There are some ownership issues for Barrick at the Chile portion of its Pascua Lama project. According to reports, Canadian based gold miner
Mountain-West Resources
is helping to fund a lawsuit which states that 4 individuals are the legal owners of the Chile section of Pascua Lama. Communications Manager, Andy Lloyd says "this lawsuit does not affect the development of Pascua-Lama whatsoever."
Barrick has 25 buy ratings and Goldcorp has 19, with their average price targets at $65.37 and $62.77, respectively. Both only have 1 sell rating and just a handful of hold ratings.
Year-to-date Barrick is down 4.3% and trades at a forward looking price to earnings multiple of 11.41, well below the industry average. Goldcorp has rallied up 7% and trades at a multiple of 18.53. For a miner, the higher the PE, the bigger the growth, which, on this metric, makes Goldcorp more interesting.
But Barrick is cheaper. Dividing the enterprise value (the whole value of the company) by the EBITDA (earnings before interest, taxes, depreciation, and amortization), Barrick trades at 9.3 times trailing estimates while Goldcorp trades at 18.58 times. The numbers reflect their growth profiles -- Barrick's EBITDA will grow 3.5% through 2012 while Goldcorp will grow 18%, but an investor will have to pay up for it.
Investors no longer seeking the fast money with junior gold miners can start looking at the reliable producers. Their rallies won't be as fast and furious but neither will their selloffs. With gold prices treading water between $1,400 and $1,450 an ounce, Barrick and Goldcorp will have big profit margins and many analysts think the potential for big upside.
--
Written by Alix Steel in
New York.
>To contact the writer of this article, click here:
Alix Steel
.
>To follow the writer on Twitter, go to
.
>To submit a news tip, send an email to:
.
Readers Also Like:
>>Cramer: Where to Make Money Now
>>Where Will Gold Prices Finish in 2011?
Disclosure: TheStreet's editorial policy prohibits staff editors and reporters from holding positions in any individual stocks.