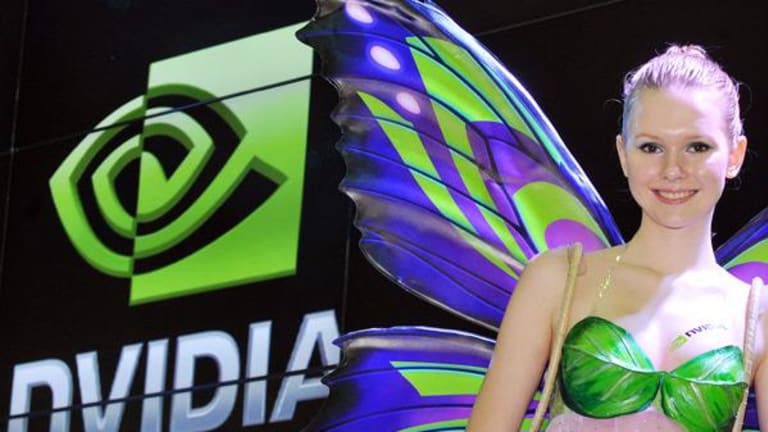 High-Flying Chip Maker Nvidia's Shares Aren't for the Risk-Averse
The technology company's stock has had stellar gains this year. However, price volatility could make this a perilous play for investors.
Shares of Nvidia (NVDA) are up by more than 220% this year, making it one of the best-performing S&P 500 components.
However, the end-of-year attention that the chip maker has received is both a blessing and curse.
On the plus side, a strong stock performance garners good headlines, which can help attract investors and even persuade bears that the stock is a good one to buy long, not short. A good year for a stock can also attract analyst attention, usually for the better.
Wall Street analysts don't like to seem as if they have missed an opportunity, so they are usually quick to jump on the bandwagon. If a stock is in favor with investors, analysts will usually rate it buy or hold, which in turn, can boost the stock even more.
For example, despite Nvidia's massive move this year, Goldman Sachs recently added the stock to its conviction buy list, which propelled the stock even higher.
Goldman Sachs thinks that the gaming market for Nvidia is larger than what other analysts estimate and that the company also has other revenue streams that could be more promising than expected.
However, increased attention can also be a negative.
This happened when famed short-seller Citron Research tweeted that it thinks that Nvidia's stock is overpriced and should be trading at just $90 a share, certainly not around $119 a share, where the stock was then hovering.
This news caused Nvidia to plunge 7%.
Nvidia is trading at about $107 a share, with a 52-week low of $24.75 and a high of $119.93, a market capitalization of $58 billion, a trailing price-earnings ratio of 56, and a forward P/E of 38.
Quarterly revenue growth is at about 53%, and most analysts think that the company will be able to increase earnings by about 10% annually over the next five years.
However, Goldman Sachs analysts think that this will be higher, with 50% growth in Nvidia's data center business and 20% in its gaming revenue next year.
As for Citron Research, it provided six reasons why Nvidia's stock may be weak next year. They are a potential lack of market share growth, increased data center competition; the expiration of intellectual property licenses that Intel pays to the company; and gross margin sustainability due to increased competition from companies such as Advanced Micro Devices.
So who is right, Goldman Sachs or Citron Research?
It is hard to say. Demand for Nvidia's chips will continue to increase, but so will competition.
Competition always heats up when a particular company crushes sales and grows so rapidly. This is basic supply and demand.
With that in mind, the safe decision is for investors to stay on the sidelines for a while. The volatility of Nvidia's stock should subside in a few weeks, potentially providing a better entry point.
Although Nvidia's long-term prospects are good, the stock is too volatile to provide an attractive entry point now.
However, Nvidia could be an interesting opportunity for those who thrive on risk.
Currently, 16.4% of Nvidia's shares are sold short. This could come into play for investors going long on the company because if the stock continues to climb, there could be a short squeeze.
If that were to happen, the stock could soar even higher as those shorts are covered and buying pressure outweighs selling pressure.
---
Holding off on Nvidia for now but still have cash burning a hole in your portfolio? No problem, because I have a list of seven companies that you will profit from, regardless of what the markets do. But with many experts calling for a coming crisis, now is the perfect time to make sure you and your portfolio are protected.
Each one of these powerful, yet overlooked companies barely notices when the market tumbles. And they'll skyrocket when it rebounds. You can pick all seven up for pennies on the dollar right now. But that will change the instant average investors catch wind of just how bad things really are. Get their names here before it's too late.
The author is an independent contributor who at the time of publication owned INTC.