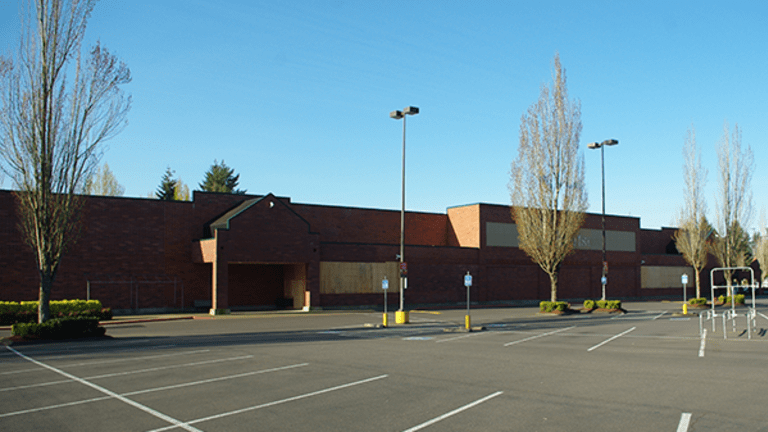 Gordmans Is the Latest in a Quickly Growing List of Newly Bankrupt Retailers
Another retailer files for bankruptcy.
Another retailer files for bankruptcy.
And thegreat unwinding in retail continues. 
On Monday Gordmans, the operator of 106 everyday value price department stores in 22 states, filed for bankruptcy, listing $274 million in assets and $131 million in total debts. Gordmans, acquired by private equity firm Sun Capital Partners in 2008, like so many other retailers is struggling to navigate dwindling mall traffic and bring consumers back to brick and mortar stores from e-commerce.
"Like many other apparel and retail companies, the debtors have fallen victim in recent months to adverse macro-economic trends, especially a general shift away from brick-and-mortar to online retail channels, a shift in consumer demographics and expensive leases," Gordmans CFO James Brown said in a declaration.
Meanwhile, struggling appliances, electronics and furniture retailer HHGregg (HGG) , backed by private equity firm Freeman Spogli Management, said last week that it has filed for Chapter 11 bankruptcy and reached a deal to sell itself to an undisclosed party. It was unclear why the buyer's identity is being withheld. In a press release, HHGregg said that it "has signed a term sheet with an anonymous party to purchase the assets of the company."
Jim Cramer loves these seven stocks for income.
HHGregg declined to comment further. Debtor counsel Sarah Lynn Fowler and Jeffrey Hokanson of Ice Miller and Neil Herman of Morgan, Lewis & Bockius did not return a request for comment.
"We've given it a valiant effort over the past 12 months," CEO Bob Riesbeck said in a statement. "We have conducted an extensive review of alternatives and believe pursuing a restructuring through Chapter 11 is the best path forward to ensure HHGregg's long-term success." The company said it's "fully committed" to operating about 132 stores after 88 are closed as part of a recently announced restructuring.
HHGregg secured $80 million in debtor-in-possession financing from pre-petition lender and REIT GACP Finance Co., which is owed $66.95 million. The loan accrues at interest of a base rate plus 3.00% and LIBOR plus 10.00%, according to court papers.
The $80 million in financing should help HHGregg continue to run its 132 stores in 19 U.S. states, and pay its 4,700 full- and part-time employees.
RadioShack parent company General Wireless Operations Inc.filed for insolvency last week, citing financial issues with parent company Sprint (S) - Get Report and the inability to revive the electronics retailer's business from its previous Chapter 11 case. The company which employs 5,900 full- and part-time workers at its 1,733 stores, plans to liquidate.
To be sure, the retail sector remains in a precarious position right now.
Moody's Investors Service recently said nearly 14% of its retail and apparel portfolio is now comprised of distressed issuers, which is the largest number since the Great Recession. The 19 names in Moody's portfolio have well over $3.7 billion in debt maturing over the next five years, with some 30% of that coming due by the end of 2018.
S&P Global Ratings is fresh off issuing downgrades on four retailers: department store operator Macy's (M) - Get Report , luxury retailer Neiman Marcus, young-women's fashion chain Charlotte Russe and thrift store operator Evergreen AcqCo1.
Macy's was cut to BBB- from BBB, which is one level above junk bonds. The ratings change comes after the company reported weak fourth-quarter results, partially due to soft holiday sales.
"The downgrade reflects our view of the company's weakened operating performance and competitive standing given the ongoing industry challenges, such as sustained low-customer traffic, increased price transparency and unrelenting competition from online, fast-fashion and off-price retailers," credit analyst Helena Song said.
Updated with new Chapter 11 filings.