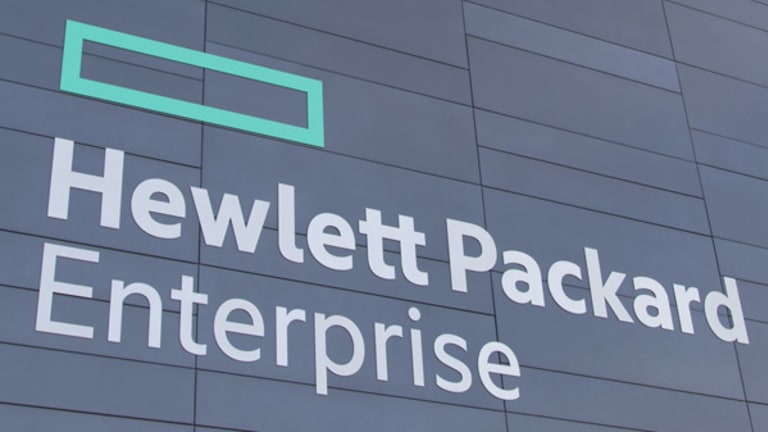 Hewlett Packard Enterprise Is a Bridge Too Far
Hewlett Packard Enterprise reports earnings on Wednesday. Will its dizzying number of restructurings and spinoffs pay off?
Hewlett Packard Enterprise (HPE) - Get Hewlett Packard Enterprise Co. (HPE) Report reports third-quarter fiscal 2016 earnings results on Wednesday, Sept. 7. But Hewlett Packard has done so many restructurings and spinoffs -- including Hewlett Packard Enterprise -- I'm dizzy.
Year to date, shares of Hewlett Packard Enterprise are up a staggering 41%. I say staggering, because second-quarter revenue was up a whole 1.6% to $12.7 billion. If you want to pretend the company wasn't hurt by the strong dollar, then revenue was up 5% in constant currency terms.
In the second quarter, the Enterprise Group, which includes servers, storage, networks and services, had revenue of $7 billion and an operating profit of $817 million. Enterprise services had revenue of $4.7 billion and posted a $317 million profit. And the software group had revenue of $774 million and a $192 million profit. Software revenue was down 13%.
Wall Street thought it was a solid quarter. Every segment grew except software, which was hurt by a sharp dropoff in support revenue.
Then, management surprised everyone by announcing a "spin merger." The company plans to spin off its Enterprise Services business and merge it with Computer Sciences (CSC) . The new company is expected to have $26 billion in global IT services revenue. The deal is expected to be tax-free and generate $8.5 billion in after-tax value for HPE shareholders. The companies expect to save over $1 billion in operating costs in the first year, and the deal should be completed by March 31, 2017. The new company will have 5,000 customers and 95 data centers. The deal is expected to cost $900 million to complete. The sale should lower free cash flow by $200 million.
Without the Enterprise Services business, HPE will have revenue of approximately $33 billion a year.
Management guided the third quarter lower, but left earnings per share estimates unchanged. Management sees earnings between 42 cents and 46 cents per share. The consensus is at 47 cents per share. Management noted the spin merger would cost between 3 cents and 4 cents per share, but it could make up the full year through share buybacks. Third quarter sales are forecast to be $11.6 billion, down 11% year over year. The fourth quarter will likely be down 9% to $12.2 billion.
Assuming all goes according to plan, HPE will end fiscal 2016 with revenue of $49.2 billion, down 5%, and full-year earnings of $2.09.
At the end of Hewlett Packard Enterprise's earnings releases are long tables of GAAP to non-GAAP earnings "bridges." These tables allow investors to convert between the two accounting methods.
The problem I have is the huge divide between non-GAAP and GAAP earnings. On A GAAP basis, the company would have posted a second-quarter operating profit of $492 million, but on a non-GAAP basis, the company made $998 million. Likewise, net earnings would have been only $320 million, not the $731 million reported. Take earnings per share. Earnings on a GAAP basis would be just 18 cents per share, not the 42 cents the company reported.
With all the divestitures, spinoffs, writeoffs, acquisitions and foreign currency adjustments, none of the quarters are comparable.
And the dealmaking just doesn't stop. The company announced it would acquireSilicon Graphics and there's a rumor that HPE is ready to sell off its software business to a private equity group. Say what?
In reality, we have no idea how much this company can earn. It's all just smoke and mirrors supported by stock buybacks.
Over 50% of HPE's business is under attack by cloud computing. The company no longer generates the amount of free cash flow it once did, and margins are slipping away. The strong dollar continues to weigh on results and management uses non-GAAP accounting and share buybacks to generate results.
I would avoid the stock. For me, Hewlett-Packard Enterprise is just a bridge too far.
This article is commentary by an independent contributor. At the time of publication, the author held no positions in the stocks mentioned.