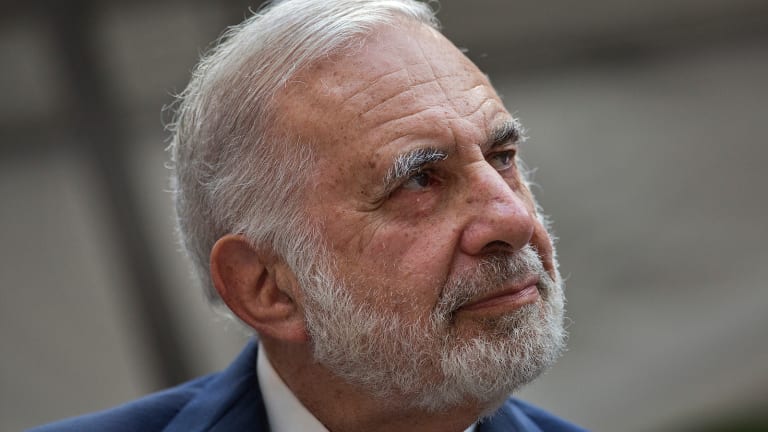 Hertz's (HTZ) Struggles Are No Issue for Carl Icahn
The billionaire investor has upped his stake in the embattled car rental company.
There's a Carl Icahn-shaped shadow looming over Hertz Global Holdings (HTZ) - Get Hertz Global Holdings Inc Report .
A Tuesday Securities and Exchange Commission filing shows that the billionaire investor more than doubled his investment in the embattled car rental company in the fourth quarter. He currently possesses 29.26 million shares of Hertz - a 35.27% stake.
The continued consolidation of power around Icahn comes as the company is reeling from a dreadful third quarter. Hertz cut its full-year earnings forecast to a range between 51 cents and 88 cents per share from $2.75 to $3.50 when it reported for the previous quarter in November. It blamed an adjustment in the depreciation rate of its vehicle fleet for the sudden revision.
Hertz is set to report its fourth quarter and full-year earnings on Feb. 27. Predictably, expectations are low. Credit Suisse downgraded the stock on Friday to "underperform," slashing its price target from $27 to $15.
Shares of Hertz were trading at $19.96 Friday afternoon, down 7.87%.
"I think the market's not really going to care a lot about what they report in the fourth quarter because people already expect a worse number than where consensus is at," Macquarie analyst Hamzah Mazari said. "But I think the key focus is going to be on what they say going forward and we think that's going to drive the stock."
Icahn-approved Kathryn Marinello replaced John Tague as CEO on Jan. 3 and the effects of her restructuring push are already being felt throughout the company. Hertz said in a Feb. 10 SEC filing that chief revenue officer Jeffrey Foland will step down effective at the end of the month.
"Marinello announced structural changes in North America to facilitate her direct interaction with senior managers and to fast-track decision making to accelerate performance improvement," Hertz said in the filing.
As Marinello settles into the job, she inherits a company that is still atoning for the mistakes of her predecessors. Former CEO Mark Frissora aggressively expanded the company's aging fleet of vehicles during his tenure, which made the pain of November's depreciation rate revision that much more painful. Frissora resigned for personal reasons in 2014 as Hertz was in the midst of an accounting scandal that erased about $153 million of profit dating back to 2011.
"I think they've got to be more concerned with keeping their fleets in line and getting their pricing in line than they should be concerned with [rental] volume growth," Millman Research Associates founder Michael Millmann said.
Hertz is also in the process of replacing its outdated IT system. The rapid changes under new leadership may mean the company keeps mum about its expectations for the year ahead.
"I think most of Marinello's quotes are going to be qualitative," Mazari said. "If she comes out and says 'We're going to cut our fleet and we're selling cars already. We're going to be selling cars at the end of February after Presidents Day and into March and we expect the fleet to get tighter and we're just not going to give guidance right now' and she can be credible on the conference call about right-sizing the fleet and the new IT system coming into place, I think that could actually help the stock."
Hertz is highly levered - it carries $14.86 billion in total debt on its balance sheet. The company gave itself some breathing room earlier in February when it disclosed that it pushed back the maturity of $3.17 billion in notes to January 2019 from 2017.
Of course, highly-levered companies are a specialty for Hertz's biggest individual shareholder, who controls three seats on the company's seven-member board.
"Hertz's stock is down significantly since Icahn's involvement," Mazari said. "He can take the company private at a relatively cheap price."