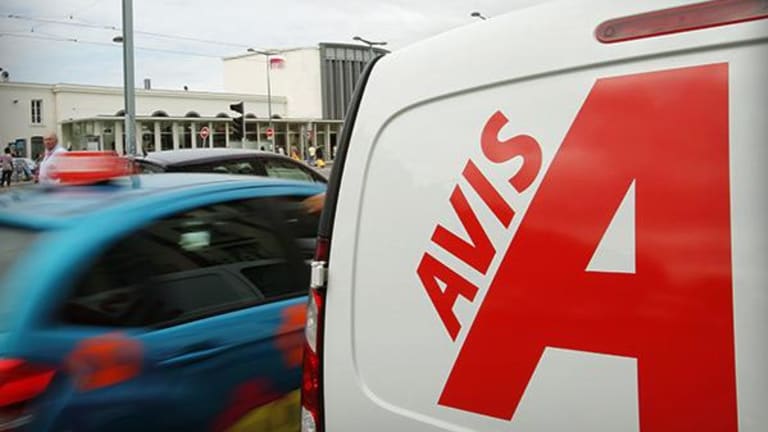 Avis Shares Just Got Run Over Again After a Brutal Earnings Whiff
Thanks Uber and Lyft.
The pain continues for the biggest rental companies amid the proliferation of Uber and ride-sharing services.
Shares of Avis Budget Group Inc. (CAR) - Get Report crashed as much as 10% in after-hours trading Monday after the company revealed below plan second quarter earnings. Adjusted for one-time items, Avis said it earned 30 cents a share in the quarter, well shy of Wall Street forecasts of 52 cents a share. For the full year, Avis now sees earnings of $2.40 to $2.85 a share, largely below analyst estimates for $2.85 a share.
Rival Hertz (HTZ) - Get Report , which reports its earnings on Tuesday, saw it shares tumble 3.2% in sympathy.
The ugly miss from Avis comes amid hot debate on Wall Street about the future of rental car companies. 
Hertz Global Holdings Inc. and Avis Budget Group Inc. should have nothing to fear from the proliferation of ride-sharing companies like Uber and Lyft, JP Morgan analysts wrote in a note Friday, Aug. 4.
"The overlap of traditional rental car transactions with ride share and car share solutions is likely to expand in the near future with increasing innovation and technology," analysts led by Samik Chatterjee wrote. "However, with existing scale of fleet operations, rental car companies strike us as natural owners of car sharing solutions, with new entrants likely struggling to achieve threshold volumes in a fragmented market to reach profitability. Moreover, we believe the advent of fully autonomous driving will level the playing field for rental car companies and ride share solutions, making them one and the same, additionally necessitating investments in fleet management services by ride share companies."
Dunkin' Donuts May Drop the 'Donuts' From Its Name -- This Isn't a Joke
The U.S. and world economies both continue to grow, as do the airline and hotel industries, which is good news for rental car demand.
"Our analysis of demand for rental transactions suggests a high correlation with air travel (as measured by enplanements) and lodging (as measured by occupancy rates and revenue per available room)," Chatterjee wrote. "Additionally, rental car transactions are strongly correlated with economic growth, which we believe to have a causal relationship with demand for travel, enplanements, and lodging.
The U.S. rental car industry is a highly fragmented $28 billion market, Chatterjee noted, with Hertz, Avis and privately held Enterprise Rent-A-Car controlling 95% of the market, which should contribute to "pricing and fleet size discipline." In contrast, the three largest players control 44% of the $15 billion European market, and Chatterjee also expects big growth in emerging markets.
Chatterjee assigned Avis an overweight rating and $39 price target, and Hertz neutral rating and $15 price target. The companies have "similar geographic, customer, segment, and market share profiles," but Avis has achieved superior growth and revenue per transaction. Chatterjee attributed the divergent performance to Avis' more experienced and stable management team.
Avis also owns car-sharing pioneer Zipcar, which it acquired in 2013 for $500 million. Chatterjee estimates that Zipcar membership could triple through 2025, with revenue reaching $1.2 billion.
Cannibalization from the likes of Uber and Lyft should increase, however. Car rentals have significantly lower costs per mile than taxis, ride hailing and car sharing, but rentals are far less convenient.
"Unsurprisingly, we have seen a rotation from car rentals toward ride sharing applications in 'use cases' marked by short rental periods and low utilization," Chatterjee said. "While both Hertz and Avis estimate that such substitution is feasible only in the case of less than 10% of their transactions, we believe the use of technology to further lower cost per mile (e.g., pooling services such as Uber Pool or Via) and increase convenience will increasingly cause overlap and competition for the same customer between ride share and car rental businesses."
Uber and Lyft, both unprofitable, are betting on autonomous vehicles in the long term, something that Chatterjee expects will level the playing field for traditional car rental companies like Avis and Hertz, which Uber and Lyft would be forced to emulate.
This Part of the U.S. Jobs Market Recovery Has Been One Big Mystery
"While the primary cost associated with ride sharing in the form of the labor cost of the driver would be eliminated upon the implementation of fully autonomous driving, ride hailing companies would all of a sudden be required to own their fleet of vehicles, relative to today the vehicles being owned by independent drivers," he said. "Additionally, ride hailing companies would need to build out expensive fleet management infrastructure to maintain, repair and clean vehicles, and to be able to sell vehicles at the end of the holding period, similar to traditional rental car companies today."
Uber has been testing autonomous cars in Pennsylvania, Arizona and California, and Lyft plans to launch autonomous cars in Boston. Ford Motor Co. (F) - Get Report , for example, plans to have commercial autonomous ride-sharing vehicles on the market by 2021.
As of March 31, Carl Icahn held a 34.96% stake in Hertz. The investor and unofficial advisor to President Donald Trump has recently made investments throughout the auto parts supply chain. Icahn won a bidding war against Bridgestone Corp. to buy auto service chain Pep Boys - Manny Moe & Jack for $1.03 billion late in 2015 and spent $340 million for the U.S. auto parts distribution business of Uni-Select Inc. the same year. Most recently, on Jan. 23, he closed on his $1.7 billion buyout of Federal-Mogul Holdings Corp.
More of What's Trending on TheStreet: