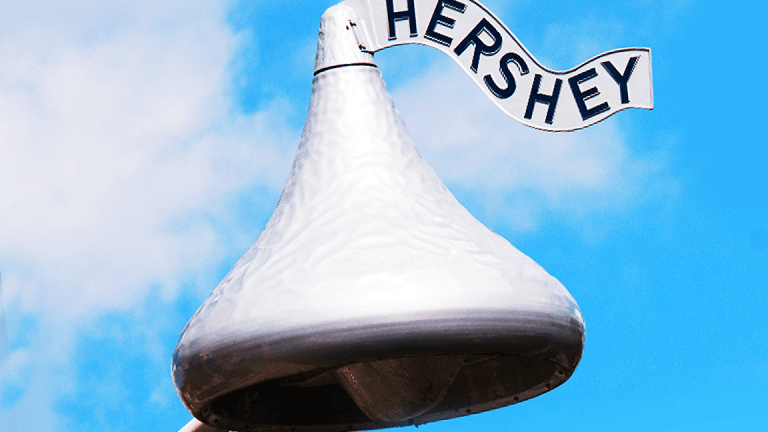 Why Hershey Just Made a Blockbuster $1.6 Billion Snacks Deal
There is a big deal brewing in the supermarket aisle, while the stock market continues to be on fire as investors digest Trump's tax plan.
There is a big deal brewing in the supermarket aisle, while the stock market continues to be on fire as investors digest Trump's tax plan.
One tasty deal: There are two constants in life: 1). You must pay your taxes on April 15 (that will still hold true under Trump's tax plan); 2). Monday is always the day for public companies to announce big deals. The rationale is pretty simple to understand: dominate the news cycle as every journalist is feverishly looking for big stories to kick off the week. That journalistic appetite is being fed Monday by candy king Hershey (HSY) - Get Report , which announced a deal for SkinnyPop maker Amplify Brands . It feels like just yesterday TheStreet had Amplify CEO Tom Ennis by our HQ to discuss the company's 2015 IPO. We came away impressed with Ennis' passion for the brand, but concerned on Amplify's outlook as it navigated an increasingly competitive healthy snacks market. Shares have fallen about 35% over the last two years due in part rising competition. Hershey's price for Amplify of $1.6 billion, while rich, is the price of admission into the healthy snacks market. Hershey will get in there and drive its process improvements and expand the brand (chocolate organic popcorn?) into new distribution channels and product lines. The deal makes a lot of strategic sense -- if I was PepsiCo (PEP) - Get Report I would be a little more concerned in 2018 and beyond about the competitive position around Frito-Lay after this deal and others that are likely to emerge.
The stock market explodes: Monday is shaping up to be one robust day for the stock market. Shocker. But the driver of the gains isn't just computers not finding any reasons via their algorithms to sell. Instead it's due to one aspect to the tax plan that all investors search for daily: certainty. Like it or not, we now basically know the structure of the plan and could model corporate earnings off it. Some of the early modeling efforts look impressive and warranting of another push higher in stocks. Delta Airlines (DAL) - Get Report last week said its 2018 earnings will get a boost of about $1 in 2018 thanks to tax reform. Reports I have read peg the profit boost for the S&P 500 as more than 8% next year. Those are some big numbers, people.
CSX continues to get hit: Crisis mode at railroad operator CSX (CSX) - Get Report ? Not yet, but it isn't going to be an easy week there by any stretch of the imagination. Shares of CSX are diving another 5% in early trading following a 7.7% plunge on Friday. Hunter Harrison, 73, had taken a medical leave of absence as CEO last week but died Saturday "due to unexpectedly severe complications from a recent illness," the company said in a statement. " Calling Harrison a "larger-than-life" figure, CSX Chairman Edward Kelly vowed to "continue to consider in a deliberative way how best to maximize CSX's performance over the long term." This story is unlikely to fade away anytime soon. CSX's board has serious explaining to do on what they knew about Harrison's health and why there wasn't any clear communication with investors. Harrison -- in his short time -- became the face of CSX (and a big chunk of CSX's market cap), rightfully so given his legendary track record. To not disclose more about his well-being is a lesson to all public companies on what not to do.
What's Hot
Activision Blizzard
Late upgrade on gaming giant Activison Blizzard (ATVI) - Get Report by BTIG today. It's hard to argue more gains aren't in store for the company's stock, however. 
TheStreet's Eric Jhonsa does a nice analysis here on Activison. 
Activision Blizzard and PepsiCo are holdings in Jim Cramer's Action Alerts PLUS Charitable Trust Portfolio. Want to be alerted before Cramer buys or sells these stocks? Learn more now.
To receive the FREE "Morning Jolt" daily newsletter, click here.
More of What's Trending on TheStreet: