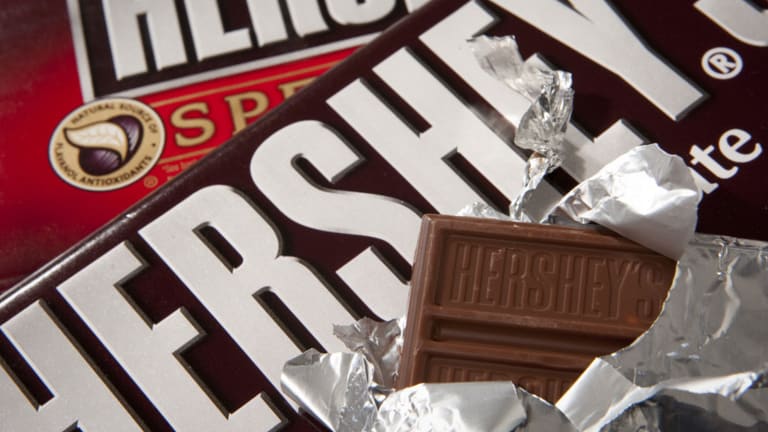 Hershey's $1.6 Billion Buy of Amplify Is Smart for These 3 Reasons
Hershey knows snacking is hot. Here's how the deal could set an old school company up for some major competitive advantages.
Hershey knows snacking is hot. Here's how the deal could set an old school company up for some major competitive advantages.
Hershey Co. (HSY) - Get Report is about more than just chocolate these days.
The company announced early Monday, Dec. 18, that it was acquiring Amplify Snack Brands Inc. in a blockbuster $1.6 billion deal that will expand Hershey's portfolio further into the snacking aisle with Amplify's popular brands such as SkinnyPop and Tyrells chips.
Hershey said the deal is an "important step" in its bid to become an "innovative snacking powerhouse." A broader portfolio of brands will allow Hershey to "capture more consumer snacking occasions."
Here are the top three reasons why Hershey's biggest-ever acquisition makes perfect sense.
Snacking Is Hot
According to the IRI Snacking Survey for 2017, 14.2% of Americans consume five or more snacks per day, up 2.7 percentage points from a year earlier. Salty snacks grew 3.2% in dollars and 2.6% in units from last year. Welch's Global Ingredients Group found earlier this year that 92% of millennials replaced a meal with a snack at least once per week.
All of those statistics point to a sustained boom in snacking.
And according to IRI, a great deal of growth has come from the blurring of lines between salty and sweet, indulgent and healthy. Think chocolate-covered pretzels. That could mean Hershey is in a new sweet spot, capable of utilizing its 123-year-old chocolate business to expand its own hybrid offerings and fortify that presence with Amplify's portfolio of savory snacks.
People Care About What They Eat
Now more than ever, consumers care about where their food comes from. Amplify has aspired to bring "transparency" to its products with clean ingredients since 2014. Amplify's SkinnyPop, for example, has no artificial ingredients, no GMOs, no gluten, no preservatives and no artificial flavors -- and it's set to become Hershey's sixth-largest brand post-acquisition.
Hershey said in the statement announcing the deal that "Amplify's brands compete in many attractive food categories that are capitalizing on fast-growing trends in snacking with a focus on better-for-you products that deliver clean, simple and transparent ingredients as well as unique flavors and forms." Translation: Young people don't want synthetic garbage in their pantries, and Hershey can now deliver a label with an ingredient list you can pronounce.
It Makes Sense Financially
Amplify has had a tough go of it since the company went public in 2015. For the third quarter of 2017, Amplify reported earnings of 7 cents a share, missing Wall Street's expectations by 22%. The pace of Amplify's sales growth has slowed and of the eight analysts covering Amplify on FactSet, the consensus calls for a 3.2% decline in long-term growth. Plus, Amplify stock has dipped over 20% since the start of the year.
But the Hershey deal means institutional support for Amplify's new age brands. Hershey can provide scale and better category management for smaller Amplify, plus it can bring brands like SkinnyPop into far more stores.
Investors are already taking well to the deal -- Amplify shares rocketed higher by 70% in premarket Monday after the deal was announced.
More of What's Trending on TheStreet: