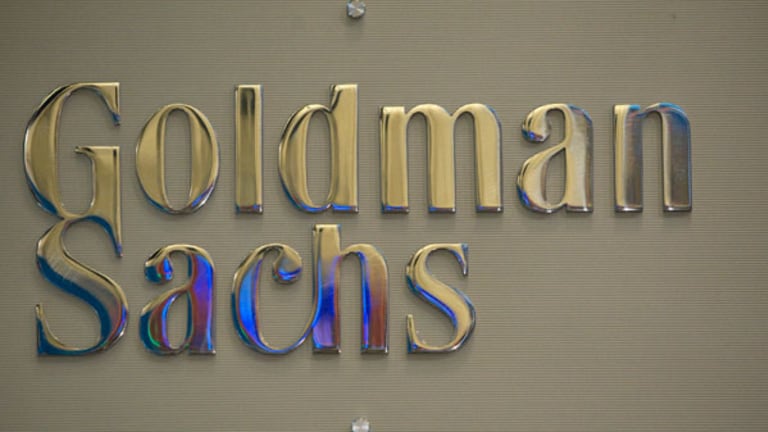 Publish date:
Goldman Sachs Earnings: Here's How to Read Them
Goldman Sachs is likely to beat fourth-quarter earnings consensus, however questions may remain for Lloyd Blankfein & Co.
Goldman Sachs is likely to beat fourth-quarter earnings consensus, however questions may remain for Lloyd Blankfein & Co.
NEW YORK (TheStreet) - Don't be surprised if Goldman Sachs (GS) - Get Goldman Sachs Group, Inc. (GS) Report beats consensus estimates for the bank's fourth quarter earnings by as much as 10%. Also, don't be surprised if shares trade lower on those apparent blockbuster results.
This is exactly what has happened in Goldman's previous quarterly earnings reports during 2013. So what's going on?
Goldman's earnings are generally judged by investors on how the bank performs across its investment banking, trading and wealth management divisions versus expectations, or the previous year. Fixed income trading has proven to be a bright spot for Goldman over the years following the financial crisis, and there is optimism the bank will see revenue growth from advising corporate mergers, and from stock and bond underwriting fees as economic activity in the U.S picks up.
Read: What to Expect From Citigroup Earnings
Still, the biggest driver of Goldman's operating profits in 2013 has come from a bit of a black-box, the firm's so-called "Investing & Lending" unit which houses its private equity, hedge fund and proprietary investments.
The unit has booked $2.85 billion in operating income through the first three quarters of 2013, or roughly 35% of the bank's total operating income, exceeding earnings from other divisions, including investment banking or FICC sales & trading.
Unfortunately for Goldman, the implementation of the Volcker Rule could hinder the bank's ability to replicate those Investing & Lending earnings, which generally result from rising values of the bank's pre-crisis private equity and mezzanine credit investments.
The Volcker rule seeks a 3% cap on any bank's investment in private equity and hedge funds relative to its Tier 1 capital, a regulation that would appear to handcuff Goldman Sachs. The Investing & Lending unit held $59.5 billion in assets at the end of the third quarter, while the bank reported $71 billion in total Tier 1 capital. Of course there will be ways to mitigate the impact of Volcker, nevertheless, Goldman stands out as the bank most affected by the regulation.
Prior to the crisis, the Goldman's own capital contributed between 30%-and-40% of the equity in private equity funds it managed.
Read: Vinyl Is Streaming Music's Flipside
So it's no surprise that investors generally discounted the blockbuster results from Goldman's Investing & Lending unit during 2013, as marks and realizations on alternative assets rose. Those earnings have also been the biggest source of Goldman's better-than-forecast earnings over recent quarters.
If Goldman's core banking, trading and wealth management businesses don't perform up to expectations or show signs of slowing, investors may look beyond a beat on Goldman's earnings-per-share results, no matter how big it is.
Consensus Wall Street estimates indicate the bank could report about $4.18 in earnings per share on $7.75 billion in revenue. The Investing & Lending division, however, could make those EPS forecasts easy to beat even if banking and trading revenues disappoint.
It is the Investing & Lending line item that investors should look at after taking in the firm's EPS and revenue figures.
The most recent analyst estimates indicate Goldman is expected to generate between $1.4 billion and $1.6 billion in Investing & Lending revenue.
Credit Suisse analysts, for instance, recently bumped up their revenue estimate for Investing & Lending to $1.6 billion from $900 million as a result of strong equity market performance and realization activity in the fourth quarter. They expect $1 billion in net gains from Goldman's private equity investments, $350 million in gains from credit investments and $250 million from other investments.
Societe Generale pegs Goldman's fourth quarter Investing & Lending revenue at $1.4 billion, and expects it be the biggest source of the company's pre-tax profit.
But those are recent estimates.
Goldman's consensus $4.18 EPS estimate includes many forecasts that haven't been updated since late November and early December and possibly may not factor in a strong quarter for Goldman's Investing & Lending unit.
So it's an important item to look for. Credit Suisse and Keefe Bruyette & Woods both forecast Goldman's fourth quarter EPS at $4.40 a share, in January reports.

In terms of Goldman's core business, investment banking fees are expected to rise significantly in the fourth quarter, while fixed income sales & trading revenue may underwhelm for the second consecutive quarter.
KBW analyst Fred Cannon expects Goldman to earn $1.72 billion in investment banking revenue, up 47% quarter-over-quarter and up 22% year-over-year on particularly strong equity underwriting and M&A advisory performance.
Total trading revenue, however, could fall 10% quarter-over-quarter to $2.87 billion, even after interest rate volatility and losses in correlated assets like currencies hurt the firm's third quarter results. Equity trading could prove strong while fixed income, currency & commodity trading could disappoint.
Read: Pandora Beats Off the Competition
Credit Suisse recently lowered its estimate of FICC sales & trading revenue to $1.7 billion and forecasts 0-2% revenue growth in the unit through 2016. "[We] believe the favorable conditions that have characterized the last few years (higher prices, easy monetary policy, robust fund flows) could slow down and be exacerbated by regulations (e.g. derivatives reform)," the analysts said.
Bottom Line: Goldman Sachs may post a big earnings beat in the fourth quarter that could still disappoint investors.
Goldman's Operating Performance Raises Question Marks
-- Written by Antoine Gara in New York