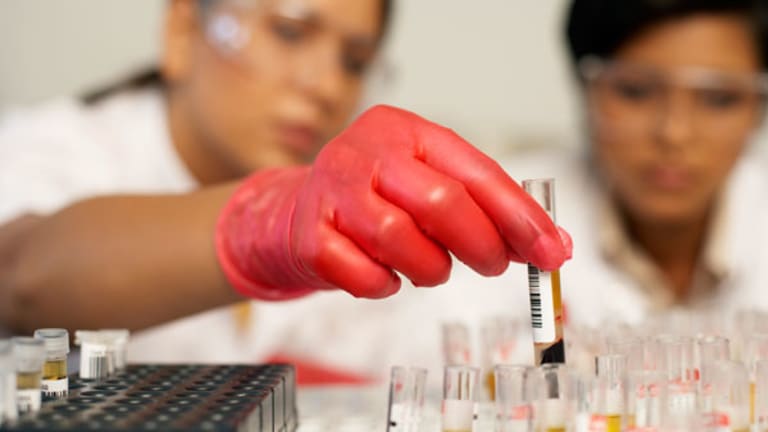 Here's a Plan to Deal With Biotech Volatility
This year's market movers show that you need to stay close to your calendar.
Biotech stocks have the reputation of being a haven for volatility junkies.
It's why market-moving catalysts and staying on top of the events calendar are so important for successful biotech investing. No one wants to get blindsided by a clinical trial or FDA decision that could potentially move a stock 50% up or down in a single trading session.
It's no surprise, then, that some of my most popular columns have been the recent lists of stocks facing
FDA approval decisions in the near future, or the
calendar created in March that detailed a series of 2007 biotech milestone events with stock-moving potential.
I've been recently working on a couple of new calendars, and that got me wondering whether biotech stocks really do react with as much volatility as we think they do.
To keep it simple, I looked back at about 20 biotech "events" that have occurred so far in 2007 to see what happened to stock prices -- both before and after. The results of my mini-investigation won't come as a shocker: Yes, indeed, biotech stocks are volatile.
I looked at 10 instances when biotech firms released clinical data from phase II or phase III trials for the first time. In half these events, the stock of the biotech firm involved moved 60% or more over one trading session.
In two other instances, the stocks moved about 20% in a single trading day -- minor volatility for biotech but still significant pretty much elsewhere in the market.
The powerful influence that new clinical data can have on biotech stock pricing is best illustrated by
Acadia Pharmaceuticals
(ACAD)
, which on March 19 announced positive results from a phase II trial of its schizophrenia drug ACP-103.
Investors reacted to the positive data by bidding up Acadia's stock more than 103% in a single day.
Likewise, a successful phase III trial from
Cypress BioScience
(CYPB)
for its fibromyalgia drug milnacipran caused a 94% run in the company's stock price.
To watch Janet Alvarez's video take of this column, click here
.
What can go up can also fall. Both
Coley Pharmaceuticals
undefined
and
Atherogenics
undefined
suffered 60% free falls in their respective stock prices after reporting failed clinical trial results.
Biotech firms rarely tell investors the exact date when clinical data will be reported. Generally, guidance is provided with a broader stroke -- a trial may be completed this month, or this quarter, or this half of the year.
This makes it much more difficult for investors to prepare for these stock-moving events, and underscores the need to stay on top of the biotech calendar. It also explains why many biotech investors use options in these situations.
I also studied stock price movements in the two weeks prior and after the date that new clinical data were reported. Unfortunately, it wasn't so easy to pick up any patterns.
It's interesting to note that eight out of 10 biotech stocks traded down into the event, regardless of whether the event (the reporting of clinical data, in this case) was positive or negative.
With Atherogenics, the stock fell 30% in the two weeks before the negative data were announced. In this case, there was more specific guidance from the company about when the data would be announced. Likewise, the general consensus on this study was that it would fail.
The data on post-event stock movement are also mixed. In the case of Acadia, investors who missed the big surge on the day that the ACP-103 results were announced could have still made money. Two weeks later, the stock had climbed another 20%.
But investors who purchased Cypress Bioscience the day after its big data day have lost money so far. The stock is down about 13%.
FDA Fizzle
FDA approval decisions are less volatile events for the biotech sector, probably because the exact date of an approval decision is usually known, giving investors more time to predict an outcome correctly.
There have been four FDA drugs approval decisions so far this year. The most volatile, not surprising, was the agency's rejection of
Dendreon's
(DNDN)
prostate cancer vaccine Provenge. The ruling sent Dendreon shares sliding 64% in a single trading session.
Dendreon, for many reasons, is an outlier. But
Encysive Pharmaceuticals
(ENCY)
is also interesting. The stock rose 12% in the two weeks prior to its FDA decision day, only to fall 43% when regulators rejected the company's pulmonary hypertension drug.
When investors have a good sense of how the FDA will rule, biotech stocks don't move nearly as much. This is illustrated by the lack of any significant movement in the share prices of
Alexion Pharmaceuticals
(ALXN)
,
Gilead Sciences
(GILD)
and
Cephalon
(CEPH)
after the FDA approved their respective drugs.
I then looked at other biotech catalysts but found that their influence on stock price movement was minimal, especially compared with announcements of new clinical data or FDA approvals. I'm not making a big revelation here, but stocks don't move much on news of clinical trial starts, as seen in the chart below.
These analyses have their limitations. I only looked at events for the past six months, so my sample size is rather small, for instance. But the findings seem to underscore what hard-core biotech investors already know anecdotally.
Investing in biotech, at least in individual stocks, takes a certain amount of courage and the willingness to accept wild price swings when new clinical data or FDA decisions are announced. The findings of this little inquiry also underscore the need for biotech investors to stay current with the stocks in their portfolio.
Find a good biotech events calendar and study it well.
Adam Feuerstein writes regularly for RealMoney.com. In keeping with TSC's editorial policy, he doesn't own or short individual stocks, although he owns stock in TheStreet.com. He also doesn't invest in hedge funds or other private investment partnerships. Feuerstein appreciates your feedback;
to send him an email.