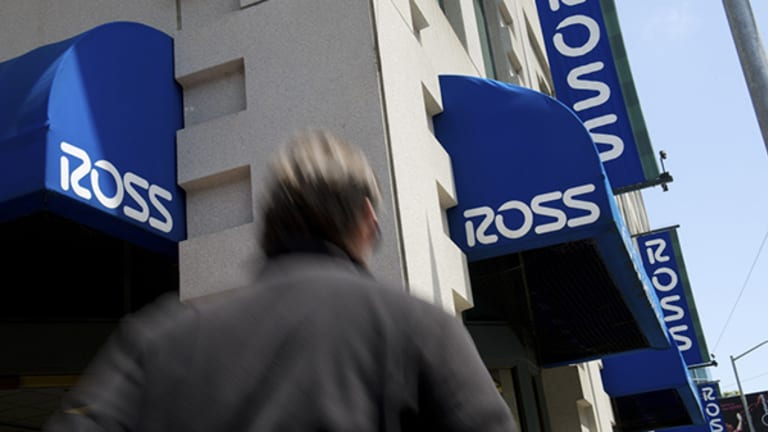 Here's Why You Should Buy Ross, T-Mobile, DISH Network and UPS After the Rate Hike
These four large-caps are geared to lead the market higher in the weeks ahead.
In a move that surprised no one, the Federal Reserve opted to raise its benchmark lending rate by a quarter point Wednesday. Futures had been pricing in near-certainty of a hike leading up to the 2 p.m. decision, and sure enough, all the broad market averages popped higher when the Fed followed suit.
But while a rate hike was as close to a "sure thing" as you get in the investment world, most investors are a little less clear on what stocks they should actually be buying to take advantage of the rate move. The good news is that a handful of big-name stocks are teetering on the edge of breakout territory as I write.
To figure out which big stocks you should buy--and when you should buy them--we're turning to the charts for a look at four that are showing bullish technicals ...
First, a quick note on the technical toolbox we're using here: technical analysis is a study of the market itself. Since the market is ultimately the only mechanism that determines a stock's price, technical analysis is a valuable tool even in the roughest of trading conditions. Technical charts are used every day by proprietary trading floors, Wall Street's biggest financial firms, and individual investors to get an edge on the market. And research shows that skilled technical traders can bank gains as much as 90% of the time.
Every week, I take an in-depth look at big names that are telling important technical stories. Here's this week's look at four big stocks to trade ...
Ross Stores Inc.
Leading off our list of bullish trades is $27 billion discount retailer Ross Stores Inc. (ROST) - Get Ross Stores, Inc. Report. Ross has been a strong performer in recent months, rallying almost 27% since shares bottomed back in May. Don't worry if you missed out on that upward move in Ross though--shares are signaling the potential for a second leg higher in March.
Ross is forming an ascending triangle pattern, a bullish continuation pattern that indicates more upside could be ahead. The pattern is formed by horizontal resistance up above shares at $69, coupled with uptrending support to the downside. Basically, as Ross pinballs in between those two technically significant price levels, shares have been getting squeezed closer and closer to a breakout through that aforementioned $69 price ceiling. A breakout through that line in the sand is our signal that it's time to buy.
Ross' ascending triangle setup is a long-term trading pattern--it's been forming since the beginning of November. That means that it also comes with long-term trading implications once the breakout happens. Wait for shares to close materially above $69 before you pull the trigger on this trade.
T-Mobile US Inc.
We're seeing the exact same trading setup popping up in shares of T-Mobile US Inc. (TMUS) - Get T-Mobile US, Inc. Report. This $51 billion cellular carrier has been on a tear in the past year, leaving the broad market in its dust with a 67% rally since March 2016. Now, an ascending triangle pattern is pointing toward another rally leg in this mobile phone service provider.
For T-Mobile, the buy signal comes on a push through resistance up at $64.
Relative strength is the side-indicator that's adding some extra confidence to upside in T-Mobile. This stock's relative strength line has been in a well-defined uptrend since last summer, an indication that the outperformance that's propelled TMUS higher in the last 12 months is still holding up.
Remember to be reactionary with this (or any other) trade. Technical analysis is a risk management tool, not a crystal ball--in other words, higher ground for shares doesn't become a high-probability trade until T-Mobile can muster the strength to break out above $64.
DISH Network Corp.
It doesn't get much simpler than the price pattern that's been setting up in shares of $39 billion satellite TV provider DISH Network Corp. (DISH) - Get DISH Network Corporation Class A Report. DISH has been bouncing its way higher in a well-defined uptrending channel for more than a year now. And it's still a "buy the dips stock" as I write in March ...
DISH's uptrend is formed by a pair of parallel trendlines that have managed to corral 99% of this stock's price action stretching back to the beginning of 2016. Simply put, every test of the bottom of that channel has provided a low-risk, high-reward buying opportunity. Shares are testing support for the 10th time now, signaling a buy on the next bounce higher.
Actually waiting for that bounce is important for two key reasons: it's the spot where shares have the most room to move up before they hit resistance, and it's the spot where the risk is the least (because shares have the least room to move lower before the channel breaks, invalidating the upside trade). Remember, all trend lines do eventually break, but by actually waiting for the bounce to happen first, you're ensuring DISH can actually still catch a bid along that line before you put your money on shares.
United Parcel Service
Last on our list of big-cap breakouts is $93 billion package delivery company United Parcel Service Inc. (UPS) - Get United Parcel Service, Inc. Class B Report. UPS hasn't been a particularly pleasant stock to own in 2017: while the rest of the market is testing new all-time highs, UPS is actually down a little over 6% since the calendar flipped to January. But shareholders could be in store for a reprieve here--UPS is starting to look "bottomy."
Since the start of February, UPS has been forming a double bottom pattern, a bullish reversal setup that looks just like it sounds. The double bottom is formed by a pair of swing lows that bottom out at approximately the same price level--the buy signal comes on a breakout through the peak that separates that pair of troughs. For UPS, that price level to watch is resistance up at $108, a level that's within grabbing distance as I write.
Price momentum, measured by 14-day RSI, is the side-indicator to look at in UPS. Our momentum gauge has made a series of higher lows during this stock's double bottom setup, a bullish divergence that indicates buyers are stepping in behind the scenes. Once shares materially move through $108, it's time to join the buyers.
At the time of publication, author had no positions in the stocks mentioned.