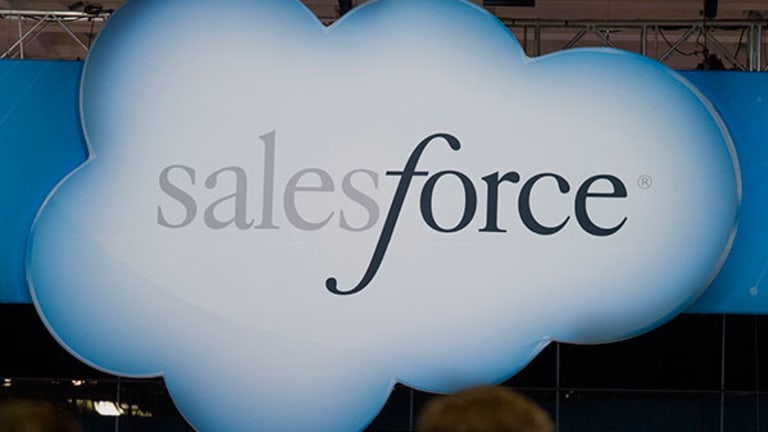 Here's Why You Buy Salesforce.com Now
This stock should reach $88 to $92 by the end of the year, yielding gains of 10% to 15%.
Cloud computing specialist Salesforce.com (CRM) - Get Free Report will report second quarter fiscal 2017 earnings results after the closing bell Wednesday. With its shares, at around $80, down 4.5% over the past three months, now's an ideal time to bet on a market leader that is poised to outperform its competitors.
CRM should move higher from a combination of higher profit margins and upbeat guidance by management. Despite the emergence of cloud challengers Microsoft (MSFT) - Get Free Report and Oracle (ORCL) - Get Free Report , Salesforce continues to secure a higher number of deals, which should help maintain its growth rate.
The San Francisco-based company continues to see greater adoption of its Salesforce1 Customer Platform, so Salesforce should benefit from the increased rate of businesses spending on cloud-based solutions. Companies no longer want to manage their own servers but are embracing the type of on-demand cloud service offered by Salesforce.com.
Research firm Gartner expects spending on cloud-based Big Data and analytics solutions will soar over the next five years, growing three times faster than traditional onsite server solutions. Hybrid on/off premise deployments, which is a combination of a public and private cloud solutions, will become a requirement on corporate networks, says the firm.
Salesforce, whose profits grew 50% in the first quarter, has already shown an ability to secure the lion's share of the market. Its deferred revenue of $4.01 billion grew 31% year over year, while un-billed deferred revenue grew 27% to $7.6 billion. What does this mean? There are tons of committed purchases in Salesforce's pipeline to support its revenue growth for the next three quarters.
Combined with the fact that revenue in the Service Cloud and App Cloud grew 32.5% and 45.5%, respectively, Salesforce.com is showing no signs of slowing down. Its ability to differentiate from its services from its competitors with strategic acquisitions such as Demandware (DWRE) makes Salesforce.com a force to reckoned with in the ever-growing cloud computing segment.
In short, with CRM should reach $88 to $92 by the end of the year, yielding gains of 10% to 15%.
This article is commentary by an independent contributor. At the time of publication, the author held no positions in the stocks mentioned.