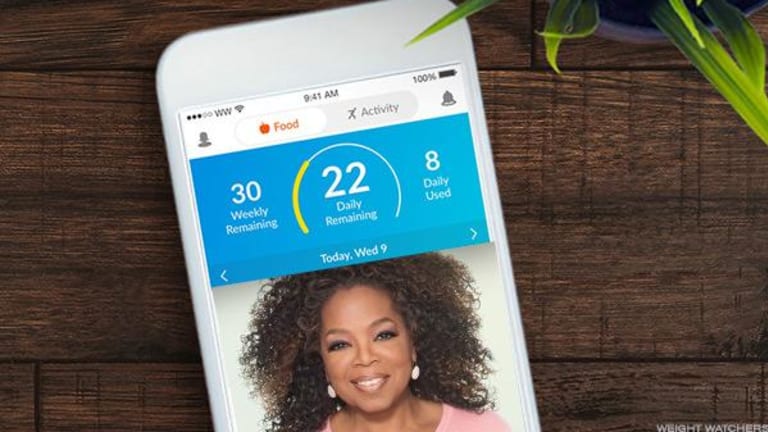 Here's Why Weight Watchers' New CEO Should Be a Woman
Could Oprah Winfrey herself take the helm at the diet company?
As dieting begins to fall out of fashion and health apps take over, it's clear that Weight Watchers (WTW) is going to have to do something different to keep up.
Even though the company's shares are up about 20% since this time last year, it's unclear how long these gains can last given changes to the diet industry.
Just yesterday, the Journal of American Medical Association released a report that showed fewer Americans are trying to lose weight - about 49%. Compare that to 1999, when about 56% of Americans were trying to shed some pounds.
Add to the mix free diet apps, meal delivery kits and a spike in body positive advertising and you've got an environment that's worrying for Weight Watchers.
Here's a suggestion for the company: fill the empty CEO seat with someone who reflects the company's audience. In other words, Weight Watchers should hire a woman as its CEO.
The company has been looking to fill the seat since September, when James Chambers, who had helmed the company for three years, stepped down.
On March 1, Nick Hotchkin, the company's CFO told TheStreet that the search for a permanent CEO is going well, with board member and principal investor Oprah Winfrey helping to review candidates. No timetable on when a permanent CEO would be appointed was provided.
So why a woman?
For one, it's about the company's audience. There is, of course, a long-documented gulf between numbers of women and men who diet. Estimates show that approximately 91% of college women have been on a diet at least once. Estimates for men on diets are much more diminutive.
And while Weight Watchers touts in its latest form 10-K that it has name recognition among men and women equally, just going to a local meeting makes it clear that this is a company supported chiefly by women.
Given these facts, it's interesting that Weight Watchers chooses to fill its board with mostly men. There are currently eight men and two women sitting on the board. One of those women is Winfrey herself. The other is Cynthia Elkins, Vice President of IT Americas at Genentech, Inc., which is a subsidiary of Roche (RHHBY) .
Importantly, neither Elkins nor Winfrey are part of the company's benefits and compensation committee.
The c-suite has a bit better representation -- there are six men, as compared to four women. But those women aren't in CFO or CEO roles.
Weight Watchers didn't respond to several attempts for comment about its hunt for a CEO.
As for the private equity company that backs Weight Watchers? Invus Group has even fewer women at the helm than Weight Watchers itself. Just one out of ten people on its United States team is a woman. Invus owns a 46% stake in Weight Watchers. The firm could not be reached for comment on gender equity.
To quote one Victoria's Secret board member, "business is business," right? 
Not quite. According to a MSCI ESG Research, companies with three or more women in the boardroom saw earnings per share increase by 37% on average. Those with no female directors experienced a loss of 8% in earnings per share.
And a Credit Suisse study shows that between 2012 and 2014 large companies with market caps greater than $10 billion with at least one woman on the board outperformed other large companies by five percentage points on a sector-neutral basis. Weight Watchers market cap sits at $1.12 billion.
It is a rarity for a woman to act as CEO for a S&P 500 company: just 5.8% of S&P companies have a woman as a CEO according to Catalyst.
But given Weight Watchers' well-documented mutual embrace with Winfrey, it makes sense. Perhaps even Winfrey could take the helm. After all, she moves share prices with just a tweet, and she's boosted signups with just her presence.
Weight Watchers' shares were little changed at $17.60 midday Wednesday.