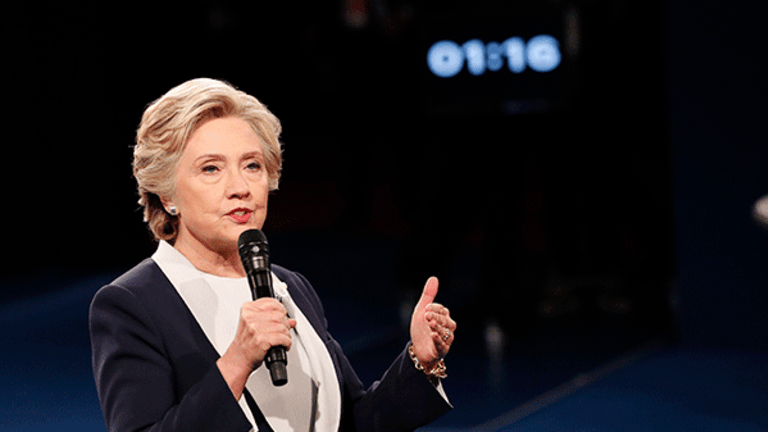 Here's Why Wall Street Wants Hillary Clinton to Beat Donald Trump
Trump's brand of politics is creating concern that if he wins the White House, he could do serious damage to financial markets and global trade.
Editors' pick: Originally published Oct. 27.
With Republican presidential nominee Donald J. Trump having kicked up a hornet's nest of controversies and scandals, it seems extremely unlikely that he could pull off a win at this point.
But if he were to emerge victorious on Nov. 8, there are concerns that his brand of politics could cause instability to financial markets and global trade.
Wall Street shuns uncertainty, and that is why it seems to now be favoring the candidate who is considered safer and represents the status quo, Democratic nominee Hillary Clinton.
Until very recently, it looked as if Trump was Wall Street's preferred choice to win the White House.
Investor Carl Icahn, vulture capitalist Wilbur Ross and former General Electric Chief Executive Jack Welch had all originally said that they support Trump.
General Electric is a holding in Jim Cramer's Action Alerts PLUS Charitable Trust Portfolio. See how Cramer rates the stock here. Want to be alerted before Cramer buys or sells GE? Learn more now.
In addition, some say that the stock market is an extremely astute predictor of presidential election results.
Analysts have said said that if stocks go up during the three-month period between Aug. 1 and Oct. 31, expect Clinton to win.
But if stocks slide, Trump will prevail, they said.
On Aug. 1, the S&P 500 closed at 2,170.84. On Oct. 25, it closed at 2,143.16.
That would appear to give Trump a slight edge.
However, following Trump's infamous Access Hollywood gaffe, pundits are predicting perhaps a landslide victory for Clinton, and Wall Street has begun to agree, with some of the biggest companies chipping in for her campaign.
In fact, the markets are already pricing in this inevitability, some analysts say.
Unfortunately, for many stocks, that hasn't meant much of a positive change.
So, given that Clinton is seen as the safer candidate, why haven't the markets surged as she gains in the polls?
Part of the problem is that some of her stated positions could hurt certain industries such as pharmaceutical companies, for instance.
The stocks of controversial drug makers that she has called out including Mylan and Valeant Pharmaceuticals have plummeted, mostly because of their own travails. Since the end of August, the iShares Biotechnology Exchange-Traded Fund has lostmore than 11%.
Savvy investors should play it safe, holding onto strong, long-term stocks that should continue to pad their portfolios no matter what happens.
---
85% Accurate Trader gives his Personal Guarantee: "Give Me 9 Minutes a Week and I Guarantee You $67,548 a Year." As you can see, Apple remains a great play for investors. But what if I told you I know a way you can see a $67,548 per year - or more - in profitable trades just by following this simple step-by-step process? The trader who is sharing this secret has been right more than 8 out of 10 times, turning $5,000 into more than $5 million for himself. Click here to see how easy it is to follow his lead and collect thousands of dollars in "Free Money" every month.
The author is an independent contributor who at the time of publication owned none of the stocks mentioned.