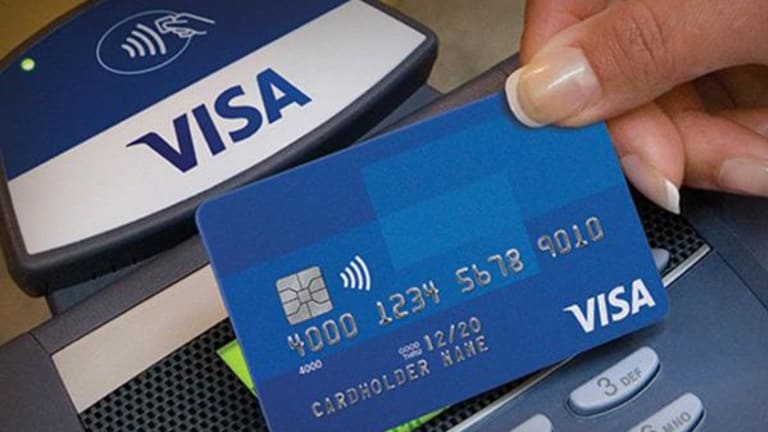 Here's Why Visa, Merck and Home Depot Are Primed to Lead the S&P Higher
These stocks are showing short-term gain catalysts and longer-term growth potential. Here's how to trade them.
Just eight weeks into 2017, and the S&P 500 index is squarely in rally mode. So far, the big index is up 6.09% on a total returns basis, which means that the broad market is already higher than its average annual return between 2000 and 2016.
In fact, if the S&P 500 kept up 2017's pace through the end of the year, investors would be looking at a massive 47% gain by the time Dec. 31 rolls around ...
And that means investors who aren't decisively long stocks right now are missing out on a huge upside move as the market elbows its way to new highs. Of course, just because you want to own stocks doesn't mean you want to own all stocks. To figure out which names to own for maximum upside as the calendar flips to March, we're turning to a fresh set of Rocket Stocks worth buying this week.
In case you're not familiar, Rocket Stocks are our list of companies with short-term gain catalysts and longer-term growth potential. To find them, I run a weekly quantitative screen that seeks out stocks with a combination of analyst upgrades and positive earnings surprises to identify rising analyst expectations, a bullish signal for stocks in any market. After all, where analysts' expectations are increasing, institutional cash often follows. In the last 388 weeks, our weekly list of five plays has outperformed the S&P 500's record-breaking run by 74.3%.
So, without further ado, here's a look at this week's Rocket Stocks.
Visa Inc.
Leading off the list today is payments giant Visa Inc. (V) - Get Visa Inc. Class A Report. Visa has been a market leader in 2017, handing investors total returns of 13.56% since the calendar flipped to January. In other words, Visa has been outperforming the S&P's record-breaking run by a factor of 2-1 this year. And there's good reason to believe that buyers are still in control of the price action this month.
Visa is the biggest name in the electronic payments business. The firm's open-loop network counts more than 16,800 financial institutions as clients, with more than 3.1 billion Visa cards issued worldwide. Visa operates in a positive-feedback loop: the firm attracts merchant accounts because Visa-branded cards are the most popular choice for consumers, and it attracts consumers because it's accepted pretty much everywhere, with 44 million merchant locations at last count.
Scale provides an important advantage to Visa. With 83.2 billion processed transactions last year, the company can spread regulatory, technology, and administrative costs across a massive number of users, keeping fees low. The tailwind of global payments shifting away from cash and over toward electronic transfers should continue to provide a meaningful tailwind, particularly internationally, where Visa generated 46.7% of its revenues last year. With rising analyst sentiment in Visa, we're betting on this payments stock ...
Merck & Co.
Pharmaceutical giant Merck & Co. (MRK) - Get Merck & Co., Inc. (MRK) Report is another stock that's kicking off 2017 with a double-digit rally, as shares shoot higher thanks in large part to schadenfreude--the firm's blockbuster cancer immunology drug Keytruda is seen as getting a bigger advantage in the marketplace thanks to setbacks from rival drug companies. Shares are up more than 12% since the start of the year, and that price momentum isn't showing any signs of waning here.
Merck is one of the largest pharmaceutical companies in the world, with sales approaching $40 billion last year. Even though the firm got hit by its own patent cliff in recent years, just like most big pharma peers, the firm has one of the most attractive new drug pipelines in the industry. Relatively recent drugs like Januvia for diabetes, Keytruda for cancer, Isentress for HIV, and anesthesia drug Bridion either already are, or have the potential to be, blockbusters for the company.
Merck's balance sheet looks attractive here. The firm carries more than $24.8 billion in cash and investments on the books, basically offsetting a $25.1 billion debt load. Like other drugmakers, Merck's strategy to expand its pipeline has been built largely on acquisitions, and the firm's lack of leverage gives it the dry powder to continue making tactical purchases this year.
Home Depot
Nationwide, housing prices continue ticking higher--and that's been a major benefit for shares of home improvement retailer Home Depot (HD) - Get Home Depot, Inc. (HD) Report. Home Depot is the biggest home improvement store chain in the world, with 2,278 big box store locations across the U.S., Canada, and Mexico. As home prices keep on climbing, home owners are gaining confidence in investing more money into their properties through projects, giving Home Depot's sales a shot in the arm.
Historically, Hope Depot and its peers have focused on do-it-yourself consumers. But the firm has been shifting some of its attention away from just the DIY market and over to pro customers, taking advantage of the growth in the commercial construction market. Those stronger relationships with contractors also help give it an edge in its new service offerings--Home Depot can pair consumers with service providers who use only Home Depot-supplied products, and collect fees in the process.
Services and private label products have provided an important margin boost to offset the lower profits of the pro segment of Home Depot's business. Likewise, the firm has a long-term track record of returning value to shareholders in the form of buybacks and dividend: in the past decade, that's amounted to a 101% delta between HD's price change and its total returns. Shares look likely to tack onto that positive trend in shares in 2017.
Netflix
Netflix (NFLX) - Get Netflix, Inc. (NFLX) Report is another stock that's in rally mode early on this year. Shares are up more than 15% since the calendar flipped to January, bolstered by strong global subscriber growth numbers and better-than-expected guidance for the full year. Netflix is the dominant player in the streaming video business, and its size advantage translates into the ability to crank out exclusive content and secure the most attractive titles.
On the content front, Netflix is home to some of the most-watched original programming online or through traditional cable TV right now. The firm was the first online TV provider to win a primetime Emmy with House of Cards back in 2013, and it's parlayed that success into big investments in acclaimed series like The Crown, Stranger Things and Making a Murderer. As a result, the average Netflix subscriber watches more than an hour and a half of video on the service each day. Those series create consumer stickiness at the exact same time that "cord-cutting" is easier than ever before--they should continue to be a valuable piece of Netflix's overall valuation in the year ahead.
Another important component of Netflix's total value is big data. The firm has access to an unmatched set of subscriber behavior data, which it is able to use to fuel everything from its internal recommendation software to analytics used to determine which new shows to fund. That built-in data gives Netflix an important edge over its conventional TV rivals when it matters most. Investors should look to international growth as the big driver of net subscriber adds in 2017.
Illinois Tool Works
Last on our Rocket Stocks list is $46 billion conglomerate Illinois Tool Works (ITW) - Get Illinois Tool Works Inc. (ITW) Report . ITW was a strong performer last year, rallying more than 32% over the course of 2016--and it's adding to that performance this year, with another 7.5% rally since the calendar flipped to 2017. Buyers still look like they're in control of shares this winter.
ITW is a global diversified manufacturer with approximately 85 businesses. The firm's products include brand names like Sub-Zero and Wolf appliances, Rain-X and Zip-Pak, among many others. If that sounds like a lot of disparate businesses, it's actually a much more concentrated approach to business than the firm had just a few years ago when it sported approximately 800 individual divisions. The firm has been cutting away at the most commoditized and least profitable units, leaving the most attractive pieces of the ITW family in the portfolio.
Likewise, ITW uses a mostly decentralized approach to running itself. That is, managers of individual businesses are given a fair amount of leeway to run them as they see fit, only turning to the parent to save on replicated overhead costs. With rising analyst sentiment in shares of ITW this week, we're betting on this industrial stock.
At the time of publication, author had no positions in the stocks mentioned.