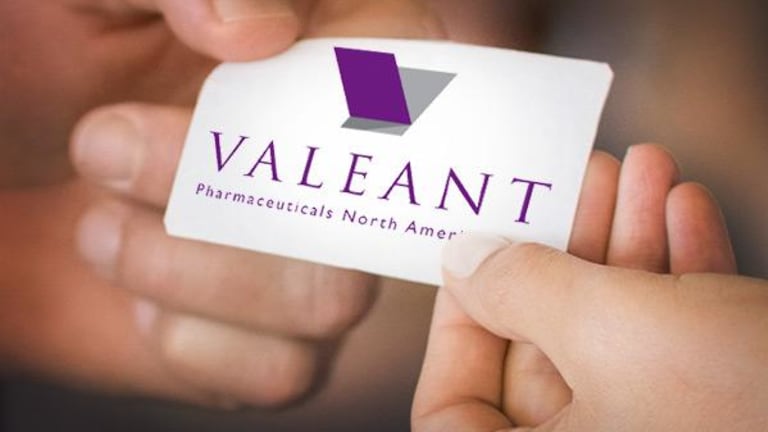 Here's Why Valeant's Stock Had Another Disastrous Week
The company's shares lost more than 10% of their value this week, though they rebounded on Friday.
Already struggling Valeant's (VRX) shares lost 11% of their value this week after the company paid down some of its whopping pile of debt, then took out some new loans.
Valeant's shares closed last Friday, March 3 at $13.06 apiece. They opened Friday, March 10 at $11.04 and ticked up slightly midday. The company, though, managed to claw its way back by Friday's close, ending at $12.24 per share, up 5.79% from market's open.
So what was behind the embattled company's fall?
On Monday, Valeant announced that it paid down $1.1 billion in senior secured term loans, using the capital it raised from the sale of skincare assets to L'Oreal (OR) .
Valeant officials said it would refinance and amend its existing credit agreement, borrowing new term B loans and issuing new debt securities. This will extend the maturity date of the revolving credit facility and term B loans that were expected to expire in 2022. It will also repay outstanding term A loans and remove maintenance covenants on term B loans and facilities.
Valeant will also use the refinancing to repay a portion of its outstanding 6.75% senior notes due next year.
Shares continued to fall Tuesday as investors digested the news, and as the company announced it had prepared a new debt offering behind the scenes. Valeant took that information public on March 9, announcing that plans to line up $2.5 billion in senior secured notes.
The notes will be offered privately to institutional investors in two tranches: one matures in 2022, the other in 2024.
Valeant officials said the company will use the proceeds from this capital raise to pay off other loans, and to finance a tender offer of up to $600 million from its outstanding 6.75% senior notes due next year.
After paying off the $1.1 billion in debt earlier in the week, the company's towering pile of debt was around $27.5 billion. This ballooned the debt to nearly $30 billion, right back to where Valeant started its week.
Adding insult to injury Thursday was Morgan Stanley analyst David Risinger's decision to cut the company's price target from $17 per share to $12 per share.
"We expect Valeant shares to continue to be volatile due to high debt leverage," Risinger wrote in a note.
Valeant has been struggling since last March, when it blamed its former CFO and former controller, Howard Schiller, for misstatements of earnings.
The drugmaker has since been scrutinized for its alleged accounting problems and steep price hikes on drugs it acquired. Concerns about those acquisitions were compounded because they were financed primarily by debt, rather than equity. This, combined with its concerning relationship with Philidor and its customer, R&O Pharmacy, as well as its legal but questionable accounting gamesmanship, caused Valeant's valuation to plunge.
In total, the company's shares have lost 82% of their value since March 2016.